Steel-industry woes: what Britain must do next
Save Our Steel? We should be creating, not saving, jobs.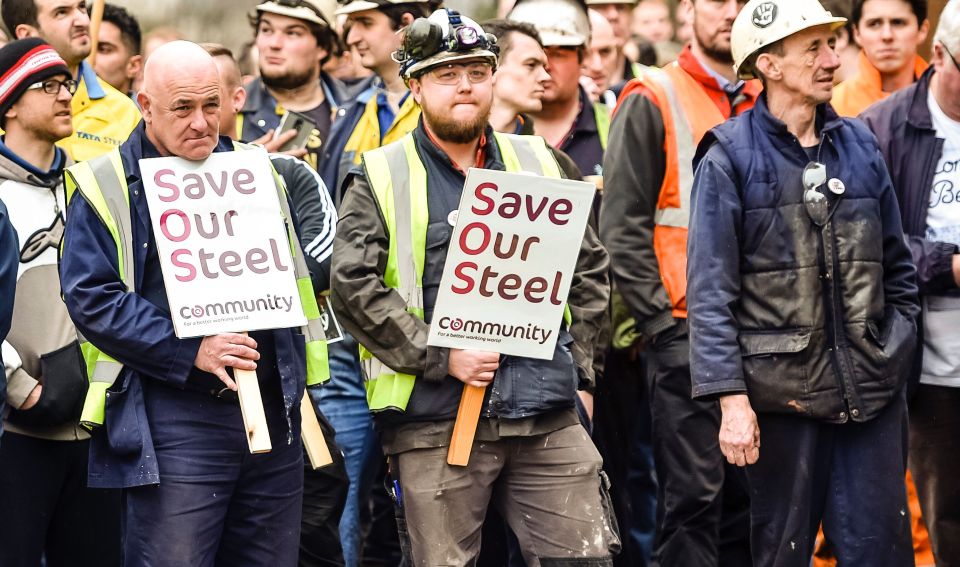 The decision by Tata Steel to pull out of its UK steel operations after nine years of ownership has caused huge distress among its direct employees and the tens of thousands of others whose incomes and living standards will be hit. In the slim possibility of a deep-pocketed buyer coming on the scene at this eleventh hour, local communities and supply chains are still likely to be ravaged. Any purchaser, even one with a long-term plan for full-scale restructuring and investment deploying the best steel-making technologies, will in all probability still cut costs and jobs significantly.
The instinctive response to want to save all these jobs is understandable. No worker relishes seeing his or her means of living taken away. However, the calls for the government to step in and prop up these steel plants in their current state is futile and wrong. A stay of execution by a temporary state bailout, supplemented by a few subsidies and Buy British protectionist public procurement policies, is not a meaningful solution and will probably continue the government's stubborn evasion of the more positive, active steps required from it. The primary role of the state in such situations should not be to sustain what is broken but to support fully the workers and other people affected and their transition into new employment and alternative sources of livelihood.
The biggest problem facing Tata steel workers and their families – and the British population overall – has been the dearth of good jobs being created to replace those lost from closing and contracting sectors and industries going back decades, at least to the 1970s. The government is not primarily responsible for the current sorry state of productivity in the steel and other heavy industries that have been in long-term decay – though its onerous green taxes have certainly impaired cost competitiveness by burdening big industrial energy users like steel with supply prices almost double those across the rest of the EU. What this government and its predecessors are responsible for is aggravating the economic conditions that have held back the creation of the new sectors, industries and well-paying productive jobs necessary to underpin society's prosperity. There have been government failures both of omission and also of commission.
The deepest tragedy is not the continued decline of the steel industry but the enduring lack of an effective industrial policy over the past 40 years to help promote and build new, replacement economic activities. For too long, governments have shunned a long-term strategic framework to develop productive arenas. This can be based not just on existing digital technologies, but more importantly on still emerging technologies like nanotech, biotech and robotics, as well as others that are even more embryonic. This demands massively expanding public financing of science and basic research. It means supporting – including with funding and tax incentives – existing and start-up businesses that are prepared to experiment with innovation and to pioneer the commercialisation of developing technologies. The goal should be an abundance of high-productivity services and manufacturing industries, which would not only give us the good jobs we need but also begin to rectify the other big economic problems of stagnant productivity and the record current account deficit.
In principle, such state policies could mean helping businesses revolutionise methods of steelmaking to create new plants in the top tier of global productivity. No productive sector, steel included, should ever be written off. In practice, though, in the near future, given today's state of global overcapacity in steel production, this is more likely to be in specialist steel-processing capabilities than in taking over and renewing the aged blast furnaces producing slab steel in Port Talbot. Tata has already invested hundreds of millions in a new blast furnace and other refurbishments there but had estimated that another £2 billion would be needed to bring the facilities to modern standards – a huge undertaking for uncertain returns in today's steel market.
This brings us to the acts of commission that have also been making the economy worse. Just as important as adopting a transformative approach to industrial policy, government needs to renounce what it has been doing as a mean-spirited and regressive substitute for such forward-looking economic intervention. Through a wide range of direct and indirect corporate subsidies – including, notably in recent years, super easy monetary policies from its central bank arm – successive governments' propensity to preserve the status quo has had the effect, mostly unintended, of propping up a zombie low-productivity economy. This zombiefication has been sucking the life out of the whole economy and stifling the actions and prospects of even the most ambitious individuals and businesses around.
Steel import tariffs would fall into this bucket of damaging zombifying measures, while putting up input prices for other producers who use steel. Tariffs won't resolve the problem of low productivity, and even if temporarily successful in enhancing sales from Part Talbot and other Tata plants, they will be prolonging the tying-up of labour and capital in unprofitable activities. Financial subsidies or state ownership, if unattached to a credible plan for restructuring and renewal, would be similarly harmful to reviving economic dynamism. Meanwhile, declaring steelmaking a 'strategic industry' doesn't trump these adverse effects, as well as being hard to justify given Port Talbot's dependence on imported coal and iron ore. If Britain has to import the raw materials, what's the difference 'strategically' in importing the finished commodity product?
Refusing to prop up Tata's underproductive and unprofitable steel works would be the courageous political step to take, as long as it is motivated and accompanied by the launch both of a comprehensive local and national plan for economic renewal and also of sustained financial support for people during their passage to new sources of livelihood. Those additional well-paying jobs can't be magicked up overnight. The other economic news last week that business investment fell again at the end of 2015 shows we are not yet out of those starting gates. However, this is not reason for further procrastination. It should be a call to urgent action in getting on with an industrial policy for the future.
In the interim, society will need to take collective responsibility through public spending for the unemployed workers and their families during their transition into decent new employment. Unfortunately, this could take years for some, rather than the weeks or months it would take to retrain people if there were enough existing job opportunities. Retraining is good and necessary, but more important is having the investment in creating the good jobs to be trained for.
Being politically honest about what is required to preserve and improve our living standards effectively, and about the time this could take to deliver, would itself be a strong first step to a better future for Tata workers and others impacted further afield.
Phil Mullan is the author of The Imaginary Time Bomb: Why an Ageing Population Is Not a Social Problem, IB Tauris, 2000. (Buy this book from Amazon (UK) or Amazon (USA).), and is currently writing Re-Mojo: Putting an End to the Long Economic Depression.
To enquire about republishing spiked's content, a right to reply or to request a correction, please contact the managing editor, Viv Regan.