At my university, censorship is out of control
An Edinburgh student on how even head-shaking is now being banned.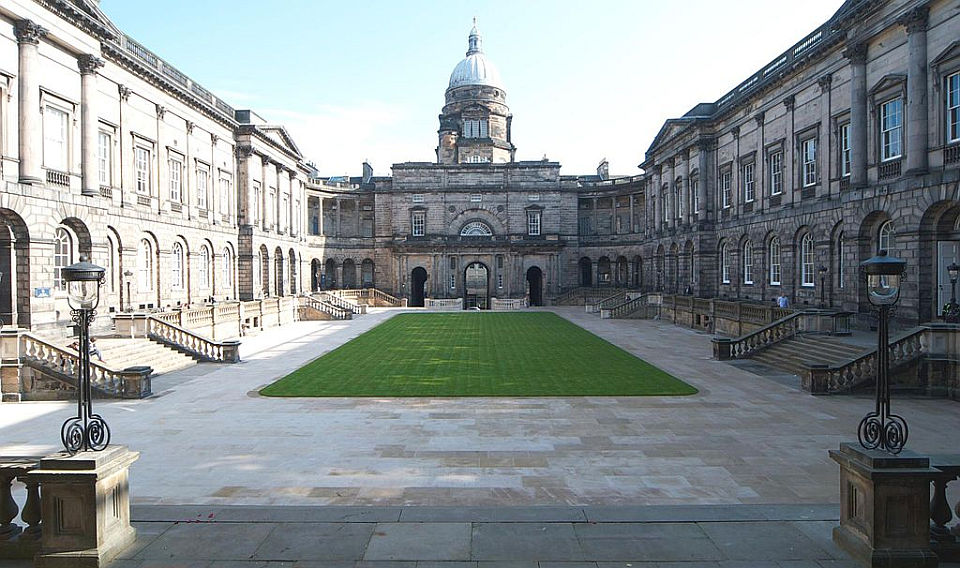 My first experience of being censored was at football grounds. As a Tottenham fan, I chanted the word 'yid' at stadiums around Britain during my teenage years. The Y-word is part of Tottenham's footballing identity. It speaks to the Jewish heritage of much of the team's fanbase. Using it is also a way of deflecting the anti-Semitic chanting of other fans. Then, in 2013, the police threatened to arrest those who uttered the Y-word at games, even if they were using it to define themselves. I found myself facing possible arrest for chanting a word that means a lot to me. So I came to know that speech in Britain is not always free.
However, one place where I imagined people would not be punished for what they said was at university. I now realise how foolish that hope was. Soon after I arrived at the University of Edinburgh in September 2015, I learned of the bizarre 'safe space' and No Platform policies on this campus and other campuses across Britain. So at the end of 2015, I launched a campaign to change the speech codes at Edinburgh, which, among other things, give the students' union the power to rescind invitations to speakers with whom they disagree. My petition received over 1,000 signatures and was supported by several public figures.
Charlie Peters
I've spent the six months that I've been at university trying to work out why so many students' unions support censorship and think they have the right to deem what is acceptable and unacceptable speech. The student leaders who push these policies are the obvious culprits here, but actually censorship on campus has a longer history. Many of today's student leaders have inherited ideas from earlier generations of student radicals. As Brendan O'Neill has argued, they are in many ways the 'bastard children' of their equally illiberal predecessors in the 1980s and 90s, who No Platformed racists and Zionists and later sought to silence religious fundamentalists and even rap artists. Those students of the last century who argued that speech needs to be policed and that offensive ideas are a form of violence are now grown up (well, kind of) and they have influenced, and in some cases are teaching, the new generation. Today's student radicals think censorship is acceptable, and even progressive, because many of their lecturers or left-wing heroes hold a very similar view, and have done so for years.
If today's student leaders differ to those of the past, it is that their support for censorious policies is even less intellectual than their predecessors'. Many seem to have abandoned rational thought in favour of screaming down people they oppose and constantly expressing outrage. So at Yale, Nicholas Christakis was encircled and screamed at by shrieking students. His crime? Supporting his wife, Erika Christakis, after she sent out an email defending the right of students to wear whatever they want on Halloween. Other students have run screaming into pro-Israel gatherings or have burnt far-left literature. At Edinburgh last week, at a meeting of the student council, the students' union vice-president Imogen Wilson had a safe-space complaint made against her after she raised her hand to denote disagreement. Another safe-space complaint was made in relation to her 'negative head motions' (ie. she shook her head). Remarkably, when I asked Imogen about this incident, she defended the safe-space policy, and agreed with her accusers that her gestures could indeed have been 'intimidating'.
So, not content with doing what many other students' unions do and banning speakers for being 'dangerous' and newspapers and songs for being offensive to women, while also clamping down on the wearing of certain costumes on the basis that this is 'cultural appropriation', Edinburgh's student leaders now threaten to punish people for raising their hands or moving their heads.
These ideas, mad as they seem, have not come out of thin air. I have taken some sociology courses at Edinburgh, and in these courses I have found a lot of intellectual support for the idea of censorship as a progressive good. Many in the field of sociology seem to accept the dangerous idea that violence must be redefined to include hateful, 'discriminatory' or offensive speech. When I calmly criticised this idea, I encountered a lot of hostility. One tutor even felt the need to apologise privately to other students who had listened to me criticise laws in mainland Europe that outlaw Holocaust denial. The notion that words are violence, and censorship can be justified, is held in many areas of the academy; the safe-space brigade did not invent it.
The usual response to us students who argue for free speech on campus is defamation. So when I defend the right and ability of women to argue against misogyny, I am labelled a sexist; for defending the rights of minority groups to hear racist speech and challenge it, I have been branded a racist; I was called an 'Islamophobe' after Richard Dawkins supported my petition for free speech at Edinburgh. If students get this kind of abuse for standing up for free speech, then perhaps it is understandable that more professors — who have livelihoods and families to protect — aren't putting the case for full academic freedom.
The illiberalism of today's students doesn't run through their bloodstreams. It isn't natural. Censorship is not passed through genetics. Rather, their hostility to freedom reflects a broader cultural disdain for the idea of liberty and open debate. Standing up for free speech on campus will require challenging the censorious ideas that have taken hold there over decades — both in student-union circles and among many academics — and encouraging liberal students and professors to have the courage to stand up and be counted.
Charlie Peters is a writer and student at the University of Edinburgh.
Picture by: Wikimedia Commons.
To enquire about republishing spiked's content, a right to reply or to request a correction, please contact the managing editor, Viv Regan.