Treating mental-health patients as lesser beings
A psychiatric nurse on the cruelty of hospital smoking bans.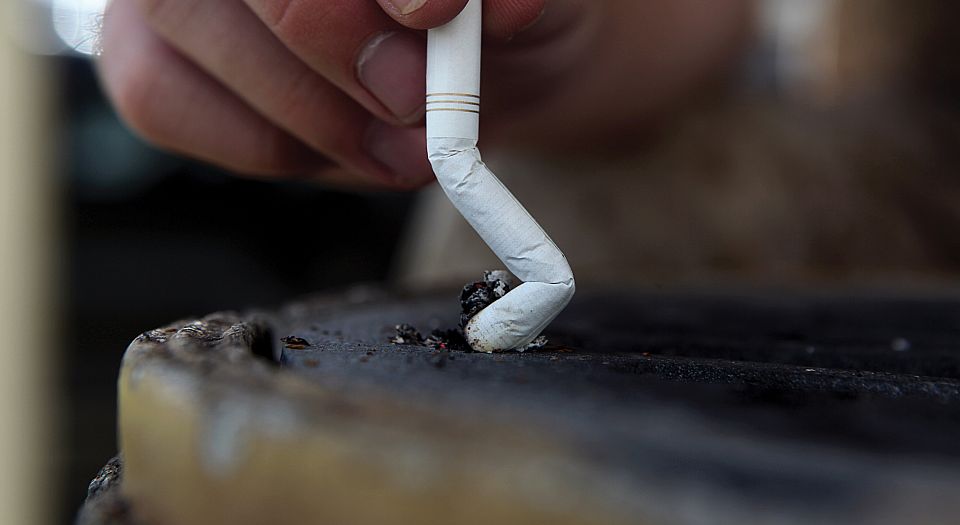 The Health (Tobacco, Nicotine etc and Care) Bill, passed by the Scottish parliament this month, has made it an offence to smoke anywhere on hospital grounds in Scotland. Public-health minister Maureen Watt said: 'Hospitals are places people go to recover from illness, and they shouldn't have to walk through clouds of smoke.' Never again will the sprawling 47-acre NHS site where I work be obscured by gigantic plumes of cigarette smoke. But aside from the ban being unnecessary, it is also deeply cruel – most of all to the mentally ill.
Just after I qualified as a psychiatric nurse, a large and imposing man was admitted to my ward. He was forcibly brought into the hospital after being detained under the Mental Health Act. As with many of the people in our care, he was convinced there was nothing wrong with him. He considered his present confinement to be an outrage. Worse still, he was experiencing delusions of being involved in matters of supreme international importance. For him, a gross universal injustice was occurring: he had committed no crime, yet was being punished.
As he saw it, habeas corpus had been suspended. He paced the ward, periodically punching the walls. He swore viscously at his captors. In his protestations, he managed to recruit another suggestible male patient who paced with him. We had a mini protest forming. I was the only male member of staff on the ward. It can be frightening. In an acute psychiatric ward there are no lockable rooms, handcuffs, straightjackets or pepper spray – we abide by 'least restrictive practice'. We have intramuscular medications, which can be used to sedate patients, but those take time to draw up.
At one point, the patient asked me, fizzing with resentment, if he could have a cigarette. Now, I could have stuck to the rulebook and said 'I'm sorry, sir, I am a healer not an enabler'. Thankfully, however, the ward had a smoking room back then – and I was therefore able to keep my teeth. I offered the man a cigarette, his own fags having been left behind in the melee of trying to get him into hospital. This reeled him in from the brink, and a particle of trust was formed.
A few weeks later, the ward manager unilaterally decided to close the smoking room. Patients who had been granted timeout could still smoke in the hospital grounds (sadly, after this month, they no longer will), but those who hadn't been, including most new admissions, had nowhere to go. An unspoken rule formed: patients could smoke anywhere as long as they didn't do it in front of the nursing staff.
Soon the whole place stank of cigarette smoke, and the floors became pockmarked with cigarette burns. So they brought back the smoking room, this time with multiple conditions attached. First, only one patient would be allowed in at a time, meaning hours of staff time became devoted to policing this rule. Second, any furniture or adornment was removed and a vast extractor fan was hung from the ceiling, filling the place with an industrial noise. This sad, denuded room looked like the kind of place people wake up in at the beginning of horror films – hardly a suitable environment for people in a psychiatric facility.
A couple of days before the Scottish parliament introduced the new smoking ban, I took a detained patient outside to a walled area of the hospital grounds for a smoke. The man had early-onset dementia. His faculties resided in that cruel hinterland between comprehension and loss of control. He knew that everything was going very wrong in his life, but he could not identify why. He would never be going back home because he had become aggressive towards his wife. Institutions and nursing homes would be his lot. He took a draw on his cigarette and sighed resignedly, 'This is all I've got left. I couldn't give it up now.' But now this last vestige of comfort and normality has been stubbed out.
The fact that mental-health patients will no longer be able to smoke is not just an unintended consequence of this legislation. Getting mental-health patients to stop smoking has been a concern of policymakers for years. But it remains deeply authoritarian and cruel – particularly when you're dealing with people who are legally confined to hospital grounds under the Mental Health Act. To detain someone under the Mental Health Act is an extreme action, it should only be used when a person's mental disorder poses a serious threat to themselves or others, or to treat their particular disorder. Now, the Mental Health Act is, effectively, being used to stop patients from smoking. This is hardly 'least restrictive practice'.
I am reminded of the Scottish government's ongoing 'See Me' campaign, which asks the public to look beyond people's mental-health problems and treat them as human beings. But those who would force detained psychiatric patients to stop smoking do not see them as individuals who have agency. They see them as human-shaped collections of problems which must be corrected. Here, the mentally ill are being treated as lesser beings.
Ken MacIntosh is a mental-health nurse based in Scotland.
Picture by: MilitaryHealth, published under a creative commons license.
To enquire about republishing spiked's content, a right to reply or to request a correction, please contact the managing editor, Viv Regan.