There's more to the AfD surge than immigration
German voters are rebelling against the paternalistic 'liberal' elite.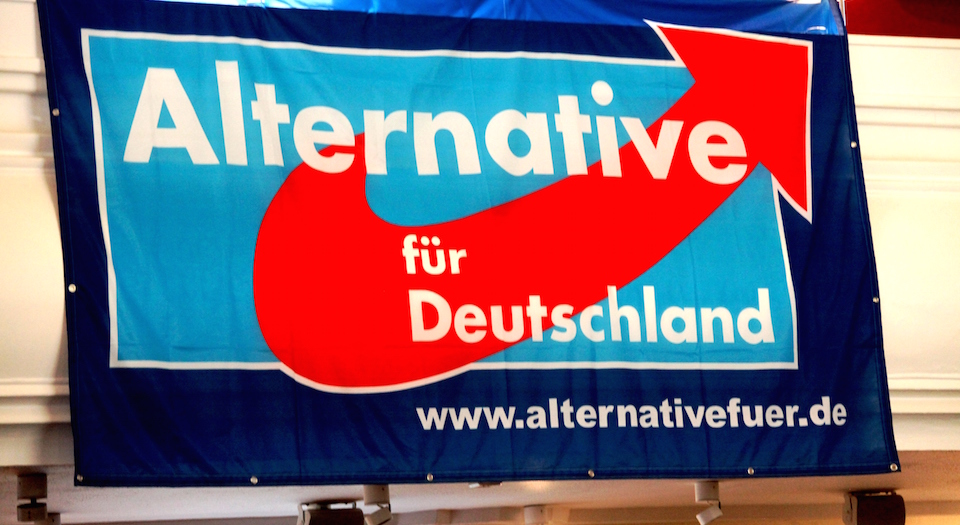 'The success of the AfD will fade', said Angela Merkel last week. Even before Germany's recent regional elections had started, it was as if the government needed to reassure itself.
However, the gains of the Alternative for Germany (AfD), a party founded only three years ago, have exceeded all expectations, and have made the party the uncontested winner of the elections which took place in three German states on Sunday. In Saxony-Anhalt, an eastern state, the AfD won 24.4 per cent of the vote and came second. In Baden-Württemberg and Rhineland-Palatinate, the AfD came third with 15.1 per cent and 12.6 per cent respectively.
Meanwhile, Merkel's Christian Democratic Union (CDU) party, though still number one in Saxony-Anhalt with a narrow margin of just over five per cent, suffered significant defeats in all three states. In addition, the AfD's success has reshuffled the political scene by ousting the coalition governments of all three states – the main loser being the Social Democratic Party (SPD), which has been relegated to third and fourth place in two states. Though it will be interesting to see whether the AfD can consolidate its position and overcome internal struggles, this is not the point. The real issue at stake here is the splitting of German society.
Over the past few weeks, the elections were built up as a test of support for Merkel's refugee policy, but there is more to the result than that. The heated debates about how many refugees Germany can and should accept have become the unfortunate focal point of a deeper, more essential struggle, the origins of which go back further than the current crisis over refugees.
One side of this struggle – the consensus-defining, greenish, liberal side – has shaped German politics for years. The other – a smaller but growing group – is made up of people who haven't been a part of this consensus. These are people who were once SPD or CDU supporters, but who increasingly felt they were losing their voice within the political establishment. Their experiences and convictions clash with what they see as a bullish mainstream consensus on all sorts of moral issues, including immigration, gender, family, etc.
They have, off and on, tried to resist this consensus, such as in 2014 when over 80,000 people in southern Germany signed an online petition against a plan to teach children about LGBT lifestyles in schools. However, it is the immigration issue, which has been imposed on them without democratic mandate, that has sparked a more successful revolt – culminating in this week's landslide victory for the AfD.
'Eighty-five per cent of us are keeping cool – the vast majority of Germans voted for a party which supports Merkel's refugee policy', tweeted the German daily taz immediately after the results had been confirmed. Established over 30 years ago as the voice of a then anti-establishment Green Party, taz's tweet underlines a new shift in German society. 'Irreverent, commercially independent, intelligent and entertaining' is how it describes itself, but is it still anti-mainstream? Establishment and anti-establishment, mainstream and anti-mainstream, have switched sides over the years.
Opinion among once-divided political movements, represented by the CDU, the SPD and the Green Party, have merged on decisive issues such as renewable energy and immigration. Winfried Kretschmann, the veteran Green leader, said in an interview with Berliner Zeitung in February that he prayed for Merkel every day (it was accompanied by a cartoon showing him with the features of Merkel, stating he had always believed in reincarnation).
The author Monika Maron wrote about the shift in German politics in 2015: 'Since all parties are now fighting for their place in the middle and the CDU has left the conservative section of society behind… the word normality needs always to be placed in inverted commas, and every minority demands not just acceptance but sovereignty of interpretation… it is only a matter of time before a new political force will emerge, reaching out to the abandoned sections of our society.'
Now that force has come about in the shape of the AfD. But even then, the impact of this new political force has exceeded expectations. Many assumed its popularity would be limited to the allegedly backward east. Out of 12.5million people (those eligible to vote in the three elections on Sunday) nearly two million gave their vote to this party that everyone in the establishment has done its best to pillory. This reflects a determination that cannot be shrugged off.
The AfD has been called all sorts of names: a 'shame for Germany' (Wolfgang Schäuble, CDU); a group of cynics and arsonists (Thomas Oppermann, SPD); and a racial party with racist speakers (Katrin Göring-Eckardt, Green). And its politicians have been treated like lepers. The SPD candidate and prime minister of Rhineland-Palatinate, Malu Dreyer, refused to take part in any TV debates involving the AfD. For her, this boycott was a matter of principle – she 'wouldn't talk to right-wingers'. Not only does this say a lot about her attitude towards free speech and political debate, it also shows her contempt for the AfD and those who might vote for it. Despite claims from the SPD that they were still taking the 'worries of the normal citizen' seriously, this patronising attitude suggests otherwise. Is it so hard to understand that people don't appreciate being told that the party they are considering voting for is nothing but a gang of idiotic, racist thugs?
Amid all the shouting and insults, a quiet, rational and truly open debate, taking on the issues raised by the AfD about the refugee crisis, was conspicuously absent. Instead, there was a growing and very open panic about how to deal with the AfD. As the elections drew near, the CDU opposition candidate in Rhineland-Palatinate began, in a half-hearted way, to distance herself from Merkel, parroting some of the things the AfD was saying, after she realised that the AfD was becoming a real threat. It didn't help, of course, and her turncoat approach made her look all the more inconsistent.
The SPD's response was even worse. While one section of the party was busy boycotting the AfD, another section began organising a demonstration calling for an immediate halt to immigration. 'Immigration must have limits and the north is full', was its motto. Though the demonstration was called off, SPD leader Sigmar Gabriel became the personification of his party's schizophrenia. His rants against the anti-immigrant 'mob' were followed by appeals to not forget about the worries of normal people.
These inconsistencies and mistakes certainly played into the hands of the AfD. However, far from being just small, tactical mistakes, they reveal the true difficulties which the established parties have in understanding the situation they suddenly find themselves in. True, the ever-increasing numbers of non-voters in the past few years (the figures have risen to over 50 per cent in some elections) has shown that many people are completely excluded from politics, but, as long as they kept quiet, no one truly went out of their way to win them back. Now, both of the old big parties have found themselves confronted with parts of their former electorate, whom they had long ignored and who are now voting for the AfD. The distance between the parties and the people has become so vast that party hacks can't even find the right words to say to them.
We are not experiencing a new left-right divide, as some like to make out. Instead, the green-liberal mainstream consensus, to which all established parties have bowed, is starting to crack. The sad thing is that the refugee crisis stands right at the centre of this. It was naive and undemocratic to expect that the decision to open the borders would go uncontested. While the change from atomic power to renewables was still something most people could somehow accept, immigration is a different matter.
Voters have a right to demand answers, and it is their duty as citizens to ask critical questions. Why, indeed, would people in a state like Saxony-Anhalt, where unemployment rates are at well over 10 per cent, find it easy to accept Angela Merkel's dictum that 'we will manage' with the effects of mass migration? The questions of the disaffected masses were downplayed far too easily. Part of the problem is that Merkel's statements, while often sensible, lack any political content. Yes, many, if not all, administrative problems have in the meantime been resolved. Nonetheless, crucial issues such as the financial support for migrants, social security, the effects migration would have on communities, and decisions about how many migrants should be let in, have been avoided or treated as taboo.
Rather than addressing these critical issues, too many self-affirmed progressives have avoided these issues by attacking those who ask hard questions. Suddenly people found they were being called bigots and racists. Take the example of Brigitte Fehrle, a commentator for Berliner Zeitung, a staunch supporter of Merkel's immigration policy. She pointed out, correctly, that for the first time in many years an election evening had actually been exciting, because there truly was something new happening. However, this didn't stop her from stating that, of course, 'we decent people' would have a lot to stomach in the future with these types of people in politics.
This attitude has enraged members of the public. People who work, pay taxes and worry about the future of their country don't appreciate being told they are indecent just because they don't agree with open borders. They also don't see why they should be accused of not showing enough solidarity, when they feel that they are expressing more solidarity with their community than their critics. They point to the tensions that the refugee crisis has created in Europe, and feel that Europe hasn't become a kinder and safer place as a result of migration. Most importantly, they see the deep contradiction of a liberal elite claiming to be democratic but at the same time doing everything it can to slag off any opposition. This has made many people who would not necessarily have identified with excluded conservatives willing to join the anti-immigration lobby.
The real tragedy is that the refugee issue has become the core theme through which all of this is being played out. Those claiming to be pro-immigration have accused their opponents of abusing the refugee crisis. But isn't that what they are doing, too, by making pro-immigration rhetoric into a declaration of faith? This is all the more annoying because not one of the political parties actually argues for open borders. In fact, everybody, including Merkel, has spent a huge amount of time and energy thinking about how the numbers of refugees can be reduced. Yes, there is a very natural feeling among many Germans that it is right and good to help people in need, and that a country open to immigration is a better place. But the question presented to true progressives now is: how can we argue for open borders without being drawn into a cultural struggle?
Sabine Beppler-Spahl is head of the board of the liberal thinktank Freiblickinstitut e.V., which has published the Freedom Manifesto. She is also the organiser of the Berlin Salons.
To enquire about republishing spiked's content, a right to reply or to request a correction, please contact the managing editor, Viv Regan.