Trump: a monster made by PC
The elite can't fight The Donald because it unwittingly created him.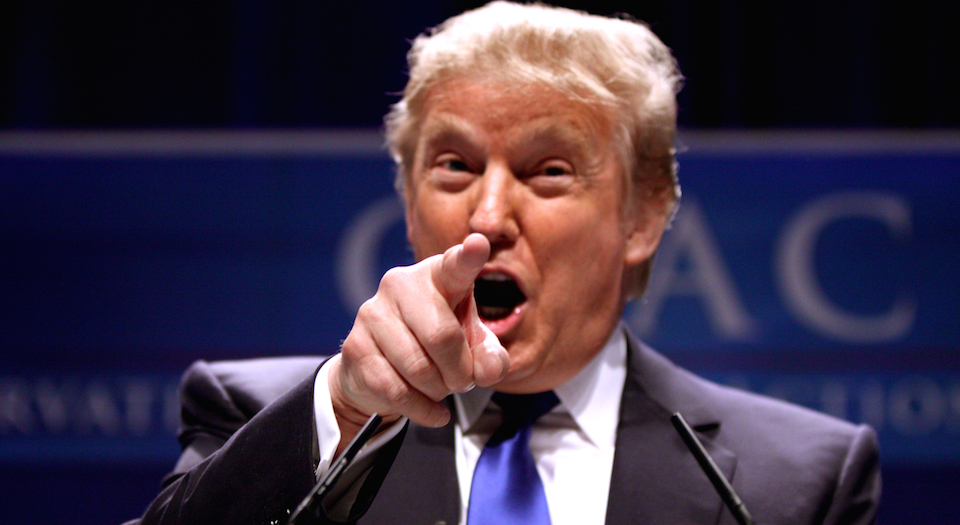 Donald Trump generates passionate responses. Supporters love him, opponents hate him. Loyalists remain fiercely true despite his recurring gaffes and revelations of his dodgy enterprises, like Trump University. Adversaries get worked up into a frenzy, likening Trump to Hitler, even though his proposals aren't all that different from the policies of other candidates.
We saw these passions go head-to-head in Chicago on Friday evening, as protesters fought with supporters at a Trump rally. Trump's campaign chiefs cancelled the event, citing safety concerns. More clashes seem in store as the election campaign continues.
Trump is becoming a larger character in American life by the day. His prominence in the social imagination, and the strong reactions he ignites on all sides, shows that he has become a cultural phenomenon, something more than just a contender for political office. Saying you are for or against Trump sends a broader message about where you stand culturally, not just politically.
Trump stands opposed to many aspects of the prevailing elite culture, as expressed in the media, entertainment and academia. He's a throwback to the past. In a 'You Can't Say That!' culture, where certain words and thoughts are not allowed, Trump says them, over and over – and then, when challenged, refuses to back down. In a society that emphasises human frailty and accepts low horizons, Trump calls for making the US 'great again', and suggests that people can succeed like he has. And in a world where masculinity is now described as toxic, Trump relishes the opportunity to present himself as the tough guy, like when he says he wants to punch a protester in the face. As Camille Paglia writes, Trump 'has a swaggering retro machismo' that will 'give hives' to feminists like Gloria Steinem.
As it happens, Trump is highly inconsistent as the leader of this countercultural backlash. He is self-centred, thin-skinned and whines about being unfairly attacked. He exaggerates the threat from demonstrators (calling them violent thugs), and can sound like a snowflake student when he uses security to protect his own Safe Space from protesters. His macho pose can descend into infantile talk about his anatomy, and, worse, become a prelude to promote authoritarian policies.
Nevertheless, Trump's supporters are willing to overlook his inconsistencies and embrace him, perhaps because they know that just the mere mention of backing the uncouth Trump will send a message to the cultural elites. As interviews with Trump supporters reveal, the number-one reason given for supporting him is not his proposals on immigration or trade, but his willingness to be politically incorrect. Trump is 'saying what a lot of Americans are thinking but are afraid to say because they don't think that it's politically correct', says supporter Cathy Cuthbertson. 'But we're tired of just standing back and letting everyone else dictate what we're supposed to think and do.' Trump's fans are as much signalling their defiance of PC culture as they are supporting particular political solutions.
Many of Trump's working-class supporters dislike the way they are looked down upon and written off as bigots. Elites dismiss their concerns about controlling the border or fighting domestic terrorism as inherently racist, and place these topics off-limits. Rather than engage or try to convince Trump's supporters, the cultural establishment simply denounces them as having unacceptable views, and seeks to silence them via public shaming or more coercive methods. In response, supporting Trump then becomes a way of saying, 'Screw you, I'm not shutting up'.
Trump's foes, like his supporters, recognise that Trump is more than a typical politician, and they, too, send a signal by opposing him: one that shows they are virtuous. The cultural establishment assumes that every reasonable person shares their outlook – just look at the monolithic parade of liberal pieties at the Oscars this year ('some real Hollywood bullshit', as Tina Fey put it) – but Trump and his supporters are living proof that not everyone goes along with this.
Celebrities and other establishment figures have taken to demonising Trump, calling him the new Hitler. Trump's request to supporters at a recent rally to put their hand up and pledge they will vote for him has been portrayed as the return of the Nazi salute. During a recent episode of Saturday Night Live, a fake TV ad showed Nazis and Ku Klux Klansmen swearing their allegiance to Trump. Underlying all of the talk about fascism on the rise is a fear not just of Trump, but of the people who back him. And it is understood as such by Trump's supporters. We are now in a cycle where attacks on Trump as the new Hitler only embolden his supporters, making them more determined.
Events at Trump's rally in Chicago will also only have stiffened their resolve. Protest organisers, having failed to get the University of Illinois to cancel the event, sought to shut it down by other means – and succeeded. As a prominent organiser tweeted, 'Everyone, get your tickets to this. We're all going in!!!! #SHUTITDOWN.' Protest, including heckling, is free speech. But the Chicago protest, which effectively sought to No Platform Trump, crossed a line into censorship – it denied attendees the chance to listen and make up their own minds. If some Trump supporters now return the favour, and try to stop a Sanders or Clinton event, the anti-Trumpists will have no logical counterargument.
With all of the attention on Trump, it is easy to miss the fact that he doesn't have huge backing. He has won only about a third of votes from registered Republicans, and typically less than 10 per cent of the total voting population in a given state. At the moments when the campaign starts to focus on policy, Trump doesn't do as well, and his support begins to drop somewhat. But attempts to present Trump as beyond the pale, while denigrating his supporters as brownshirts in the making, have the opposite effect. Such attacks reinforce Trump's status as a cultural rebel, and only work to solidify his existing support, and expand it.
The cultural elites see a monster in Trump, but won't admit they created him. They now face a backlash from his supporters, and their attempts to squash that backlash have set off an unpredictable dynamic.
Sean Collins is a writer based in New York. Visit his blog, The American Situation.
Picture by: Gage Skidmore.
To enquire about republishing spiked's content, a right to reply or to request a correction, please contact the managing editor, Viv Regan.