Policing punchlines
A comedian is on trial in Canada for telling a cruel joke. Get angry.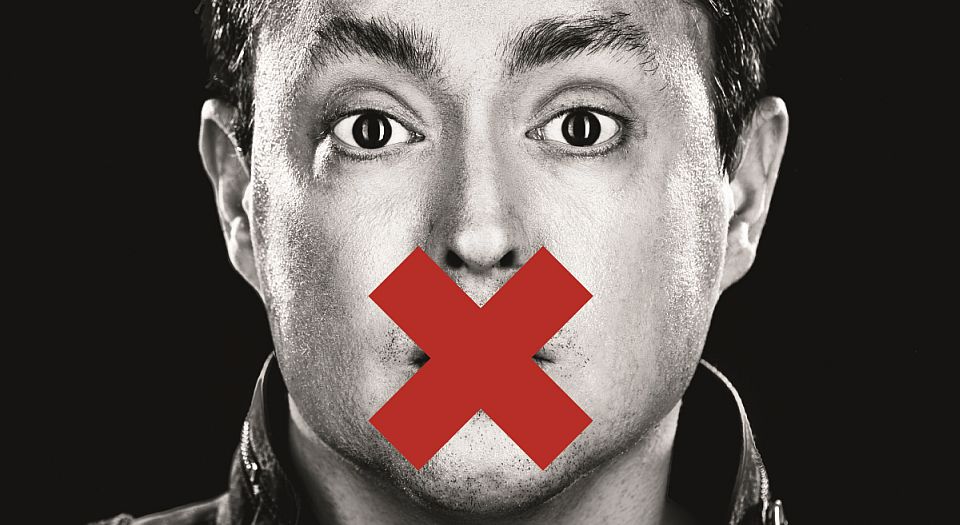 It is a truism that humour is wholly subjective. When it comes to comedy criticism, the phrase 'that's not funny' is about as productive as 'that's not erotic'. But this hasn't stopped the Canadian Human Rights Commission (CHRC) from extending its remit into the policing of jokes. Set up by the Canadian parliament in 1977 to address allegations of discrimination in employment and the provision of services, this body now seeks to criminalise bad taste.
Two weeks ago, stand-up comedian Mike Ward testified at a CHRC tribunal for telling a joke in 2012 about Jérémy Gabriel, a young man suffering from a disfiguring condition known as Treacher Collins syndrome. The joke concerned the attention Gabriel had received after being invited to sing for Pope Benedict in 2006. 'But now, five years later, and he's still not dead', Ward said. 'Me, I defended him, like an idiot, and he won't die.'
Mike Ward is a star of the comedy circuit in French-speaking Canada. He is the headliner at The Nasty Show at this year's Just For Laughs festival in Montreal, and is known for his near-the-knuckle brand of humour. The festival website bills him as 'the Celine Dion of dick jokes'. His audience, in other words, knows exactly what to expect.
Opposition to Ward's joke seems to be based on the premise that comedy must always be 'punching up' rather than 'punching down'. Will Self articulated this very point during an interview on Channel 4 News after the Charlie Hebdo massacre. 'You always have to ask with something that purports to be satire, who's it attacking?', he said. 'Are they people who are in a position of power?' Self failed to acknowledge that Charlie Hebdo's target has never been the Muslim minority. The target was God, and you can't punch much higher than that.
In any case, cruelty can sometimes be funny. This is something we all know, but many of us are loath to admit. The novelist Simon Raven once received a telegram from his wife which read: 'Wife and baby starving send money soonest.' He replied: 'Sorry no money suggest eat baby.' When I first read this, I laughed. Should I be troubled by this involuntary reaction? Do I subconsciously approve of infanticide and cannibalism? If so, I should probably make a disclosure the next time a friend asks me to babysit.
More likely, it suggests that I don't automatically take jokes at face value, an ability clearly lacking in Ward's critics. However ill-judged you might find his subject matter, surely we can all agree that he doesn't actually wish for Jérémy Gabriel to die? In the absence of contrary evidence, we should assume a basic level of humanity.
It's perfectly understandable that people don't want to be seen defending jokes that are in poor taste. When teenager Matthew Woods was sentenced to three months in prison for making comments on Facebook about April Jones and Madeleine McCann, there was little in the way of a public outcry. Many failed to see that a defence of Woods does not constitute an endorsement of his words.
It's a distinction that continues to escape many, particularly the more censorious contingent of the National Union of Students (NUS). Recently, Peter Tatchell signed a letter defending Germaine Greer's right to speak at Cardiff University after students attempted to No Platform her on account of her views on transgenderism. Fran Cowling, the LGBT officer of the NUS, took this letter as evidence of transphobia, and went on to smear Tatchell accordingly in an email to Canterbury Christ Church University, where they were both due to speak. She also threw in an allegation of racism for good measure, in spite of Tatchell's tireless anti-racist campaigning over the past four decades.
What this incident shows is that defending free speech, especially for those you disagree with, comes at a cost. If you have opponents like Cowling, who are willing to resort to flagrant dishonesty, there is a risk of being smeared by association. It's very much the 'if you're not with us, you're against us' argument famously invoked by George W Bush in the lead-up to the Iraq War, or by Anakin Skywalker just before he got his legs chopped off.
Those who disapprove of Ward's jokes should be just as vocal in supporting him as his fans. The principle is far more important than individual standards of good taste. Even if the joke in question could categorically be deemed unfunny, crass or universally offensive, the involvement of the Canadian authorities should still spark outrage. It's a sinister development in the creeping authoritarianism of our times.
The judge's verdict will come during the next six months. If found guilty, Ward will be forced to pay $80,000 to the Gabriel family and may be prohibited from performing. If exonerated, he will still be forced to pay legal fees of $100,000. Worse still, the case could set a precedent by which any comic could be sued by anyone who happens to take offence.
This is a matter that should concern us all, irrespective of our personal opinion on the merit of Ward's material. When the state seeks to impose restrictions on artistic freedom, we all need to be on our guard.
Andrew Doyle is a writer and comedian.
To enquire about republishing spiked's content, a right to reply or to request a correction, please contact the managing editor, Viv Regan.