Maria Sharapova took a drug – so what?
It was talent, not drugs, that secured her grand-slam victories.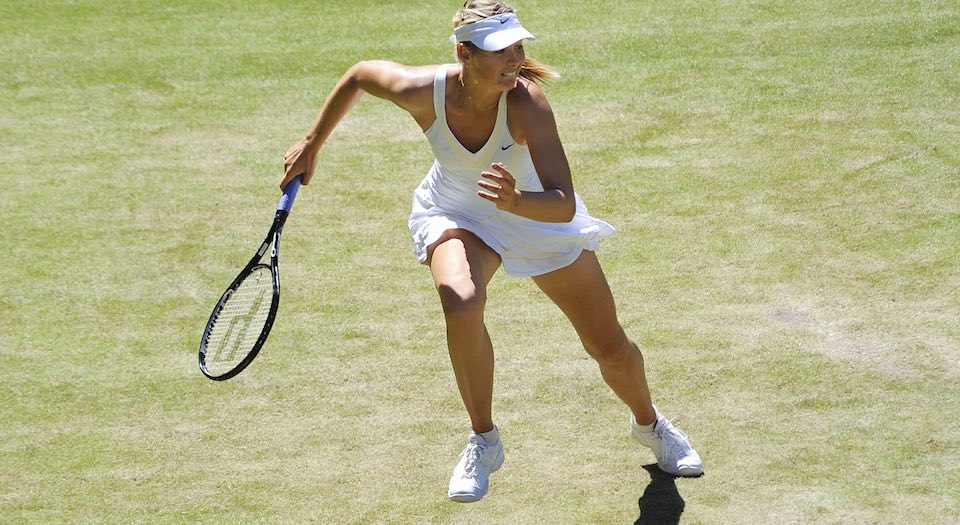 'I did fail the test and take full responsibility for it.' And with that admission, aired during a hastily arranged press conference in a seen-better-days Los Angeles hotel, tennis star Maria Sharapova became the latest high-profile casualty of the sporting world's very own War on Drugs.
The story, as it stands, sounds more cock-up than conspiracy. As Sharapova explained, for the past 10 years she had been taking a drug called mildronat prescribed by her 'family doctor'. But as of 1 January this year, mildronat, also known as meldonium, has been on the World Anti-Doping Agency's (WADA) list of prohibited substances because, as WADA put it, it was being used by athletes with 'the intention of enhancing performance'. Sharapova and her team claim they were unaware of meldonium's passage over to the dark side. So, inevitably, following a mandatory drugs test at this year's Australian Open, Sharapova tested positive for a banned substance.
Sharapova turns 29 this year. Her career, while it's likely to be remembered as a footnote to the reign of the Williams sisters, has been a very good one (five grand slams), if not a great one. But, as the injuries have bitten harder, and more frequently, it already appeared to be in its twilight years. Her imminent suspension from all competition, which the World Tennis Association chief Steve Simon says could last between six months and four years, looks likely to bring her career to an end, and an ignominious one at that. Her sponsors certainly seem to think so, having quickly suspended, or announcing they have no plans to extend, existing agreements and contracts.
There has been sympathy for Sharapova. But there's been scorn, blended with cynicism, too. 'Reckless beyond belief', said WADA chief Dick Pound yesterday. Others have focused on her hotel admission-cum-valediction, characterising it as the PR-savvy gesture of one caught in the act. Not for nothing has she earned more in lucrative endorsements than her more successful competitors, her critics say. Because this is what she's good at: 'managing the narrative', promoting herself, and, in this case, absolving herself of responsibility while simultaneously claiming to take it.
The questions asked of Sharapova drip with cynicism. Why did a 'family doctor' from Russia prescribe a drug that had not been approved in the US, Sharapova's long-term country of residence? And why was she, 'an incredibly fit and healthy young woman', being prescribed a blood-thinning drug used to treat heart problems like angina and myocardial infarction? Sharapova says it was because she used to be ill frequently, plus there was a history of diabetes in her family. But that won't do, her critics persist. The Latvian manufacturer of meldonium says that a normal course of treatment lasts from four to six weeks – Sharapova's course of treatment has lasted for 10 years. Was she not therefore using it to improve her performance rather than treat a condition?, insinuated one reporter at Sharapova's press conference. 'It made me healthy and that is why I continued to take it', responded Sharapova.
So let's run with the cynics for a moment. Let's say that their allegation is shot through with truth. Let's say that Sharapova took a drug for 10 years because it enhanced her performance, rather than treated an ailment. After all, it does seem to have been something of an open secret in sporting circles that meldonium improves cardiovascular functioning. If one 2015 study is to be believed, 724 out of 4,316 Russian athletes that year had meldonium in their system. Either there are a lot of incredibly fit and healthy young Russians with heart conditions, or meldonium is serving another purpose.
But hanging over this whole global furore is a big 'so what?'. Even if the performance-enhancing theory behind Sharapova's meldonium regime is true, is it really such a big deal? Surely every single athlete on the planet is constantly trying to enhance their performance. That's why they seek out the most advanced training facilities; why they use the latest equipment; why they put certain things into their body, from specific foodstuffs to the most sophisticated dietary supplements and, yes, pharmaceuticals like the once unremarked-upon meldonium. This is the great big absurdity at the heart of the crusade against so-called performance-enhancing drugs: the desire to enhance one's performance is indissociable from the desire to compete. It is intrinsic to sport, not some foreign element that can be exorcised by the missionaries at WADA.
But not only is WADA's ever-expanding Index of Prohibited Drugs premised on an absurdity – it also devalues the sporting spectacle. Not just because it encourages an audience to treat every sporting achievement with suspicion, but also because it devalues the sporting spectacle by obscuring those parts of the successful sportsperson that no pharmaceutical, dietary supplement or high-altitude training regime can ever provide. Because, as much as some of us may wish it were true, there is no drug on Earth that can give us a forehand as rasping as Sharapova's, or hand-to-eye-coordination as immaculate as Andre Agassi's. These are natural gifts, cultivated and developed through sheer, unvarnished hard graft, be it repeatedly facing down a ball machine for hours on end, or rehearsing the same serve action until the light fades. Yes, something like meldonium might help with one's physical endurance, but it will never provide the skill it takes to win a grand slam; it might help with one's physical recovery, but it will never give anyone the mental fortitude to win a grand slam, to serve out a match when the stakes are high, or to come back from one or two sets down when all seems lost.
So if this really does turn out to be the end of Sharapova's tennis career, it shouldn't be allowed to tarnish her achievements. It wasn't a drug that underpinned her teenage triumph at Wimbledon in 2004, and it wasn't a drug that inspired her against-the-odds victory in the French Open 10 years later – it was talent.
To enquire about republishing spiked's content, a right to reply or to request a correction, please contact the managing editor, Viv Regan.