Son of Saul: hope amid the Holocaust
Frank Furedi on a brilliant film about one man's search for meaning.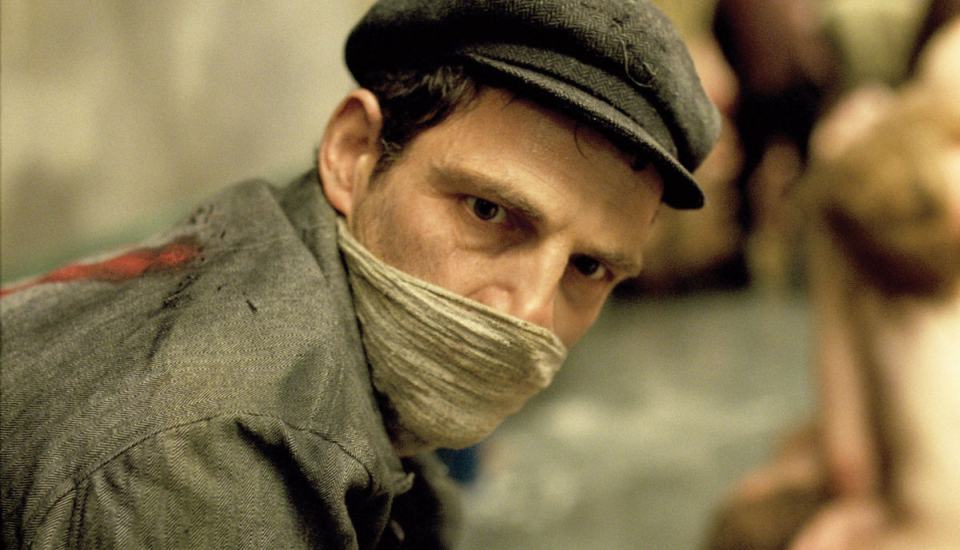 From the very first scene, Son of Saul, directed by László Nemes, transports you into the matter-of-fact horror of Auschwitz-Birkenau concentration camp. At first, the picture in this unusually narrow and claustrophobic screenshot is blurred, but the frenetic background noise indicates that a new wagonload of prisoners has arrived. The soon-to-be massacred victims are callously handled and directed towards the infamous shower-rooms by the camp's Sonderkommandos. These were mainly Jewish prisoners who were assigned the grim task of disposing of the clothes and valuables of those murdered by the Nazis, before burning their corpses.
We find ourselves smack in the middle of the concentration camp, and what's truly frightening is not the suffering but the business-like attitude of the Germans and their Sonderkommandos. In the midst of the herding of the new prisoners, we encounter the main protagonist in the film, a Hungarian Jew, Saul Auslander. Saul is a Sonderkommando. We see him going through the motions of encouraging the new arrivals to undress and prepare for their obligatory deaths.
Though thousands are dying around him, Saul appears impassive, almost indifferent to the horrors of the camp. That is until he witnesses one particular murder that catches him unaware. A young boy is choked to death by a German officer, and Saul recoils when he hears that the child's body is to be dissected by camp doctors. Obsessed with the fate of this child, Saul imagines that the victim was his own son. From this point onwards, the film is about a day in the life of a man on a mission. Saul has decided that he must find a rabbi to help him ensure that his 'son' has a proper burial.
Saul's quest to find a rabbi takes him on a journey in a mechanised inferno. His search for a rabbi in the midst of all the suffering has the hallmark of a moral mission – a desperate attempt to find meaning in an otherwise meaningless world. In the background, members of the Sonderkommando are preparing for what would be the Sonderkommando uprising of 1944. Although his colleagues urge him to join the fight, Saul regards the revolt as a distraction from what he considers to be a far more important and very personal search for a rabbi. 'I have to take care of my son', he tells one of his colleagues, who are bemused by the attention Saul pays to one dead child in the midst of mass slaughter.
There is something disturbingly human about Saul's attempt to take responsibility for his 'son' amid so much institutionalised irresponsibility. Despite the intense emotions incited by the images and sounds of a concentration camp frenetically accelerating its activities before the Russian advance, this is a very cerebral film. The dialogue is economical and almost brutally curt. In some interactions, a lot can be taken for granted and words are often not necessary; we the audience are continually forced to pay careful attention to facial gestures and body language. This is a very Hungarian film, and though the dialogue shifts from Hungarian to German and Yiddish, the understated temperament of Saul is characteristic of a culture where people have made an artform of hurling their defensiveness in your face.
Though Son of Saul, which won Best Foreign Language Film at this year's Oscars, can overwhelm the audience with its raw emotion, it also encourages us to hope that even in the most hopeless circumstances people can fight on and struggle to gain meaning. Despite the horrific obstacles that stand in his way, Saul remains defiant and will stop at nothing to take care of his 'son'. He may, as he says, be 'already dead', but embracing a cause gives meaning to his life. It also gives us hope, for if the virtues of taking care of others and assuming responsibility for others can survive in the death camp of Auschwitz, why not here and why not now?
Frank Furedi is a sociologist and commentator. His latest book, Power of Reading: From Socrates to Twitter, is published by Bloomsbury Continuum. (Order this book from Amazon UK.)
Watch the trailer for Son of Saul:
To enquire about republishing spiked's content, a right to reply or to request a correction, please contact the managing editor, Viv Regan.