Grimsby: 'the scum' vs Malthusians
Sacha Baron Cohen's new movie has a surprisingly radical twist.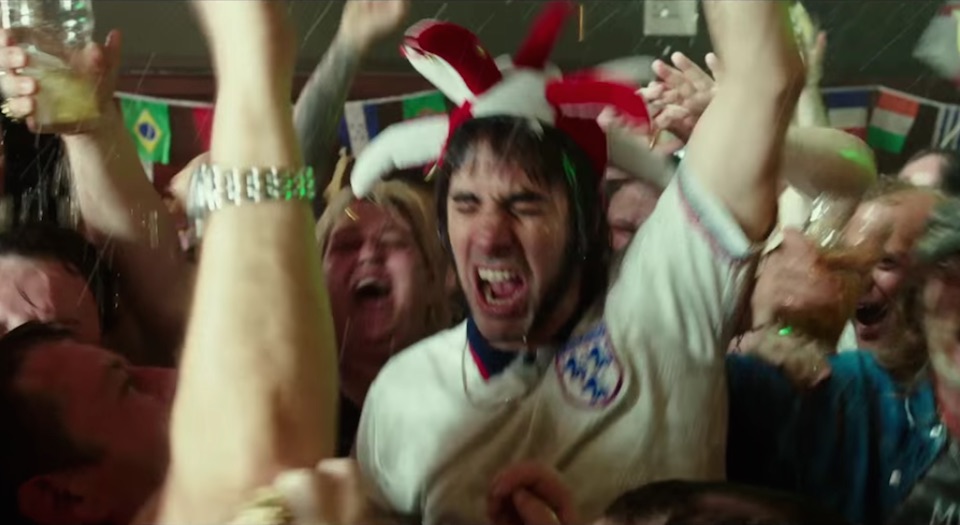 Sacha Baron Cohen is back. His new film, Grimsby, is everything we could have expected from the creator of Borat: rude, crude and raucous.
The film follows two brothers, Nobby Butcher (played by Baron Cohen) and Sebastian Butcher (played by straight-man Mark Strong), who are separated by adoption at a young age. Nobby remained in Grimsby, wearing Paul Gascoigne's 1990 World Cup England shirt with a beer and fag in hand, while Sebastian escapes to London, growing up in a middle-class family and eventually becoming MI6's best spy. In many ways, the film's action merely facilitates the two brothers reconnecting, with Sebastian overcoming his disgust at Nobby's beergut to remember his roots as one of the Butcher boys – the 'kings of Grimsby'.
Following a botched mission at a human-rights conference, in which a black, disabled boy with HIV gets shot, both brothers go on the run in search of the villain, played by Penelope Cruz. Cruz plans to release a deadly virus into a crowd of England fans at the World Cup final in Brazil in order to save the planet and rid the world of unnecessary 'scum'.
In the end – spoiler alert! – the Butcher boys join forces with their fellow England supporters to defeat the evil plan with a pitch invasion. Grimsby is a classic underdog film. However, it's been smeared by the media as the epitome of class prejudice.
A newspaper in Leicester was celebrated online for its review of the film: 'In which the privately schooled, Oxbridge-educated multimillionaire Sacha Baron Cohen invites us to laugh at his latest creation: a bloke with no job and 11 kids.' The Guardian ran a story from a journalist who, at some point, worked in Grimsby. He hated the film because, he said, it failed to recognise the town's 'heroically stubborn refusal to go under in hard times'. The Telegraph had a proud northerner arguing that the film was symptomatic of a much bigger 'insidious metropolitan prejudice'. 'Keep thinking it's grim up north by all means, and stay there in your overcrowded unaffordable metropolis. Up here, we're champion, ta', she wrote, without sounding bitter at all.
It's true that there is something uncomfortable about highly educated, middle-class entertainers like Baron Cohen pretending to be working class in order to get laughs. But to argue that this shouldn't be allowed, or that it in some way hurts or undermines working-class people, reveals the real class prejudice at play — that is, the idea that poor people are too soft or stupid to laugh at themselves (or merely extreme stereotypes of themselves).
It is pretty ironic that politically correct journalists are suddenly getting their knickers in a twist about the demonisation of the working class. Where is this sentiment when real attacks on working people happen? Where was the outrage when it was announced this week that Surrey Quays in Salford is going to ban swearing? The ban, which covers a walking route to Old Trafford, paints football fans as drunks, yobs and foulmouths.
Grimsby actually rips the piss out of the kneejerk, patronising nature of contemporary politics. In one scene, Nobby goes into the back of a building and finds a room full of women lying naked in the dark. He gets very upset and starts shouting at them to run, thinking they are all being held as sex slaves. In fact, he's come in the backdoor of an expensive spa. Though most of the film consists of grossout and Carry On-esque humour, there are occasional scenes which satirise contemporary politics in a funny and genuinely daring way.
The grand finale is the moment Nobby calls on the 'scum', people who, he points out, build the hospitals, pave the roads and produce the wealth of the country, to seize the life of luxury that the villain Cruz enjoys. Where the wicked NGO queen played by Cruz wants to reduce human numbers by a few billion, Nobby and the 'scum' want to assert their right to live, and to live well. It's hardly revolutionary, but there is something important happening in that scene. The metropolitan class is full of Malthusians who loathe the grubby masses. In an interview with the Guardian a few years ago, Springwatch presenter Kate Humble said: 'I think one of the most environmentally friendly things you can do is NOT have children.' This misanthropic view is argued by greens and liberals alike, often teamed with some initiative to flood Africa with condoms or stop teenage pregnancies in areas like Grimsby. And these people have the audacity to label Grimsby anti-working class?
How far can Sacha Baron Cohen push the boundaries? As far as he likes, it seems. The problem is, after five films of shock-factor grossness, the blow dealt to political correctness begins to lose its power. Grimsby won't be film of the year, but it wasn't aiming to be anything grand. It's a rude romp for anyone who enjoys a fart joke or a bit of schmaltz, as I do. Baron Cohen's latest portrayal of a warped working-class hero is just a good laugh. But it is also a send-up of modern Malthusianism.
Ella Whelan is staff writer at spiked. Follow her on Twitter: @Ella_M_Whelan
Watch the trailer for Grimsby:
To enquire about republishing spiked's content, a right to reply or to request a correction, please contact the managing editor, Viv Regan.