Are we really embracing risk?
Yes, kids are being allowed to make mistakes, but our mutual suspicion of others persists.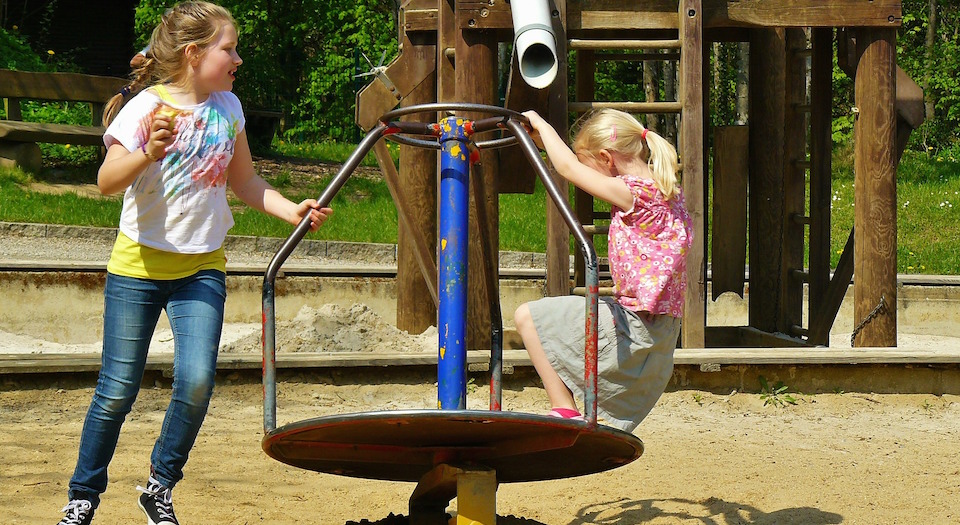 Risk is increasingly being seen as a positive experience for children. As much as child safety became ubiquitous during the 1990s, so risk is now being embraced as something that benefits children. Boring playgrounds, mundane outdoor activities and emotionally restricted peer relationships are old news. Now growing up is all about mud, bruises, tears and making mistakes.
Of course, normal people always knew that much of what was peddled under the banner of child safety was bonkers. So it does seem to be a breath of fresh air when ludicrous examples of parents being treated as imbeciles are challenged. There is something life-affirming about holding parenting gurus up to ridicule when they tell us how to hug our own children – 'chest to chest', in case you didn't know. When common sense leaves the building it is important to call it out. But is this bonfire of the safety-conscious and the risk-averse masking our continuing mistrust of others? Is it obscuring rather than demystifying our ongoing relationships with others?
Despite today's seeming embrace of risk, particularly among children's play advocates and other childcare professionals, fear and worry about child safety persists. Take the school run for example. How kids get to and from school used to involve nothing more than practical considerations: 'Does he know the way?', 'How hard is it raining?', and so on.
But from the 1990s onwards, the school run became problematic. The 'what ifs' proliferated, as parents began imagining the worst for their children, from child abduction to child murder. By the 2000s, child safety had become imperative, as children played ever closer to home, and the school run became a source of fear. Strangers – other adults – could no longer be relied on to do the right thing, to be considerate and responsible.
Take a look at how many parents now drive their kids to school. In 1970, 94 per cent of children walked to school unaccompanied by an adult. By 1998, this had fallen to 47 per cent. Charity Living Streets reported similar findings, confirming that the proportion of children under 10 allowed to walk to school on their own halved between 1985 and 1999.
This trend might just reflect increased car ownership. The 1981 Education Act, which allowed parents to choose their children's school, increased the average distance to school, too. Yet, research shows that parents without cars were no less likely to accompany their children to school than parents with cars, and distance played no part in their decision-making (1).
So despite a more nuanced public discussion around safety and risk, some behaviours are proving stubbornly resistant to change.
Cars and traffic, for example, also continue to prompt fear and worry. In 2012, the Royal Society for the Prevention of Accidents (RoSPA) revealed a gradual decline in fatalities of all ages between 1973 and 2011. Transport Scotland corroborates RoSPA's findings, confirming that the decline starts in 1966, and occurs for all ages, accident types and injuries. In 2011 the total number of road casualties, from those seriously injured to those slightly injured, was at its lowest since records began. And, in 2011, the number of people killed on Scotland's roads was a quarter of what it was in 1972.
Focusing on child road fatalities, there was a significant decrease during the period 1979-2012 (General Register Office for Scotland, 2012). The five-year total in 1979 was 152 while for 2012 it was just 17.
Yet cars are under attack. Last year, the Scottish Parliament was presented with a bill (the Footway Parking and Double Parking Bill) which would ban parking on pavements. Reading responses to the parliamentary consultation, one could be forgiven for thinking that society is populated by sociopaths, with assorted campaign groups keen to encourage further state sanctions for road users.
But we all do things that annoy others, and that includes cyclists and pedestrians. We need to recognise that others can experience our own actions as an annoyance, just as we experience theirs as an annoyance. The fact that we don't recognise this, with too many people keen to have a pop at 'selfish' road users, touches on the nub of the problem: the collapse of adult solidarity, and the corresponding rise in calls for the authorities to protect us and our children from others.
The Law Society of Scotland goes some way to counteracting this collapse in adult solidarity in its submission to the parking-bill consultation. It suggests the statutory defence that 'the parking was, in all the circumstances, reasonable', and by doing so it calls on us to come to a social, shared agreement of acceptable behaviour.
Despite the seeming willingness today to embrace risk and challenge safety culture, too many communities lack the key ingredient to do so – namely trust. Trust forms the basis on which we relate to those immediately around us. And it was precisely the collapse in community trust that gave birth to the obsession with safety. While the symptom, risk aversion, is being challenged, a sense of others as a threat or problem remains. And it's this that needs to be overcome.
Simon Knight is a senior community worker.
(1) 'Children's journeys to school – new data and further comments', by MS Joshi, M MacLean and W Carter, World Transport Policy and Practice, 3(4), pp 17-22.
To enquire about republishing spiked's content, a right to reply or to request a correction, please contact the managing editor, Viv Regan.