Debate is good, but can it be imposed?
Forcing Islamist students to have balanced meetings is a mistake.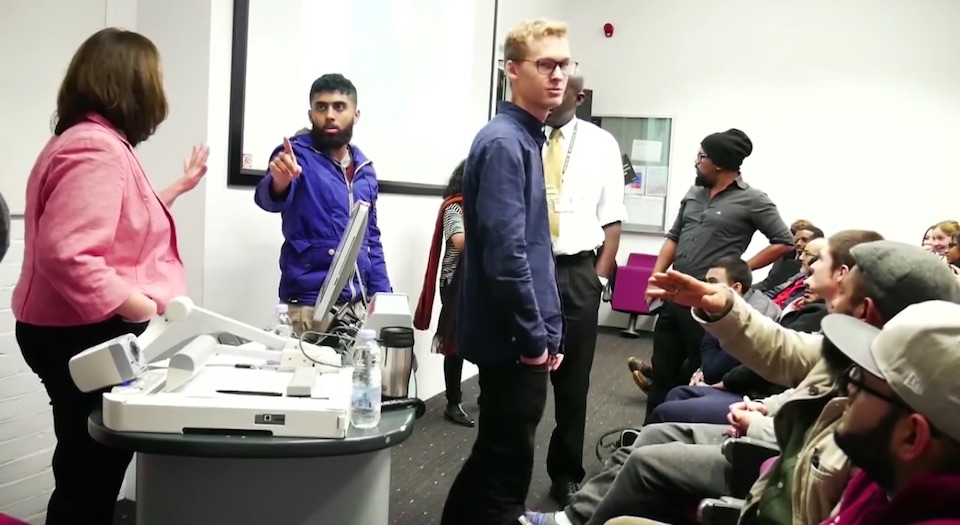 How do you debate someone who doesn't believe in free speech? How do you challenge ideas when the people who hold them think they are inviolable, perhaps sacred? And how do you tackle dodgy ideas that are aired in closed rooms, away from the glare of criticism? These are the questions that many free-speech advocates have been struggling with of late.
The rise of campus censorship has helped reinvigorate a discussion about free speech across society. Faced with students' unions blithely censoring anything they deem offensive, students, commentators and incensed members of the public have been taking the campus bureaucrats up on their paternalistic logic. You can't swing a cat these days without hitting someone quoting John Stuart Mill at you. And that's a good thing, too. spiked has been making the case for free speech on campus for 15 years, and it is great to have others now joining us.
But the accompanying rise of Islamist extremism on campus, and the introduction of draconian government measures to stamp it out, has provoked umming and ahhing from even the most seemingly strident free-speech warrior. HL Mencken argued that sticking up for free speech primarily meant sticking up for 'scoundrels' — but today, many free-speech campaigners struggle to defend scoundrels like firebrand Islamist preachers and terror apologists.
For years the debate about allowing extremist speakers on campus has been had out in the abstract. One would argue against the NUS's No Platform for Fascists policy knowing full well that you could fit the British far-right into a minibus these days. But the rise of Islamism on campus has made the debate more real, and pressing. According to government figures, 70 events involving Islamist preachers were held on campuses last year, often at closed, gender-segregated meetings. Meanwhile, Islamic societies at universities like Westminster, Jihadi John's alma mater, have become dominated by hardline Islamists.
British universities aren't quite terrorist training grounds. The threat we face here is not physical, it's ideological. But it's a real threat nonetheless. Preachers are holding packed seminars on the 'correct' way to beat women. Some Muslim students are blithely rejecting democratic, liberal values in classroom discussions — often without challenge. And given that some British students have made the journey to Syria, it is clear we must not be complacent.
The government response so far has been disastrous. Since the 2015 General Election, the Conservative government has beefed up universities' obligations under the Prevent Strategy, mandating that they vet extremist speakers, filter internet services, and monitor 'at-risk' students so that, as David Cameron chillingly put it, 'radical views and ideas are not given the oxygen they need to flourish'. This is state censorship, pure and simple, and it will further undermine free speech on campus, drive Islamism underground and lend Islamists the against-the-system glamour they desperately crave.
But while anyone with a liberal bone in their body should resist the Prevent Strategy – sadly, too many have folded to its will – a crucial problem remains: how do you debate people who don't want to debate? And, indeed, how do you subject ideas to public scrutiny when they are aired in closed meetings?
A few initiatives have tried to square the circle. Last week, the counter-extremism think tank the Quilliam Foundation launched its #Right2Debate campaign. As Quilliam's Haydar Zaki discusses on spiked today, #Right2Debate aims to stop extremist speakers being censored by allowing students to lobby students' unions to impose Q&A sessions and balanced panels on meetings that would otherwise allow bigoted views to be aired unchallenged.
Yet while the desire to debate ideas rather than censor them is a noble one, attempts to foist open debate on people who don't want it throws up many problems. Student societies are entitled to freedom of association. If they are holding a private meeting, they should be free to pick any speaker, format and seating policy they choose. Imposing balance would only limit freedom in the name of upholding it, and drive Islamic societies and groups off campus where they can arrange their affairs as they please.
What's more, the calls for balanced panels misses the broader picture. Open debate is crucial to challenging the rise of Islamism. We need to meet bad speech with good speech. We need to locate, debate and demolish backward and bigoted ideas. But formal (let alone imposed) debate is not the only means through which this can be achieved. The free exchange of ideas is not consigned to the debating chamber. It is a living, breathing process that should take place throughout civil society.
The biggest barrier facing the fight against Islamism today is not that we aren't allowed to debate Islamists — it's that we're barely allowed to talk about Islamism at all. From campus to Facebook, the Islamophobia industry continues to shut down forthright discussion. The rise of identity politics, and the grievance sweepstakes it has unleashed, means any criticism of Islam, the religion, or Islamism, the political movement, is presented as an attack on Muslims everywhere.
If a hardline speaker is planning on preaching unopposed at a campus, get inside the room and answer back. If you're not allowed in, make your presence felt from outside. And, most importantly, demonstrate your commitment to the liberal, democratic rights these characters so despise by refusing to censor or impose limits on them. The challenge that faces us isn't a technical one, it's a cultural one. Be bold, refuse to be cowed and question that which is put beyond question, whether that's inside the debating chamber or outside it. Only then can we drag Islamism into the light.
Tom Slater is deputy editor at spiked. Follow him on Twitter: @Tom_Slater_
To enquire about republishing spiked's content, a right to reply or to request a correction, please contact the managing editor, Viv Regan.