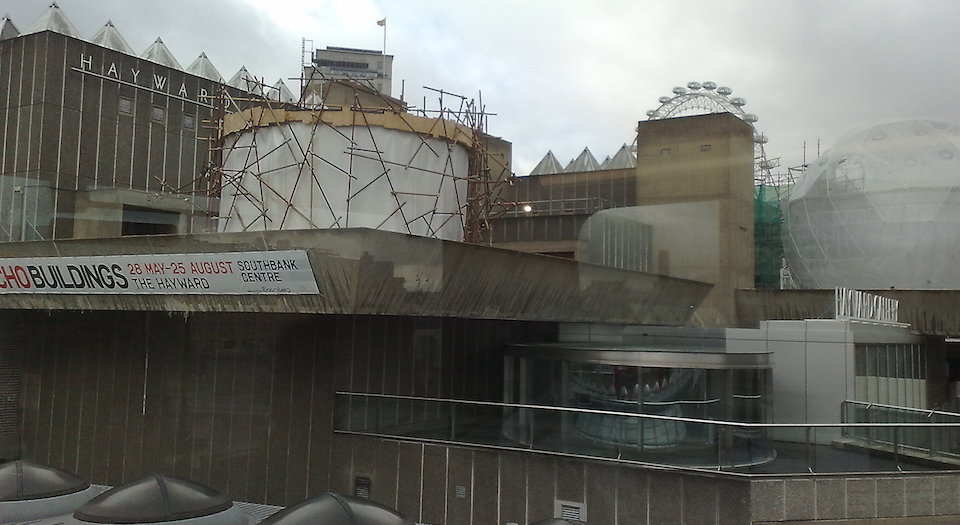 Long-read
Brutalism – 'and the word was made concrete'
On the humanist ethic behind Brutalism.
After a lifetime of 60 years or more, the word 'Brutalism' is in wider circulation now than ever before. It has always been a contentious term, and there is a substantial academic industry involved in defining it, either by expanding it into wider fields of culture, in which its meaning is inevitably diluted, or contracting it back towards a single simple meaning. It has become a brand that is also a liability.
Brutalism or 'New Brutalism' emerged as a tendency in architecture some time between 1952 and 1955, primarily in Britain where the word was first circulated and discussed. A young architect couple, Alison and Peter Smithson, adopted the word and applied it in 1952 to their design for a townhouse, intended to be built to 'a high standard of basic construction, as in a small warehouse'. Among other factors, the need to 'make do' had caused architects who had opportunities to build, mostly for the expanded public sector of the welfare state, to use whatever came to hand as surface finishes – brick, timber, tile and recycled granite setts from the streets, making a form of collage that chimed with the romantic wartime artistic vision of artist John Piper and others.
To the young Smithsons and their contemporaries, this make-do approach was neglectful of the fundamental values of architectural form in a welter of landscaping, applied art and niceness trading under the label 'humanism'. From this viewpoint, the violence implied in the word Brutalism acted as an effective manifesto for a Dionysian rather than Apollonian turn, passion over cool reason. The varied and exploratory work of the first generation of modernists in the 1920s had too quickly been labelled and marketed as if it were just another historical style – Brutalism was meant to be different, in the words of Reyner Banham, an ethic rather than an aesthetic.
Unité d'habitation, Marseille
The complicated genius of Le Corbusier provided the templates for New Brutalism as well as for the earlier stages of architectural modernism. The French 'brut' is a technical adjective for concrete left in its raw state, such as Le Corbusier used in his large housing scheme in Marseilles, as well as for dry champagne. It elided into the very different and more emotionally loaded English coinage 'Brutalism'. 'New' was added to the B-word originally as a private joke, since there was no recognised 'Old Brutalism' as such. Indeed, the architectural Modern Movement in the 1920s claimed to have erased the curse of history in the name of function and social service.
However, a canon of historical reference points was adopted by the Smithsons, James Stirling and other group members, constituting a de facto 'Old Brutalism', including the then unfashionable work of Nicholas Hawksmoor and John Vanbrugh. Later, the even more outlandish 'vigorous' Victorian Gothic of William Butterfield was a touchstone of a new sort of bloody-mindedness which was full of flavour. In the 1960s, inspiration for mainstream modernism was largely split between Le Corbusier and Mies van der Rohe, whose work was sometimes copied rather superficially. Both were important for the Brutalist faction as well and the Smithsons increasingly came to admire how the reticence of Mies's elevations contributed to the quality of the spaces between his buildings, characteristics demonstrated in their group of buildings for The Economist in St. James's.
The National Theatre, London
New Brutalism was one of the few moments in history when Britain played an original and influential part in the world culture of architecture. Has any country been readier to reject a glorious episode in its history? Non-believers in modern architecture, the majority of the population, can be brought to understand and even to like some of the buildings from the first phase of British modernism, such as the De La Warr Pavilion at Bexhill-on-Sea (1935) and the Royal Festival Hall (1951). It is much harder to sell them the Hayward Gallery (1966) or the National Theatre (1976), although these have their passionate advocates at home and abroad. So far, the passage of time has not altered the antipathy, as it eventually did with Victorian Gothic. Perhaps it never will, for Victorian Gothic, although strong meat, is spiced with pattern and decoration, unlike concrete, the material generally if misleadingly associated chiefly with Brutalism in its passage from ethic to aesthetic.
Park Hill, Sheffield
Windswept, rough-to-the-touch, unsmiling in its sparseness of windows and monochrome surfaces, the caricature version of Brutalism is hard to square with Brutalism's claim to be a more humanist form of architecture than the one it replaced. The more elaborately argued demonstrations of this humanist intention, such as the Park Hill flats in Sheffield, were arguably self-deceiving in their hope of transferring the social interchange of the street to the high-level 'street in the sky'. There were worse alternatives, certainly, but even at the time some architects quietly admitted that real streets did a better job. We should be glad, perhaps, that such counsels of prudence were ignored, since we have a distinctively different architecture as a result, adding richness to the Sheffield skyline and to the panorama of history. But it came at a financial and reputational cost.
The fate of Brutalism in the public mind, exemplified by prime minister David Cameron's recent promise (or threat) to demolish the remaining 'brutal towers' of 1960s housing estates, is yoked above all to the rise and fall of public housing during Les Trente Glorieuses of the welfare state, a subject still obscured by tendentious history on both sides. Many of the Brutalist humanists found employment in the public sector, and in housing they had the opportunity they wanted to make daily living enjoyable through a variety of complex visual and spatial strategies – think perhaps of the Brunswick Centre in Bloomsbury (1972), chosen in preference to the previous orthodoxy of separate tower blocks, with the intention of mixing different uses, recasting the urban street without traffic through a design intended to achieve the laid-back grandeur of the Nash terraces. It is possible that architects thought too much about their social responsibilities,but did so in the abstract and avoided gathering user-feedback in case it contradicted their assumptions.
Byker Wall, Newcastle
The widespread belief that 1960s housing 'failed' allows David Cameron to look good by promising to remove it, but such sweeping judgements of success or failure are always oversimplified. The architect's ingenuity captured in the striking photograph, and the critic's lazy deductions from strolling around. are counterparts – both stake everything on the physical appearance, when the reality is as much controlled by economics, cycles of upkeep and the make-up of residential groups. Wikipedia's description of Ralph Erskine's colourful and photogenic Byker estate in Newcastle as 'a major break with the Brutalist high-rise architectural orthodoxy of the time' is doubly wrong. Brutalism tended to be anti high-rise, while the social basis of Erskine's Byker concept was one of the more successful fulfillments of its humanist ambitions. After long delays, Byker was included, along with Park Hill, Alexandra Road in Camden, and others, in the small portfolio of listed public housing from the 1960s. It is small because governments are aware of the possibility of adverse press, but Byker was even granted a unique financial dowry in 2012 when the government wrote off the original local authority debt for its construction prior to 'stock transfer' to a new community trust.
Any estate could probably become a success with help like this, even Robin Hood Gardens in Tower Hamlets, by the original Brutalists, Alison and Peter Smithson, which has had neither listing nor financial support and is facing imminent demolition. Members of the architectural community argued that the Smithsons' authorship was enough to make a prima facie case for protecting Robin Hood Gardens. It was their biggest building, and in it they demonstrated ideas they had discussed and refined over many years. Despite a shaky start in the early 1970s, when the local population was severely hit by unemployment, it climbed back to become a stable, multi-ethnic community despite lack of investment in the building.
Robin Hood Gardens, London
The reputation of 'failure' at Robin Hood Gardens has, nonetheless, been taken as axiomatic, while the role of the Smithsons as intellectuals was definitely a mark against them when English Heritage assessed it for listing. Robin Hood Gardens is close to Canary Wharf, making it an attractive site for development. Had it been listed, the same proximity could have made a restored and retained building equally attractive for design-conscious buyers. Either way, the original ideal of housing those on low-incomes with a degree of spaciousness and style will have been lost.
Was Robin Hood Gardens sacrificed because of a misunderstood word? Reading Simon Jenkins' hostile Times Literary Supplement review of Space, Hope and Brutalism, Elain Harwood's detailed history of postwar British architecture, makes it clear how, apart from reactions to the buildings themselves, the ambiguous meaning of the B-word has created a massive gulf between the bloggers and Brutalist groupies on one hand, and the Jenkinsites in their hordes on the other. It has become a replay of the original polemic of Brutalism – the few who are Valiant for Truth against the many of Vanity Fair.
The architectural ethic of Brutalism represents an unfamiliar way of understanding the nature of architecture, but one that informs most of the best current practice, into which the benefits of 60 years of trial and error have been fed back. The Brutalist proposition was that in architecture there is no gain without pain – the Dionysian pain of reality biting, in place of the Apollonian smothering of the soul.
Alan Powers is an author and curator currently teaching at New York University. His publications include: Eric Ravilious: Imagined Realities (2003); Britain: Modern Architectures in History (2007); and Aldington, Craig and Collinge (2009).
Picture by: Clive Darra.
In-article picture credits:
Robin Hood Gardens, by Somedriftwood, published under a creative commons license.
Byker Wall, by kaysgeog, published under a creative commons license.
National Theatre, by Carl Van Vechten.
To enquire about republishing spiked's content, a right to reply or to request a correction, please contact the managing editor, Viv Regan.