The mothers fighting the breast-is-best brigade
A campaign in France has struck a blow for women's freedom.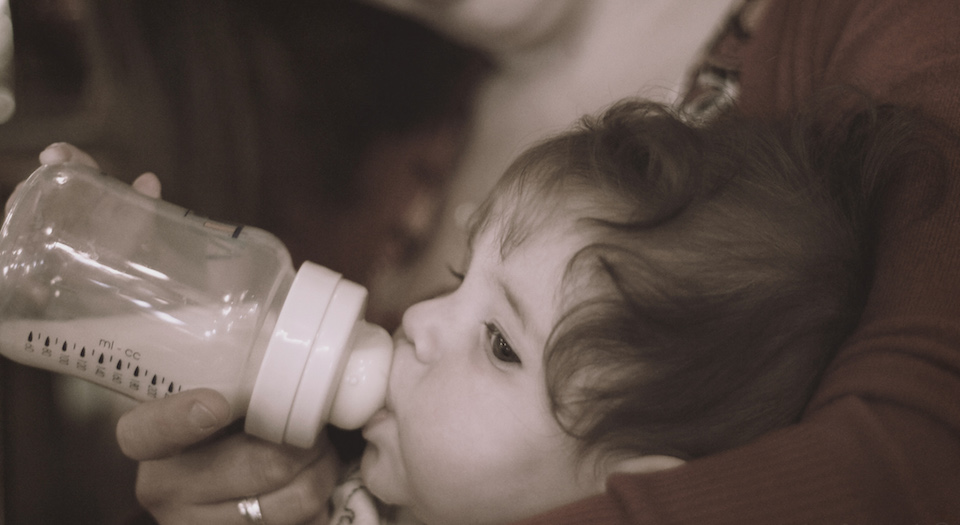 Forget Page 3 or Tube adverts for diet pills 'body-shaming' young women, a woman's body is most scrutinised when she's pregnant. Our obsession with health and diet during pregnancy has put pressure on women to give up their normal habits and fixate on the wellbeing of their unborn children.
But the policing of mothers doesn't stop once the child is born. Charitable campaigns and government initiatives encourage mothers to breastfeed for up to two years. UK medical journal the Lancet recently stated: 'The deaths of 823,000 children and 20,000 mothers each year could be averted through universal breastfeeding.'
In response to this bizarre claim, a group of women in France have taken up arms against the demonisation of mothers who choose not to breastfeed. Commentator Lauren Bastide and feminist writer Titiou Lecoq recently penned an article for Libération, arguing that 'Breastfeeding or bottlefeeding must remain a personal choice. This is not for public or private actors to decide for us.' Over 5,000 women have now signed the accompanying petition.
In the Libération piece, Bastide and Lecoq describe the guilt-tripping of women who choose to bottlefeed their children: 'We who choose the bottle are bad mothers, focusing on our comfort at the expense of our children, refusing to assume our biological functions.'
French author Elisabeth Badinter made the same point following the publication of her book, The Conflict: How Modern Motherhood Undermines the Status of Women, back in 2012. 'The good mother doesn't exist. She's a myth. It's utopian', she told an interviewer from the Globe. 'And, honestly, we may be mothers, but we're human beings – we have our limits, our own neuroses, our own subconscious, our own particular history. Whoever we are, we want to do our best.'
Badinter notoriously called the international charity for the promotion of breastfeeding, La Leche League, the 'Ayatollahs of breastfeeding'. It seems Bastide and Lecoq share the sentiment.
As we've noted previously on spiked, babies who are bottlefed are at no disadvantage to those who are breastfed. Scaremongering statistics and flimsy research is used to pressure women into breastfeeding unnecessarily. Bastide has recalled her own experience in an interview with Women in the World: 'At the hospital, the midwife said "but aren't you going to nurse?". When I said "no", she looked at me as if I wasn't going to feed my baby!'
Following Claridge's decision in 2014 to ask new mother Louise Burns to cover up while breastfeeding, political lactivists slammed the move as an affront to women's freedom. But by waving around placards proclaiming 'That's what boobs are for, stupid' and 'Breastfeeding is normal and natural', these protesters have actually added to the pressure on women to breastfeed. What 'natural' really means here is 'the right way to do it'. But while any idiot knows breastfeeding is a natural bodily function, that doesn't mean women have to do it.
Those who stigmatise bottlefeeding use this same tactic. The World Health Organisation's helpful posters on how co-workers can help with breastfeeding instructs people to 'encourage new mothers with an accepting, positive attitude' and 'recognise that the months after having a baby are special'. Does using a bottle somehow devalue the bond a mother forms with her child? Bastide certainly doesn't think so: 'We ask that question, "do you nurse?", but it is problematic. Because, yes, I nurse, but not with my milk!'
It's refreshing to see mothers standing up for their right to make their own parenting choices and demanding freedom over their own bodies. Never is a woman's body policed more than when she is pregnant. In France, a woman can get an abortion on demand, but only up to 12 weeks into the pregnancy. After this point, she has to seek the permission of two doctors, which is what women in the UK have to do from the beginning of a pregnancy. If a woman then decides to have a child, her body is subject to the scrutiny of government campaigns, hectoring lifestyle advice and bullying guidance. When the baby comes, regulations on the sale of baby formula and pressure in the hospital from lactation consultants are used to coerce her into breastfeeding.
Bastide and Lecoq have had enough. 'Every woman deserves equal respect in their personal choices', they write. 'We simply ask to keep our right to decide without having to face permanent guilt.' Here's hoping more women join the fightback.
To enquire about republishing spiked's content, a right to reply or to request a correction, please contact the managing editor, Viv Regan.