The NHS is not sacred
We should support the junior doctors, but criticise the NHS.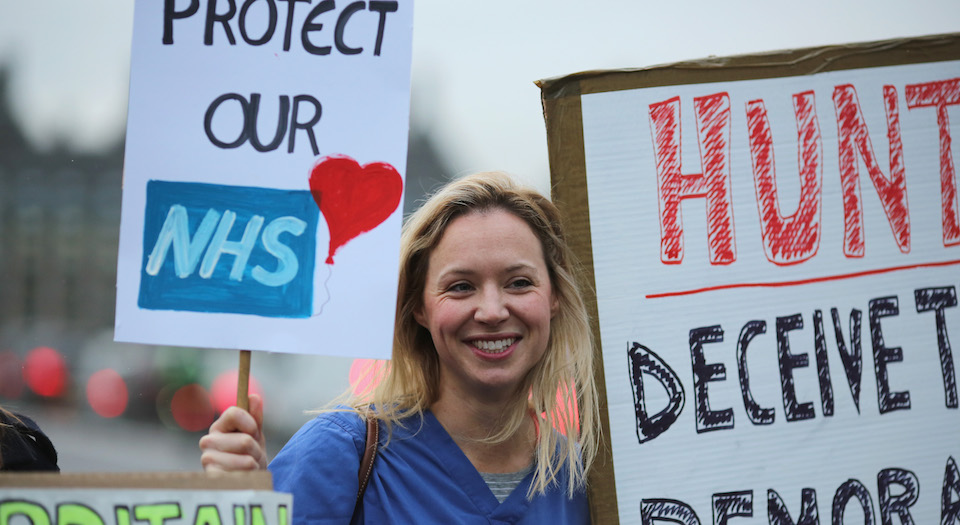 Ignore the shameless fearmongering about putting patients' lives at risk. Cut through the fog of assertion, counter assertion and 'balanced reporting'. It's simple. The junior doctors should be supported in their contract dispute with their employers, the British government. And their right to down stethoscopes should also be supported.
Not because they are doctors. Not because they spend large parts of their working lives doing something that is invaluable. And certainly not because they (all 55,000 of them), alongside nurses, are the beating heads and hearts of that most over-venerated and fetishised of institutions, the NHS. Some workers are not more worthy of support than others. No, the junior doctors should be supported because they are standing up for themselves. They are demanding a better life, with better pay, and better working conditions. They are refusing simply to accept what is given to them, with a bent knee and a grateful smile. And in doing this, in rejecting the passivity of our times and fighting for a better life for themselves, their families and their colleagues, they are doing something in which we ought to be able to recognise our own aspirations. Good on them.
Admittedly, thanks to the nature of the reporting, and the shallow focus on the bad manners of the perma-daft Conservative health secretary, Jeremy Hunt, it's not been the easiest dispute to understand. The government says the new contract will raise the basic rate of junior doctors' pay by 10 per cent — which it will. But while basic pay will rise, the extra pay that junior doctors receive for working 'unsociable' hours — between 7pm and 7am on weekdays and the entirety of the weekend — is to be reduced thanks to a clever trick: the new contract redefines what is an unsociable working hour.
So extra pay would now only come into effect from 10pm until 7am during the week and only on Sundays at the weekend. This means, as the British Medical Association (BMA), doctors' de facto trade union, puts it, that while those junior doctors who don't work much overtime will enjoy a pay rise, those who do a lot of out-of-hours work will see their pay fall. And given that people tend not to confine illness or accident to the normal working day, that's most junior doctors.
So, in their resistance to their employers' attempts to reduce state expenditure, which will result in a life just that little bit more miserable, the junior doctors should be supported. What's more, their actions run very much against the contemporary political grain. In these economically stagnant, recessive times, with employers all too willing to lay employees off, or as the euphemism goes, 'cut costs', those willing to resist, those refusing to accept their pay and conditions as fate, are few and far between. Evidence of this political passivity abounds.
In 1979, at the height of the modern trade union movement's membership and pre-Thatcher power, noted Mick Hume, all of 29million working days were lost due to mass industrial action over pay restraint and job losses. That is more than the total number of days lost to strikes over the past 20 years put together. In 2012, with the ramifications of the economic crisis of 2008 still working their way out, the number of days lost to industrial action actually reached an all-time low of 250,000. Of course, there are good reasons for this. The trade-union movement was attacked from without by countless anti-union laws, many of which were passed during the 1980s, and hollowed out from within through a loss of purpose and, its corollary, a haemorrhaging of members. Impotent and shell-like, the trade-union movement is struggling nowhere fast.
But, still, the absence of active resistance to employers' cost-cutting responses to these economically straitened times is, well, striking. Which is why the actions of junior doctors, like Tube and rail workers before them, stand as a signal riposte to the political passivity that marks our era.
And yet the good political reason to support the junior doctors has been eclipsed by the weirdest political religion of our times: the NHS. Political support for striking workers has been ignored in favour of blustering about the Tories' threat to this 'source of national pride', this paradigm of British values, this big, shining idol. The NHS is no longer a public service, to be criticised or improved like any other public service; it's a moral symbol of something or other. It's an ideal for a political era in which actual political ideals, from freedom to democracy, are absent; it's a substitute cause in a politically causeless time.
Hence those nominally supporting the junior doctors' strike seem to collapse their support into support for the NHS. That's what they seem to think this struggle is really about. 'It's the very future of the NHS which [junior doctors] fear is at stake', states one commentator. Or as the ex-heads of two medical colleges put it: 'We fear for the future of the NHS. We fear for those who need to use it — the old, vulnerable and sick. We fear for those who work in the NHS. We fear that the loss of altruism will have repercussions far beyond the junior doctors.' Over and over again, support for junior doctors morphs into the uncritical adulation of the NHS. It's not a thing of this world anymore. Its near-celestial aura is such that it only needs to be invoked for its supporter to be on the side of the political angels. Even Hunt himself felt obliged to tell the NHS's in-house paper, the Guardian, that the NHS is the 'single biggest reason why most people are proud to be British'.
Yet the NHS is not sacred. And it is not a political ideal. It is a service. And it's a service with which there are countless problems, too, from the routinised carelessness of some who work within its now hallowed walls to its increasingly lifestyle-obsessed hectoring of people who smoke, who booze, who eat the 'wrong food'. It's a service that could do with a great deal of criticism, and, yes, a great deal of reform. So while the junior doctors' right to strike for a better life is worth defending, let's not confuse support for workers with support for the institution in which they work.
Tim Black is editor of the spiked review.
Picture by: Dan Kitwood / Getty Images.
To enquire about republishing spiked's content, a right to reply or to request a correction, please contact the managing editor, Viv Regan.