Beyonce at the Super Bowl: From Black Power to black pain
Beyoncé's performance was more about recognition than empowerment.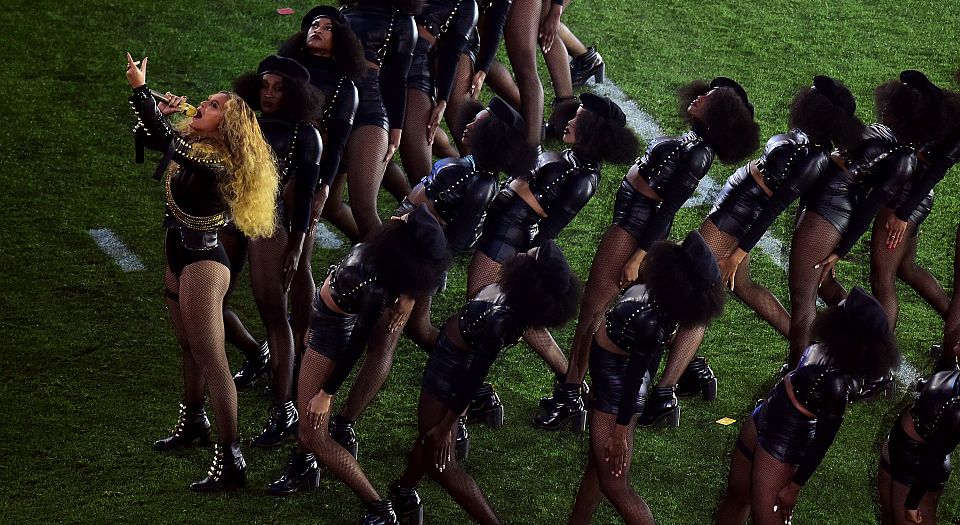 The politicisation of lame TV events continues apace. From the gay-marriage Grammys a few years ago to the two-year-strong #OscarsSoWhite campaign, no area of pure, pointless entertainment seems safe from a wagging finger. Not even the Super Bowl.
On Sunday, the internet erupted when Beyoncé, the queen of slay, burst on to the field at the famed halftime show with a gaggle of black-beret-wearing dancers, shoving fists in the air and gyrating into the shape of a giant X.
She was performing the song 'Formation', a surprise release the day before Super Sunday, which Tumblr tells me is the political statement of a generation. The tune, chock-full of references to collard greens, hot sauce and black swag, came with a video, set in New Orleans, in which Beyoncé sings atop a cop car, slowly sinking into the post-Katrina depths, and a child dances in front of a line of riot police.
Fusing the imagery of the dressed-to-kill Black Panther Party, formed 50 years ago this year, with the anti-police-brutality slogans of hashtag-cum-protest-movement #BlackLivesMatter (BLM), the 'Formation' video and the Super Bowl performance have got everyone a little overexcited.
Beyoncé has been called an 'activist', her performance dubbed 'profound' and the embodiment of a 'new political moment'. But not everyone was happy. Former mayor of New York Rudy Giuliani spat out his Bovril, later slamming the performance on Fox News as an 'attack' on the police.
But, as a rule of thumb, if Guardian columnists are calling something 'revolutionary', it definitely isn't. Though stills from the halftime show have been thrown up next to the iconic shot of African-American athletes Tommie Smith and John Carlos giving the Black Power salute from the podium at the 1968 Olympics, there's simply no comparison.
After their stunt, Smith and Carlos were drummed out of athletics and slammed across the media – their families received death threats. After Beyoncé caught her breath and checked her Twitter mentions on Sunday, she announced a world tour. Black Power has become pop – sanitised and turned into a source of nostalgia for liberal commentators, getting off on past symbols of black bolshiness as they would a dusty Joy Division LP. In short, it's no longer a threat. But this isn't just about Beyoncé.
The black-rights campaigns that have emerged in recent years have draped themselves in the shroud of Black Power. BLM calls itself 'unapologetically black', the salute has made a comeback, and student protesters across the US, railing against the alleged failure of university administrations to tackle racism, have taken to sporting Afrocentric t-shirts, extolling their black self-love.
But where, in the past, the assertion of black identity and interests was perceived as a challenge to the dominant culture and social order, today it's lapped up. For all their revolutionary posturing, the BLM protests against police shootings of black people in Ferguson, Baltimore and New York have been embraced by an establishment ridden by self-loathing and guilt.
Aside from the carping about the 'violent', 'anti-police' sentiment of BLM from a few easily upset right-wingers, this upsurge in so-called radical black activism has instantly found favour among the highest echelons of power. Barack Obama has defended BLM against its critics, and Hillary Clinton has tried to tap into its sentiments in order to shore up black-community support as she chases down the Democratic presidential nomination.
This is not to say that black people are complaining about nothing. While the claims that the US is still blighted by 'white supremacy' are ridiculous and historically illiterate, sections of the black working-class still face intense problems, created by a heavy-handed justice system and militarised police force that are affirming social inequalities, by application if not by design.
The problem is that the response to police shootings of late has emboldened the elite, not challenged it. Though BLM activists may liken themselves to the Black Panthers, their entire campaign has centred on black pain over Black Power. Where, in 1967, Huey Newton and Bobby Seale marched on the California State Capitol, toting rifles and demanding to take back control of their embattled communities, BLM stages die-ins under the banner 'Hands Up, Don't Shoot'.
Rather than demanding liberation, today's black-rights activists demand recognition. They want the US establishment to bear witness to their pain, their trauma. To pity them, in effect. Former Black Panther leader Elaine Brown recently underlined this shift in sentiment perfectly, when she slammed BLM as a 'bizarre', tear-stained movement. 'You know when they'll remember that black lives matter? When we start shooting back', she said, to a flabbergasted interviewer.
The Black Power movement was by no means an exemplary progressive force, not least because it rejected the optimistic universalism that defined the civil-rights movement. But it nevertheless expressed a desire to take control – for self-determination. BLM and its ilk have only taken the racialising dynamic of Black Nationalism and turned it into a source of weakness. To be black is to be a victim – in desperate need of recognition and sympathy.
This embrace of victimhood negates the possibility of any real political change. Aside from calls for police body-cams, groups like BLM offer no wider political assessment, no concrete aims. If you are a victim, you are not a political agent. All you can do is demand to be looked after. That Beyoncé could so easily co-opt the new politics of race should come as no surprise. By demanding recognition, it panders to the pity-laden prejudices of the elite. It's not a threat. You can even dance to it.
Tom Slater is deputy editor at spiked. Follow him on Twitter: @Tom_Slater_
To enquire about republishing spiked's content, a right to reply or to request a correction, please contact the managing editor, Viv Regan.