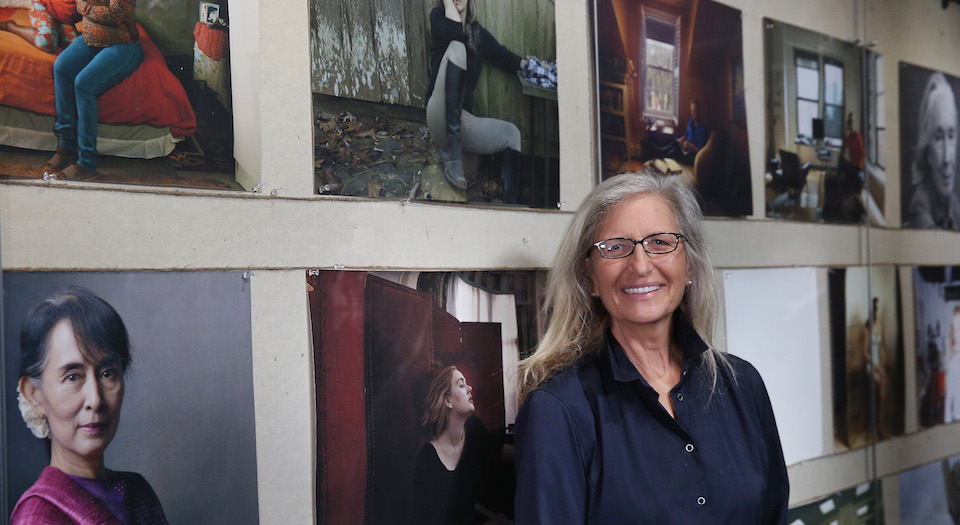 Long-read
Review: Leibovitz's women trouble
Annie Liebovitz's Women: New Portraits is stifled by gender politics.
Annie Leibovitz's new exhibition, Women: New Portraits, ought to have been a cause for excitement. But something had been nagging me about it. Perhaps it was because I had read Gloria Steinem gushing about the difference it would make to women: 'It's important to show women as full of humanity, and it's especially important because at this moment in time, there's a lot of violence towards women in the world.' But, I reassured myself, it's Annie Leibovitz – it's got to be good.
Sadly, my suspicions were confirmed when I got there. The exhibition itself was set up like an edgy A-level project. To the left as you enter, push-pin boards held small prints too crowded together to allow proper concentration on any one piece. The rest of the space was squared-off with three giant collections of screens, one hosting a static image of the Queen, the other two displaying slideshows. The images themselves moved too fast and the monitors were actually made up of four smaller screens put together, leaving each photograph sliced into quarters – seemingly unintentionally. But the worst part of the exhibition was the 'talking circle', a ring of small plastic chairs in the middle of the exhibition space intended to encourage communal discussion and reflection on the photographs.
Unfortunately, there was very little to say about the chosen photographs. Squinting at the small prints, there was a sorry collection of 'women of outstanding achievement', including serial whinger Lena Dunham, pop-star Taylor Swift and Caitlyn Jenner (who has only just begun calling herself a woman so can't have achieved much). An introductory essay by Steinem, printed on a large board in the middle of the exhibition, read: 'Annie Leibovitz captures women in all our human variety and idiosyncrasy, simplicity and artifice, bravery and fear, creativity of mind as well as womb: in other words in all our humanity.' But the photos were bland, and, at times, shallow. Not only were they too small to be spectacular, the subject matter felt too safe – Adele was pictured by her piano (very imaginative), a US Senator looked stiff sat in a chair and model Natalia Vodianova posed in a nice dress looking like, well, a model.
There were some fantastic pictures, but they weren't given enough importance. Two portraits of Leibovitz's mother and grandmother ought to have been foregrounded – these were portraits of women that meant something to someone. But they were tucked away next to obsequious descriptions of famous women and what they had for breakfast. Where were the photos of Susan Sontag, one of the most important women in Leibovitz's life? Sat in the talking circle, I caught a glimpse of a few interesting pieces: mothers and daughters, or celebrities staged in ways that made them seem unfamiliar. But, aside from these, it was very hard to get excited about the majority of images on display.
The reason Women: New Portraits falls short is that it tries too hard both to evoke an emotional response and to make a political point – and succeeds in doing neither. One photograph displayed on moving screens was of a glamorous woman, fully made-up in a floor-length, bejewelled dress, breastfeeding. It challenged you to look her in the eye. What could have been a striking representation of a small part of womanhood turned into a self-conscious attempt to make the observer feel guilty for being shocked.
In theory, with such a talented photographer as Leibovitz at the helm, this could have been an interesting exhibition. But it felt try-hard and thrown together. The best photographs came from Leibovitz and Sontag's initial 1999 exhibition, Women. This intended to show subjects with 'nothing in common other than that they were women'. But it's achievement was to allow individual personalities to shine out through the photos. But in this, its 2016 iteration, the subjects' identities are swamped by their gender.
What makes a portrait truly successful is its power to make the observer want to know more about the subject. In Women: New Portraits, I found myself looking at boring people who happened to be women. If Leibovitz really wanted to make a political point about women's freedom, surely there are far better subjects than Caitlyn Jenner. If the intention was to capture a woman's emotional side, the ice-cold portrait of the Queen didn't do it for me either. Neither emotionally stirring nor politically motivating, Leibovitz's exhibition left this viewer cold.
Pictures by Stephen White, courtesy of UBS. © Annie Leibovitz. From WOMEN: New Portraits.
To enquire about republishing spiked's content, a right to reply or to request a correction, please contact the managing editor, Viv Regan.