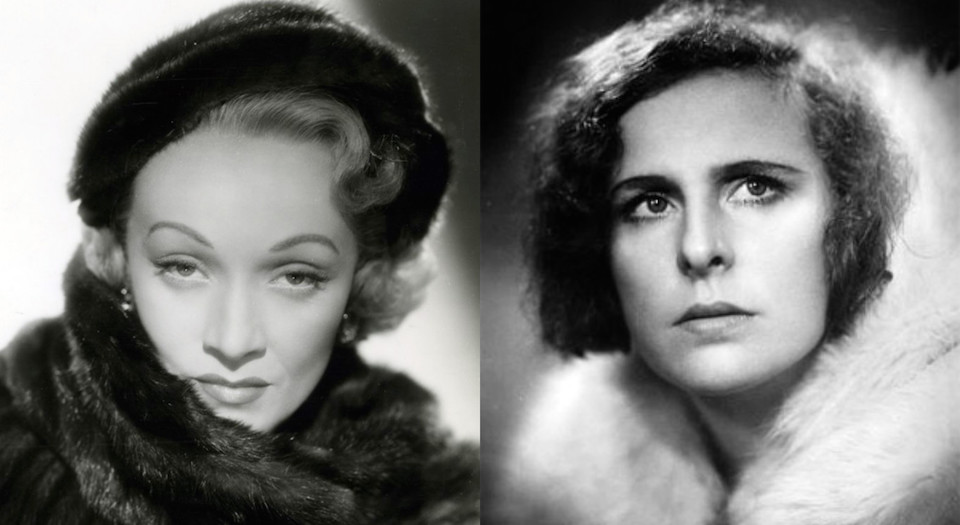 Long-read
Review: Dietrich vs Riefenstahl
A parallel biography of Lene and Leni illuminates the lives of neither.
Marlene Dietrich and Leni Riefenstahl were born in Berlin within a year of one another at the dawn of the 20th century. At one point they lived so close they could have seen into each other's apartment. They both worked in the movie business. They both had great legs. Which is more than can be said for Karin Weiland's Dietrich and Riefenstahl: Hollywood, Berlin and a Century in Two Lives. All that's holding this hefty book up is the reader's weary wrists.
The parallel biography is a difficult form. Nobody since Plutarch has pulled it off. Even a historian as distinguished as the late Alan Bullock couldn't make it work – and in Hitler and Stalin he had the advantage of writing about two men whose lives really could be construed as summaries of a century. Not even the most fervid cineaste could say the same of Leni and Lene.
Which is not to say that they didn't do important work. Riefenstahl started out shakily, as the heroine of a series of 1920s Bergfilme (movies shot atop what they dramatised as the Nietzschean heights of the German alps). You couldn't call her an actress – she stopped grimacing only in order to gesticulate – but the long-limbed Riefenstahl had trained as a dancer and she could run up and down the mountains like a goat. She could be goatish when not performing, too – making a play for any man she thought might help her become a director herself.
By 1932 she'd pulled it off, producing, directing and starring in her very own Bergfilm, The Blue Light. While American newspapers praised it for its visual splendour, the movie got a more mixed reception at home. Liberal critics laughed at its Blut und Boden sentiments, but more reactionary commentators were bowled over. Chief among these last was one Adolf Hitler, who told Riefenstahl her dancing was the 'most beautiful thing he had ever seen in a film' and that he was doubly impressed at her having won out 'against the roadblocks and biases of the film industry'. No prizes for guessing what, or rather who, he meant by 'roadblocks and biases'.
Soon enough Hitler was outlawing Jews from working in the movies. Overnight, the country's top talent – Fritz Lang, Billy Wilder, Douglas Sirk – had skipped town and were headed for Hollywood. Riefenstahl was suddenly a big fish in a small pond. From now on, Hitler told her, 'you have to make my films'. In her memoirs, Riefenstahl says she balked at this offer because she didn't share Hitler's 'racial prejudices'. So how to explain her wild claim that the people who'd scoffed at The Blue Light were all Jewish? And why, within months of meeting Hitler, was she was at work on Triumph of the Will – putatively a documentary account of the 1934 Nuremberg rally, in reality a violently abstract paean to the Nazi regime?
So when, in the 1980s, Marlene Dietrich poured scorn on Riefenstahl's bitchy Memoir for suggesting that back in 1930 it had been Riefenstahl – and not Dietrich – whom the director Josef von Sternberg had invited to Hollywood there was no question about whom to believe. After all, a year earlier von Sternberg had auditioned Riefenstahl for the lead in his The Blue Angel – and then given the part to Dietrich. Charming as ever, Riefenstahl explained this away by saying that Dietrich was 'the woman [von Sternberg was] looking for' because, as Wieland paraphrases it, it is 'apt to hire a whore for the role of a whore'.
And indeed, as Wieland makes clear, Dietrich was never short of lovers. But nor was she short of talent – at least when von Sternberg was in the director's chair. Between 1930 and 1935 they made six pictures together – six sexy, surreal, story-free masterpieces about the masochistic worship of beauty the cinema encourages. Von Sternberg used to say he'd like these movies projected upside down, the better for the audience to dwell on their 'play of light and shade'. He wasn't joking, or not entirely anyway. There is a sense in which, say, Blonde Venus or The Devil is a Woman are as abstract and idealising as anything in Triumph of the Will. But whereas fascist aesthetics are the subject of the Dietrich/von Sternberg pictures, they are the object of Riefenstahl's. That difference is the difference between Hollywood humanism and Hitler's hell on earth.
Alas, you will read nothing about it in Dietrich and Riefenstahl. The book misses the only really interesting linkage between its subjects by a country mile. Had Wieland (a political historian at the Hamburg Foundation for the Advancement of Science and Culture) spotted it, her parallel lives might actually have told us something about the 20th century. As it is, the book is simply two conventional biographies unhelpfully interleaved. The result is not only unenlightening but (thanks to the chronological blurs of the dual narrative) as confusing as one of Der Führer's ranting speeches. Sieg Heil! Cut!
Christopher Bray is the author of 1965: The Year Modern Britain was Born, published by Simon & Schuster. (Buy this book from Amazon(UK).)
Dietrich &Riefenstahl: Hollywood, Berlin, and a Century in Two Lives, is published by Liveright. (Order this book from Amazon UK.)
To enquire about republishing spiked's content, a right to reply or to request a correction, please contact the managing editor, Viv Regan.