Jerry Sadowitz: an anti-establishment hero
In this era of offence-taking, Sadowitz's vicious comedy is more vital than ever.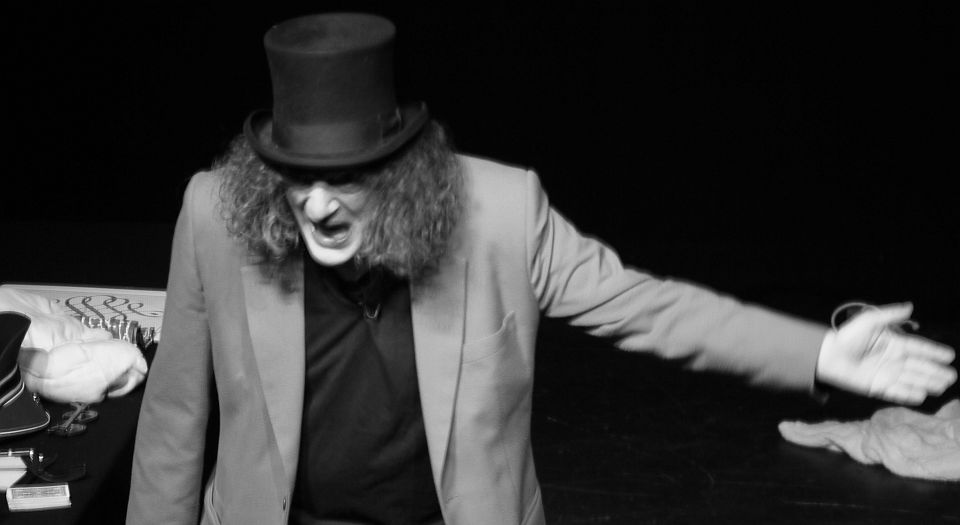 Appearing on stage wearing a white Stetson instead of his trademark top hat, self-described psychopath and comedian-cum-magician Jerry Sadowitz opened his show at the Leicester Square theatre on Saturday night mercilessly machine-gunning his audience with a speech praising the world's most brutal dictators for their fine taste in hats. His frenetic pace and lucid swearing came spitting forth from his foaming mouth, sparking rapturous laughter in the room.
In his 'ultra-fascist', misanthropic shtick he viciously mocked every conceivable minority group while also giving Jimmy Savile, politicians, capitalists, young people, the ruling classes and his fellow comics a violent kicking. Sadowitz sported a variety of hats throughout the show, including a Nazi cap with the word 'Gestapo' printed on the front, and a Chinese conical hat; Sadowitz says he tells his most offensive jokes wearing different hats so that his critics can excuse his vicious tirades as 'character performance'.
Sadowitz revels in ambiguity, allowing him to raise the hackles of the easily offended and amuse his audience at the same time. At a Sadowitz gig, the audience is always left questioning whether they are expected to laugh ironically at his parody of extreme prejudice or if he is, on occasion, being deadly serious.
After all, given his exile status in the entertainment world, the hatred he expresses towards BBC executives seems pretty sincere. Sadowitz's career may well have been hampered by the sanitisation of comedy, where controversy-wary institutions have pacified more edgy acts, serving up safe, observational or PC-consensus comics, making jokes about Daily Mail readers, in their place.
In a world where lad comic Dapper Laughs can lose a TV deal because of prudish, right-on tweeters, it is remarkable that Sadowitz is still being booked by conventional venues. In his show, he acknowledges this, joking that he includes a small amount of magic in his set so as to trick venues into thinking he's performing a magic show with a smattering of light comedy.
But then Sadowitz is one of life's perennial weirdoes. His gigs are promoted and attended by those 'in the know', and he refuses to promote himself on Twitter. Which is probably a good thing, seeing as he would likely be set upon by Twitter's self-appointed moral guardians, who are too indignant to recognise that his racist, sexist and homophobic jokes are not to be taken at face value.
We should celebrate the longevity and stubbornness of such a unique, daring and sharp comic. It is hard to imagine comedy producing someone like Jerry Sadowitz in today's culture of hyper offence-taking, victimhood and twitch-hunts. Sadowitz is a one-off – and always has been. His decision to reject the PC conventions of alternative comedy in the 1980s, which continues to influence the mainstream today, should be applauded. It kept him on the fringes of comedy, but what he lost in income he gained in notoriety and the freedom to create, uninhibited by the self-censorship that has penetrated both comedy and public life.
Sadowitz holds elitism of any kind in contempt, whether it springs from ruling or cultural elites. His very existence is a two-fingered salute to the paternalists and censors who are limiting our public and intellectual life. People who would surely, given the chance, try and shut Jerry Sadowitz up for good.
Rob Harries is a writer based in London.
To enquire about republishing spiked's content, a right to reply or to request a correction, please contact the managing editor, Viv Regan.