Vagina voting is bad for women
Neither Clinton nor Foster are interested in women's liberation.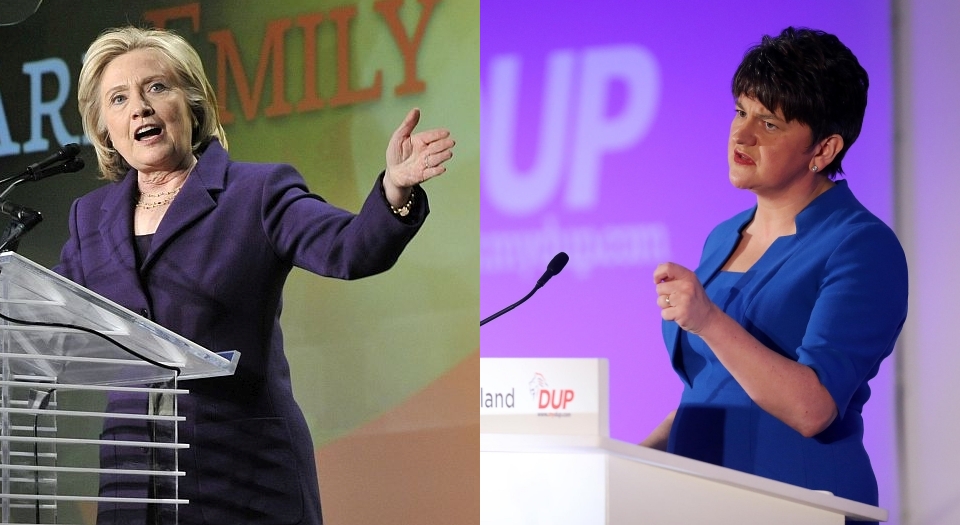 Arlene Foster, leader of the Democratic Unionist Party, was appointed first minister of Northern Ireland last week. Congratulating Foster on her new role, the Irish Times celebrated the end of the supposed 'hangover from the Troubles, where the masculine nature of politics, paramilitarism and public life dominated'.
But is Foster's new position a progressive step for Northern Ireland? Certainly not for women. Shortly after her election, Foster told the Guardian: 'I would not want abortion to be as freely available here as it is in England and don't support the extension of the 1967 act.' Foster wants to protect the current law in Northern Ireland which prohibits abortion except in 'the most extreme circumstances where [a woman's] life or health is in grave danger'. Not only are abortion services not readily available, women are also prosecuted for trying to induce a miscarriage. The Irish Independent reported a recent case of a 21-year-old woman who was brought to court in Belfast in early January for 'taking the well-known abortifacient drugs Mifepristone and Misoprostol'. If convicted, she faces a maximum sentence of life in prison.
Abortion will also be a big topic in the upcoming General Election in the Republic of Ireland in April, with calls to re-examine the Eighth Amendment of the Irish Constitution, which ensures equal right to life of the mother and the unborn. The infamously pro-life Bishop of Elphin, Kevin Doran, has called for politicians to be questioned 'politely but firmly' ahead of the election to ensure 'the protection of unborn children'. Meanwhile, Taoiseach Enda Kenny has announced that he will allow ministers a free vote to enable them to follow their conscience on the question of women's reproductive rights. And though everyone, even pro-life advocates, seem to be calling for abortion to be discussed in the upcoming election, no one is making a strong pro-choice argument.
For anyone who believes in women's liberation, the fact that Foster's election is being celebrated as a victory for equality should stick in the craw. The only reason Foster's election has been praised is because she is female, not because her opinions further women's liberation. Women's bodily autonomy impacts on all aspects of our lives – it removes our ability to choose when we want to have children, and, as a result, what lives we want to lead aside from being mothers. Foster's election and the acceptance of her reactionary views are an attack on women, not a step forward for women's equality.
I can't help but feel like we've seen this all before. Indeed, the celebration of Foster's election is like a less-hairsprayed version of the feminist reaction to US Democrat Hillary Clinton's presidential campaign. Clinton has been heralded as a hero for women, enjoying the support of many celebrities, including professional feminist Lena Dunham (whose political efforts amount to social-media posts in various Clinton-inspired outfits). In a recent article, Guardian columnist Jessica Valenti said that voting for Hillary, purely because she is a woman, was a progressive step: 'There is nothing wrong or foolish in thinking about a candidate's gender in an election. It is politically savvy to vote for your interests.' How depressing. Apparently, feminists like Dunham and Valenti consider the limit of women's political interests to be whether the person in power wears lipstick.
Clinton's campaign is careful to emphasise that 'any issue that affects women's lives and futures is a women's issue'. But abortion doesn't seem to be an issue that Clinton, the self-proclaimed feminist, is very keen on. Clinton believes that abortion should be 'safe, legal and rare', which really means that we should encourage women not to have abortions – continuing to interfere in women's reproductive choices. It's a completely disingenuous statement. In comparison, Clinton's rival for the Democratic nomination, Senator Bernie Sanders, has a far more progressive opinion on abortion. Sanders wrote in the Huffington Post: 'The decision about abortion must remain a decision for the woman, her family and physician to make, not the government.'
Neither Arlene Foster nor Hillary Clinton will make women's lives any better – they probably won't make much of a difference to men's lives either. But the important point is, at a crucial time in both Irish and American politics, women are being asked to settle for the appearance of equality rather than substantial political change. The idea that simply being female makes either Foster or Clinton more appealing to women treats us like children – or worse, idiots. What did Margaret Thatcher ever do for women? What has Yvette Cooper or Diane Abbott achieved that has given women more freedom? Let's reject the truly sexist assumption that women are only attracted to politicians that look like them. And, more importantly, in these upcoming elections in Ireland and the US, let's really put women's freedom on the agenda. Starting with the demand for access to free and legal abortion as early as possible and as late as necessary.
To enquire about republishing spiked's content, a right to reply or to request a correction, please contact the managing editor, Viv Regan.