Germans must be free to read Mein Kampf
The ban on Hitler's tome was dankly elitist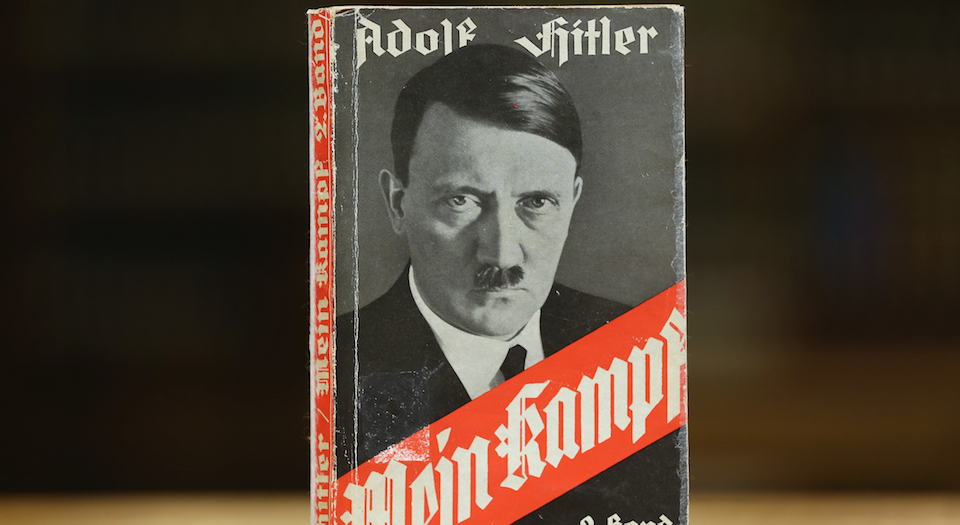 As the historian Gordon Craig once wrote, Hitler, one-and-a-half generations after his death, had become like the little man on the stair in the old children's song: 'He wasn't there, but he wouldn't go away.' (1) Born in Germany in the 1960s, I knew exactly what Craig meant. Hitler, although he was long dead, maintained a strange hold over German society.
The most potent example of Hitler's ghostly presence was perhaps his book Mein Kampf, which was banned until the beginning of this year. My father had a copy on his bookshelf, but kept it hidden away behind the volumes of Thomas Mann and Günter Grass – and for good reason. In 1979, a bookseller who displayed two copies of Mein Kampf was charged with unconstitutional behaviour. After the Supreme Court had cleared the bookseller, the famous literary critic Fritz Raddatz was critical of the Supreme Court's decision: 'The scars are still too fresh, the bacillus too lively, the danger of infection too acute.'
Raddatz didn't think that the book itself was contagious (it never infected my father, who was a staunch Social Democrat all his life); rather, he felt, like many others, that the state of mind of too many Germans was still too weak, and too slavish. This was why the state of Bavaria, which owned the copyright to Mein Kampf, deemed it necessary to ban its publication for over 70 years. The ban made it difficult for 'ordinary', in other words, 'working-class' Germans, to read and obtain the book. The anti-democratic and elitist underpinning to this logic was constantly missed by the liberal postwar German left.
Even today, after Bavaria's copyright has expired, this idea of the untrustworthy reader prevails. Hence the first copy to be reprinted in Germany after 70 years will not be the original version, but a heavily annotated 'critical edition', published by the Munich Institute for Contemporary History. The aim of this version is to expose Hitler's 'lies, half-truths and vicious tirades' (lest the public misses them). Many of the annotations will certainly be useful and there is a need to place the book in its historical context (something which, ironically, had rarely been done because of the ban). Nonetheless, the underlying message, that the book shouldn't be read without the informed guidance of more enlightened people, indicates the lack of trust in the moral judgement of German citizens.
It is true that not many Germans will want to read Mein Kampf, and that it is written in singularly bad German. But that doesn't justify censorship. The designers of the new critical edition even seem to have made their version appear particularly dull: the cover consists of shades of grey, there are no pictures, and the simple script reminds one of a cheap school book. This points to the German elite's continued insecurity when it comes to the handling of Hitler's work. On one hand, Germany's education minister Johanna Wanka has suggested that the 2,000-page critical edition should be used in all schools, because Hitler's statements 'will not go uncontradicted'. On the other hand, everything is done to ensure that no one will develop any desire to read even this officially sanctioned version. But fighting Mein Kampf or banning Nazi texts (such as Hitler's 'table talks') won't address Germany's problems, especially with the new far right.
Indeed, there have been developments that should cause concern. When Craig wrote about Hitler's presence 'one-and-a-half generations after his death', he was talking mainly (if not solely) of the elderly generation. He was speaking of people who said things like 'it wasn't all bad under Hitler' – those we considered incorrigible diehards. He contrasts this to the particularly positive reaction of young Germans, for example, to an American Holocaust TV film, which was shown in 1979 and which I also remember being greatly affected by. Young people today, however, are growing up in a different environment. Theirs is a world shaped by years of official anti-Nazi orthodoxy. Thus, my own children (aged 13 and 15) tell me that regularly, and for apparently no reason, a young kid in their class shouts 'Hey Hitler', which makes all the other children laugh. Why? They can't say. The underlying motive, however, seems to be that very few things make adults (such as their teachers) as nervous and uncertain as a breach of anti-Nazi etiquette.
Something similar seems to be at work in the case of a 27-year-old man who, this December, was sentenced to six months' probation for incitement, after publicly displaying a body tattoo showing a Nazi concentration camp (the display of Nazi symbols is illegal in Germany). This man is a member of a far-right Nazi party, which the German parliament is also trying to ban. It is highly improbable that he was motivated by historical events, let alone Mein Kampf. It is far more likely that he and other fools feed on the cynicism censorship produces, saying things that they have long been told they can't say. It shows that trying to deal with political issues through censorship makes problems worse. It gives confused fascists an aura of subversion and rebelliousness, which they shouldn't have. And it undermines free speech, which is not only the lifeblood of a civilised society, but is also the best way to deal constructively with the ghosts of the past.
Sabine Beppler-Spahl is head of the board of the liberal thinktank Freiblickinstitut e.V., which has published the Freedom Manifesto. She is also the organiser of the Berlin Salons.
(1) The Germans, by Gordon Craig, Penguin, 1983, p80
Picture by: Sean Gallup / Getty Images.
To enquire about republishing spiked's content, a right to reply or to request a correction, please contact the managing editor, Viv Regan.