F**ck the F-word: women's liberation in 2016
Let's ditch feminism and talk about what women really need.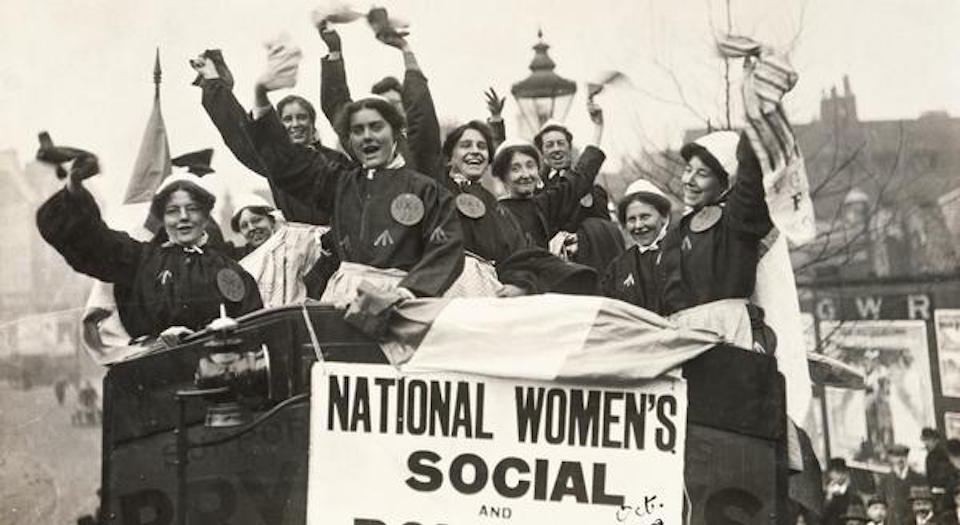 Feminism had a bit of a moment this year. Like owning flip-phones in 2009 and liking Taylor Swift in 2014, declaring yourself a feminist is the 2015 fashion must-have. According to the feminist clique, if you're not wearing the pink, right-on sash, there's clearly something wrong with you.
But it's time to put this reactionary feminist fashion to bed. Instead, here are spiked's eight demands for women in 2016:
Fuck the F-word
It's time to ditch the slogan. Feminism has become too tied up in the whinges of #everydaysexism, the posturing of politicians and the politics of periods. We need more arguments for freedom and less bothering about feminist fashion statements. In order for women to take control of their lives as free-thinking individuals, feminism as we know it has got to go.
Reproductive rights
As Ann Furedi wrote earlier this month, the best abortion law is no abortion law at all. In the UK, a woman has to prove herself to be mentally or physically incapable of having a child to two doctors before being allowed to receive an abortion, and it is still illegal to access abortion in Northern Ireland unless the woman has fallen pregnant as a result of rape or incest, or with a fetus affected by a fatal fetal abnormality. Similarly, getting the morning-after pill in the UK is a lengthy process which requires being tutted at by a pharmacist or lectured on safe sex by a nurse at a specialist clinic. Abortion must be free and available on demand for all women as early as possible and as late as necessary in all circumstances. We must demand the decriminalisation of abortion – which means it's taken out of the criminal statute and regulated like any other medically comparable procedure.
Freedom during pregnancy
If we are to argue that women should have full control over their bodies, this can't change once a woman is pregnant. We should demand an end to the policing and scrutiny of pregnant women's lifestyle choices, whether that involves choosing to have the occasional drink and a fag or refusing to exist on a low-fat diet. Most expectant mothers will worry enough without the state policing their bump, and most women will sacrifice their personal tastes for the sake of their pregnancy without being told by public-health organisations. Nevertheless, we must argue that a women's freedom to choose how she wants to live comes before her pregnancy.
Hands off our boobs
We must call for an end to all government campaigns that pressurise women into breastfeeding and an end to all restrictions on the sale and advertisement of baby formula. Let's also end to the obsession with Page 3, naked breasts and attacks on the exposure of women's bodies. There is nothing progressive about scantily clad women, but there isn't anything harmful about naked pictures either. As Jan Macvarish has previously argued, let's end the battle over breasts and start fighting for women's freedom over their own bodies.
Better access to childcare
Many feminists bemoan the supposed gender pay gap, but, in fact, the only time women will notice a difference in work opportunities is when returning to work after having children. This is not because being a mother immediately puts you at a disadvantage, but because women have to take time out of the world of work to raise children, leaving them one step behind in their careers. This sacrifice is a choice women freely make, but we should not be forced to choose between motherhood and a career. We must argue for access to free and decent childcare, based on women's needs, so that we no longer have to choose between continuing a career and raising children.
Get out of our bedrooms
Let's call for an end to fearmongering about rape culture. Luke Gittos's new book, Why Rape Culture is a Dangerous Myth, is essential reading for 2016 and explains why suggesting that women are all suddenly under threat is detrimental to the private, intimate nature of sexual encounters. Yes, rape still happens, but it does not amount to an epidemic. In order to treat rape seriously, we must stop lumping cat-calling, bum-pinching and all other types of minor unwanted sexual conduct with criminal attacks on women's freedom. We need to resist all state intrusion into our knickers by the state and insist that, with the exception of rape and serious sexual assault, women can combat unwanted sexual advances without the intervention of the authorities.
No more leg-ups
Let's have an end to 50/50 representation. In the West, simply being born female has no affect on a woman's chances of succeeding. Other factors impede women's opportunities – education, wealth and environment – but having a vagina isn't one of them. In the past, women fought for the freedom to leave the home and enter the public sphere with as much strength and capability as men. Let's continue fighting for that freedom by telling Jess Phillips and the gang to get stuffed and taking the world by storm on our own, without being patronised by equal opportunities or fair representation.
Finally… it's good to be a woman
Let's celebrate. As Joanna Williams said earlier this year, women have never had it so good. Contemporary feminism seeks to paint women as victims of a society perpetually set against them, oppressed by sexism and under threat from aggressive male sexuality. None of these things is true. So, let's raise a glass to our success and continue to fight for freedom in 2016.
Ella Whelan is staff writer at spiked. Follow her on Twitter: @Ella_M_Whelan
To enquire about republishing spiked's content, a right to reply or to request a correction, please contact the managing editor, Viv Regan.