The secret to Star Wars' success? Unoriginality
Great ideas are often pillaged from somewhere else.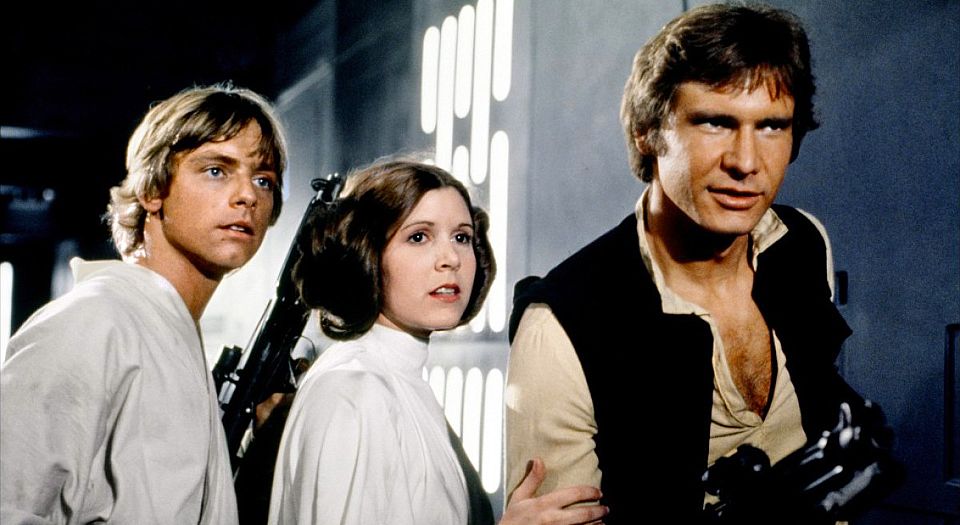 Every true Star Wars fan understands that the reason for its success is because George Lucas is an unoriginal thinker. Like Shakespeare, he creates great stories by taking his ideas, images, plots and themes from elsewhere. All the imagery and iconography of Star Wars have clear origins outside him, from agents of the Empire bearing uniforms taken from the Third Reich to Jedis brandishing laser Samurai swords. The plots and scenes owe much to Japanese cinema and John Ford's Westerns; the opening crawl introducing the very first 1977 film is a nod to Flash Gordon Conquers the Universe (1940); and the movie's final scene, with X-Wings gunning down the trench in the Death Star, was lifted from The Dam Busters (1955). Lucas himself is quite open about all this.
The concept of 'The Force' and the struggle against dark forces owes much to Christianity, but the idea of 'inner struggle' and 'overcoming oneself' belongs to that self-declared anti-Christ, Friedrich Nietzsche. As do many of the film's religious themes. As the Guardian journalist and correspondent for Outlook magazine, Saptarshi Ray, tells me: 'As a boy reading some of the kiddie guides to Hindu mythology, I could see links to Star Wars. Many of the characters could easily be seen as a deity of the sky (Indra as Lando), of the Earth (Brahma as Sandmen), good fortune (Ganesh as Han Solo), learning (Saraswati as Yoda), destruction (Shiva as the Emperor), and so on. But you could just as easily compare them to Greek, Roman or Pagan gods.'
Most famously, Stars Wars: A New Hope is said to have employed the monomyth, as outlined by the Jungian anthropologist Joseph Cambell in his 1949 book, The Hero with a Thousand Faces. Here, Campbell sought to unearth humanity's grand narrative, one that transcends time, space and culture.
Star Wars embodies the monomyth: a young man, often orphaned or raised by his uncle and aunt, encounters an old (often bearded) man who presents him with a quest. The boy embarks upon this quest, faces tasks to overcome and befriends others who become allies on his mission to confront the dark lord in his lair of evil. The man becomes a hero. The appeal of the monomyth also accounts for the enduring worldwide popularity of Lord of the Rings and Harry Potter and the Philosopher's Stone, both of which contain the same story as A New Hope.
Many of you will have already seen Star Wars: The Force Awakens (with its hero, as you might notice, a young orphan), and reviewers in Wednesday's newspapers were all highly impressed. Its opening fanfare by John Williams should send spines tingling, as it did in 1999 when Star Wars: The Phantom Menace made its entrance. Yet, back then, that frisson soon turned to boredom, then bewilderment, and then, finally, horror. Williams' score should herald better things this time round.
Williams' music is intrinsic to Star Wars and the affection with which so many hold the story. And it is utterly fitting that Williams, like Lucas, Shakespeare, Tolkien, Charles Dickens, HG Wells or Hergé, is another cultural magpie who creates art out of art, who rewrites as much as he writes. To listen to the Stars Wars score, with all its leitmotifs and tropes, is to hear Gustav Holst's 'Mars' from his Planets Suite – except in the cheery, triumphant major key. Williams basically took Holst and mashed it up with bits of Sibelius and Mussorgsky.
Classical music as a genuinely popular, living music ended with Stravinsky, who pronounced its death sentence in 1913 with The Rite of Spring. Like jazz after Charlie Parker or art after Marcel Duchamp, classical music stopped being entertaining and enthralling when it became 'provoking', 'challenging' and began to 'ask questions'. It became introspective, narcissistic and onanistic – music principally for other musicians. It has only survived as a living, popular genre in cinema, through such composers as James Horner, Ennio Morricone and John Williams, the man who also gave us the music for Jaws, ET and Superman.
It is unpretentious artists – artists who write for the people – who we cherish. It's they who will be remembered for a long time.
---
Slebs should stay off Twitter
The musician Ed Sheeran is wise for giving up social media. People who are famous and rich don't need to use it and shouldn't. Only those who still need to plug their work should use Twitter. Only those who have no social life, few friends, no partners and no children should use Facebook, to keep them sane and to have fun. I use both forms of social media.
If you're rich and famous and travel the world, why go on Twitter? Why does Taylor Swift need to bother any more? Is it just to get one over on Katy Perry? Social media can be the enemy of progress, as can be seen in the case of Richard Dawkins. He wrote some astonishing science books in the 1970s and 1980s, but then got derailed when he became a slightly tedious atheist campaigner. He has further gone off the rails with his compulsive Twitter use. Here's hoping his Force will reawaken with a sequel to The Selfish Gene.
---
The joys of cultural appropriation
When we were housemates and students at Manchester University 20 years ago, Saptarshi Ray and I used to while away idle afternoons imagining a Star Wars film with dialogue from Withnail and I:
'Darth Vader was here, Darth Vader to his friends. Darth Vader to everyone. He didn't have any friends. The only people he conversed with were his clients and occasionally the Jedi.'
'We're not from the Dagobah System!'
'Of course he's the fucking Wookie!'
Saptarshi brought to my attention a wonderful mashup of these two films on YouTube. Most people got their first email address around 1995, and this was years before YouTube or social media. The internet has been great for creativity, not least for encouraging genres to fuse. Chart music and Radio 1 is actually listenable these days. Avicii and will.i.am couldn't have produced what they did back in 1995, the year of East 17 and Robson and Jerome.
One of the most moronic cries of 2015 was that of 'cultural appropriation'. All the best culture comes from giving and taking (as I write these words, a Catalan electro-country version of 'Sympathy for the Devil' plays on Catalunya Radio). Let's make 2016 a year to champion cultural appropriation.
Patrick West is a spiked columnist. Follow him on Twitter: @patrickxwest
To enquire about republishing spiked's content, a right to reply or to request a correction, please contact the managing editor, Viv Regan.