After the floods: we need more development
Greens are using Cumbria's troubles to argue for tough climate action. Bad idea.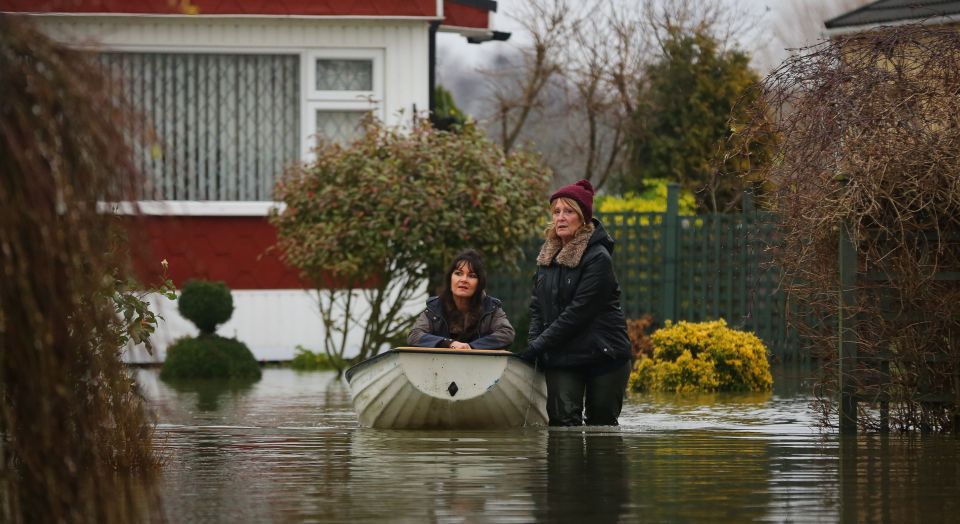 'Countries across the world must cut carbon emissions quickly or we'll face many more storms like Desmond. This week's climate talks in Paris are a perfect chance for leaders to act.' So say eco-ambulance-chasers Friends of the Earth, exploiting the flooding in Cumbria to make the case for cutting greenhouse-gas emissions. But flooding is hardly new in what is the wettest part of England. Instead of trying to blame our apparently planet-wrecking lifestyles for flooding, it would be far better to figure out how to make ourselves resistant to future deluges.
It is impossible to attribute any particular weather event to climate change. At most, climate change may increase the risk of bad weather, but how exactly that will manifest itself, and where, is beyond us at the moment. Those demanding action on climate change understand this uncertainty, so prefer more circuitous formulations. So Professor Dame Julia Slingo, the Met Office's chief scientist, said: 'It's too early to say definitively whether climate change has made a contribution to the exceptional rainfall. We anticipated a wet, stormy start to winter in our three-month outlooks, associated with the strong El Niño and other factors. However, just as with the stormy winter of two years ago, all the evidence from fundamental physics, and our understanding of our weather systems, suggests there may be a link between climate change and record-breaking winter rainfall.' It's a very convenient message to be able to deliver during the Paris climate talks: if we don't do something about our wicked, carbon-spewing ways, then the waterlogged streets of Kendal will soon become the norm.
Which is a bit odd, since, in 2013 – when Britain was just getting over a period in which water supplies had been running low due to dry winters – the Met Office's Hadley Centre reported that 'droughts could become more severe in the UK, particularly in the winter months and towards the latter half of the century'. In its fifth assessment report in 2013, the Intergovernmental Panel on Climate Change (IPCC) was non-committal on whether flooding had increased as temperatures have risen, observing that 'there is currently no clear and widespread evidence for observed changes in flooding except for the earlier spring flow in snow-dominated regions… there continues to be a lack of evidence and thus low confidence regarding the sign of trend in the magnitude and/or frequency of floods on a global scale'. In other words, there might be more flooding around the world or less – we don't know.
Events like those in Cumbria last week, and in Hebden Bridge in Yorkshire in 2012, were the result of quite specific circumstances – heavy showers getting stuck over a specific area for hours at a time, magnifying the impact of otherwise normal, if very wet, weather. More generally, the particularly wet weather we've had at times in the past couple of years seems to have more to do with variations in the jet stream, the fast-moving winds that circle the Earth. It's not clear how driving a Toyota Prius or turning the heating down a little could prevent those variations.
Much more important than fretting about greenhouse-gas emissions is figuring out how to control such inundations to minimise damage to communities in their path. This means spending more money on flood defences, but it also requires more imagination about other flood-mitigation measures. As has been widely noted, flood defences in Kendal had been raised after major flooding in 2009, yet the recent torrent topped these new defences. Those defences still helped to reduce the amount of water entering the streets, but perhaps in retrospect other kinds of measures may have been better.
Coping with flooding may also require households and businesses to spend money on making their properties more resistant when flooding does come. Adding flood protection to your own house may, in the future, be as much a part-and-parcel of living on a flood plain as having substantial home insulation and powerful heating systems if you want to live in chilly Norway or Canada.
Adapting to possible climate change – or better still, innovating around climate change – seems a better bet than making feeble and highly expensive steps to cut greenhouse-gas emissions in order to produce marginal reductions in global temperatures. Preparing for reasonably predictable problems like floods in the right manner will protect us against all such floods. The same sums spent on reducing emissions could only, at best, protect us against some possible future floods.
The real danger here is to give in to the anti-development mood of our times. Building homes on flood plains does create the risk of those homes being flooded from time to time, but we can surely do a lot to reduce that risk, from the way we design new homes to manipulating river courses so that the worst of any excess water is diverted away from settlements or slowed down so it doesn't arrive in a single torrent. But the mood now is to bow down to nature, to put flora and fauna ahead of people or simply to believe that we should accept our lot as slaves to natural forces and reduce our 'ecological footprint' accordingly. Far from avoiding disaster, this anti-development outlook practically guarantees it.
Rob Lyons is a spiked columnist.
To enquire about republishing spiked's content, a right to reply or to request a correction, please contact the managing editor, Viv Regan.