The world war on Donald Trump is truly 'unhinged'
We must defend free speech even for politicians branded 'fascists'.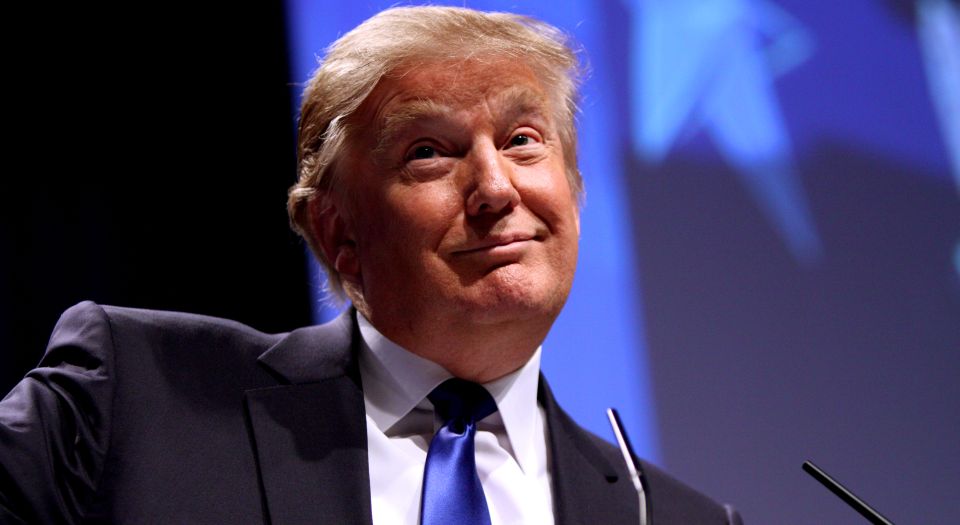 The civilised world, it seems, has finally found the will to unite and fight against evil; not by waging all-out war against Islamic State or anything, but by shouting a global chorus of You Can't Say That at Donald Trump.
To judge by the extraordinary outburst of headline Trump-bashing this week, one might imagine that the Republican presidential contender had led an armed assault on an abortion clinic or a mosque. In fact, what Trump the 'billionaire buffoon' did aboard retired aircraft carrier the USS Yorktown, in the wake of the San Bernardino massacre by an Islamist couple, was not to launch air-strikes. Instead he made a speech calling for 'a total and complete shutdown of Muslims entering the United States while we figure out what the hell is going on'. Trump acknowledged that his proposed ban on Muslims was 'probably not politically correct' before concluding: 'But. I. Don't. Care.'
Trump's combination of offensive speech and a refusal to apologise was enough to have the entire Western political mainstream effectively demanding 'a total and complete shutdown' of Donald Trump. The Obama White House declared that Trump's 'incendiary' speech was not just 'morally reprehensible' but even 'disqualifies him to serve as president'. In other words, he should be kicked out of the election for talking out of turn.
Senior figures in Trump's own Republican Party, who would like nothing better than to 'disappear' The Donald, have joined in the assault on the 'unhinged' Trump. One Republican strategist announced that 'There was a whiff of fascism around this guy. Now there's a reek of fascism.' Many others have accused Trump of being a fascist, compared him to Hitler and, perhaps even worse, branded his remarks about Muslims 'un-American'.
Nor has the war on Trump been confined to American soil. A spokesman for United Nations chief Ban Ki-moon condemned his 'Islamophob[ic], xenophob[ic]' and hateful rhetoric. In the UK, Tory prime minister David Cameron broke the unwritten rule of non-intervention in US election campaigns to denounce Trump's words as 'divisive, unhelpful and quite simply wrong'. Then the Metropolitan Police broke their own rule on political impartiality to attack Trump, after he suggested they were too scared to police radicalised areas of London. To put the tin lid on it, after Twitter users compared Trump to the evil Lord Voldemort, Harry Potter author and 'national treasure' JK Rowling tweeted: 'How horrible. Voldemort was nowhere near as bad.' (After all, the fictional Dark Lord was only a mass murderer seeking to establish his 'pure-blood' domination of both the wizard and human worlds…)
It seems as if every politician, public figure and social-media poseur wrestling with the big questions of our age, such as who we are and what our societies stand for now, has finally come up with the answer: we're not Donald Trump, and we all stand united against him! Who needs to bother with the struggle against IS abroad or nihilistic terrorism at home when you can establish your moral authority by hate-bombing The Donald?
This reaction to Trump appears truly, to coin a phrase, 'unhinged'. Many of us may not want to defend a word of the nonsense he talks about Muslims, Mexicans or much else. But we should defend his right to say it. Instead, the response to Trump's troublemaking speeches throughout the campaign has been not to engage with and challenge his arguments (such as they are), but to try to shut him up, and so shut down controversial debates. As Democratic Party hopeful Hillary Clinton declared in response to Trump's earlier attacks on Mexican immigrants, 'Everybody should stand up and say that's not acceptable. You don't talk like that on talk radio. You don't talk like that on the kind of political campaigns.'
That is the real meaning of branding Trump 'fascist' this week – that he is beyond the pale and unfit to take part in democratic debate. After all, who wants to bother having a political argument with Hitler or Voldemort? The widespread use of the label 'un-American' is also telling in this respect. It conjures up the ghosts of the congressional committee investigating 'un-American Activities', which led the anti-Communist witch-hunt during the era of McCarthyism – a time when even the US Supreme Court refused to uphold the First Amendment free-speech rights of the blacklisted Hollywood 10. The historical irony of it now being brandished against a maverick rightwinger rather than leftists does not alter the danger of using 'un-American' in a bid to outlaw political opinions you find offensive.
As always with free-speech issues, there are two reasons why we should, however reluctantly, proclaim 'Je Suis Le Donald' – one a question of principle, the other is a matter of practical politics.
The principle is that free speech is an indivisible liberty that we defend for all or not at all. Once you start trying to cherry-pick who qualifies for that liberty, you turn free speech into not a right but a privilege, to be handed down by the authorities to those deemed deserving. As George Orwell famously put it, 'If liberty means anything at all, it means the right to tell people what they do not want to hear'. Or, in the words of Larry Flynt, publisher of the Hustler porn mags, 'If the First Amendment will protect a scumbag like me, it will protect all of you'. The principle of unfettered free speech must be defended even for dirty Larry and The Donald, or we will all be the losers.
In practical political terms, the lesson is that attempts to ban or close down your opponents don't work. Indeed, having the entire political establishment come out against Trump in such vituperative terms is more likely to consolidate his support among a section of voters as the 'outsider' candidate.
And, as ever, what you think about free speech reflects your view of the public. The true target of much of the censorious bile directed at Trump is not the billionaire himself, but the 'ordinary' Americans who might support him and be moved by his words. Many in US and Western public life now view such voters as a wooden-headed lump, just waiting to be set ablaze by an incendiary word from a rabblerouser in a bad toupee. Or as the head of the Council on American-Islamic Relations puts it, 'Donald Trump sounds more like a leader of a lynch mob than a great nation like ours'.
Trump is, of course, an unlikely victim of political censorship – he is everywhere. Nor is Trump any worthy champion of free speech; defending his other idiotic recent proposal to 'close down' parts of the internet, he dismissively noted that some people would object: '"Oh freedom of speech, freedom of speech." These are foolish people.' Speak for yourself, fool.
However, the unhinged response to Trump is a revealing sign of the creeping culture of conformism and You Can't Say That which seeks to delegitimise and outlaw any opinion that could not be expressed at a polite Manhattan dinner party. That's why we should stand against any demands for the 'complete and total shutdown' of Donald Trump.
One UK newspaper has been running a readers' poll asking 'Should Donald Trump be banned from the UK for his views?'. The two answers we are asked to choose between are 'Yes – he's a hate preacher' and 'No – he talks a lot of sense'. The correct answer surely ought to be 'Yes, his views might be hateful – but no, neither he nor anybody else should be banned, gagged or disqualified for expressing foolish, "fascist", "un-American" or otherwise offensive opinions'.
Mick Hume is spiked's editor-at-large. His book, Trigger Warning: Is the Fear of Being Offensive Killing Free Speech?, is published by Harper Collins. (Order this book from Amazon(USA) and Amazon(UK).)
Picture by: Gage Skidmore.
To enquire about republishing spiked's content, a right to reply or to request a correction, please contact the managing editor, Viv Regan.