George Osborne: ducking the difficult questions
The Spending Review was nothing but tinkering – we need a real plan for growth.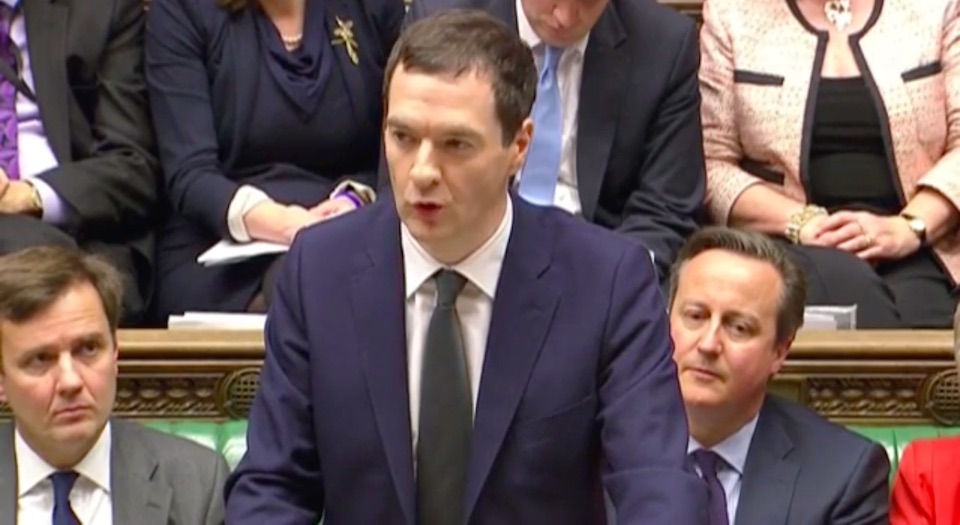 After months of speculation, interdepartmental infighting and political sabre-rattling, the chancellor of the exchequer, George Osborne, yesterday delivered his Autumn Statement and the Comprehensive Spending Review for the next four years. What he delivered was not the fundamental shift in the relationship between the state and society that was being talked about in the run-up – although that was more hype than reality – but a muddling-through mishmash that wasn't terribly different from the kind of plan the Labour Party might have delivered if it had won the election. This was all about short-term politics rather than long-term economics.
The headline news was that Osborne announced he was dropping planned cuts to tax credits for low-paid workers, a plan that had already been defeated in the House of Lords and was controversial even among his own backbenchers. Miraculously, however, he still plans to stick to his overall target for welfare spending cuts – only other people will suffer and not as quickly. Overall public spending will not be cut as much as planned, either, thanks to a 'windfall' – higher forecast tax revenues than expected. Maybe it was all a brilliant political ruse, creating expectations of even greater austerity in order to create a sense of relief at the final outcome.
More likely is that Osborne simply bottled out of the fight, deciding to increase taxes on easy targets rather than make the case for a smaller state. So one of his plans is to bump up the stamp duty to be paid by people buying a second home to rent out. The claimed excuse was that buy-to-let purchasers were squeezing people on lower incomes out of the housing market. The proper answer to that would be to build more homes. Instead, Osborne has decided to rinse an easy target for more tax revenue.
Even so, the scale of cuts in areas that were not ring-fenced was still substantial – on average, 19 per cent. There will be no cuts to health, pensions, per-pupil funding for schools, international aid and defence. But those protected areas of spending account for well over half of government spending. The result is that all of the reductions in spending will fall on the remaining sectors, including local government, energy and climate change, and non-pensions welfare.
In the previous parliament, while there was much talk about austerity, government spending didn't fall all that much overall. The Institute for Fiscal Studies (IFS) noted in September this year that although there was a 'big fall in spending as a proportion of national income', there was 'a cut in real, price-adjusted terms to total public spending of "only" around three per cent between 2010–11 and 2014–15'. Even with a growing economy, the deficit between spending and tax revenues fell from 10 per cent of GDP in Osborne's first year as chancellor to a forecast of 3.9 per cent for the current financial year – but that means that, in this financial year, the government will spend at least £70 billion more than it raises in taxes, probably much more.
Therefore, both in the last parliament and in the current one, whether you find 'austerity' or not will depend on where you look. Many areas of spending will increase or at least be relatively stable; a minority will be hammered.
But the biggest problem is the sluggish recovery of the British economy generally. Unemployment is low compared with similar economies. The most recent OECD table of 'harmonised' unemployment rates puts the UK (5.3 per cent) well below France (10.6 per cent), Italy (12 per cent) and on a par with the US. However, the fact remains that the recovery from the economic crisis has been sluggish compared to previous recessions, even with all that deficit spending, record-low interest rates and 'quantitative easing'. The result has been lower tax revenues than expected. The jobs that have been created have been disproportionately low skill and low paid – leaving more people collecting tax credits and paying less in tax than Osborne would have liked.
There doesn't seem much in Osborne's statement that would set us on the road to a transformed UK economy that could provide the wealth that would clear the government deficit and the additional expenditure of the future. Instead, we have endless muddling through, with serious consequences for the needs of UK citizens. Growth this year is expected to be just 2.4 per cent – better than many comparable countries, but still feeble.
Nor has there been anything like an honest discussion about the role of the state in the future. Would a smaller state lead to a more dynamic economy and a wealthier society, or do we need greater provision from the state, and if so, in what areas? Should we forego better services in the short term and make major investments in future productivity? These are important questions, but, instead of addressing them, Osborne is focused on cutting the deficit (not very successfully), to the exclusion of almost everything else. The result is a slash-and-burn policy in some areas alongside an unwillingness even to discuss the future size and role of the NHS or to what extent the state should be providing old-age pensions.
It's only through dealing with such questions that we can come to any kind of consensus on the best way forward for society.
Rob Lyons is a spiked columnist.
To enquire about republishing spiked's content, a right to reply or to request a correction, please contact the managing editor, Viv Regan.