Yes, the Paris attacks had something to do with Islam
Insisting that Islamists are not 'real Muslims' gets us nowhere.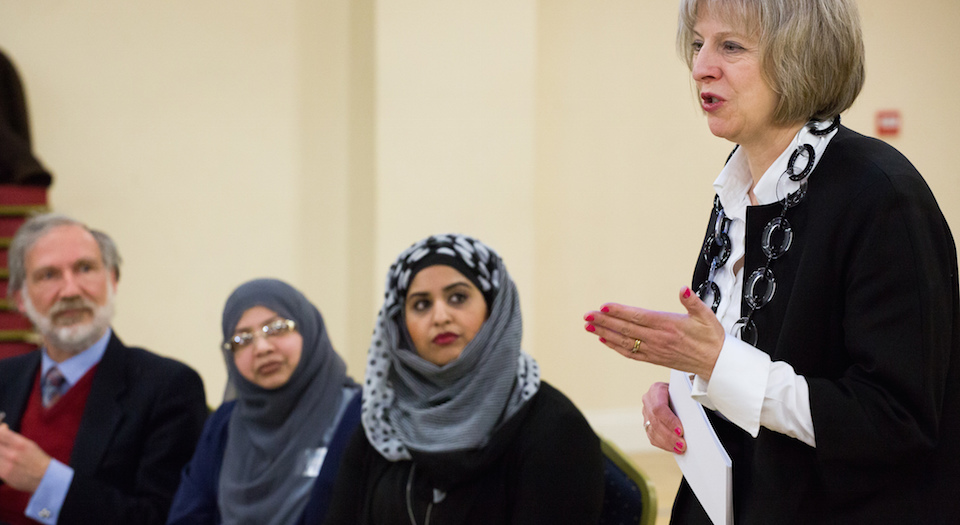 According to UK home secretary Theresa May the attacks in Paris had 'nothing to do with Islam'. In a statement addressing the House of Commons, May argued that the attacks were not a complete perversion of Islam, nor the actions of a minuscule minority of its followers, but absolutely 'nothing' to do with Islam at all. The suggestion being that the attacks had as much to do with Buddhism, Sikhism or, for that matter, the Church of Scientology, as Islam.
It is obvious that the terror attacks in Paris, and now Mali, had something to do with Islam – we know, for instance, that the gunmen in Mali offered to spare hostages if they could recite verses from the Koran. To refute this religious affiliation is to deny the fact that the perpetrators, including Abdelhamid Abaaoud and his collaborators in Paris, all pledge allegiance to the religion. Similarly, the five deadliest terrorist groups in the world – Boko Haram, Islamic State, the Taliban, the Fulani militants and al-Shabaab – also practise Islam. Furthermore, four of the five countries that suffer most from terrorism have majority Muslim populations. The atrocities committed by the likes of IS might appal the vast majority of Islam's 1.7 billion followers, but this does not change the fact that they have been carried out in the Islam's name.
Of course, it's important to state the usual disclaimers – lest someone cry 'Islamophobia' and tell us we are 'tarring all Muslims with the same brush'. They might even say something as stupid as 'If I call myself a zebra, do you then refer to me as a zebra?'. Yes, IS is deplored by most Muslims. Yes, IS oppresses and kills more followers of Islam than any other religion. Yes, IS should never be used to justify prejudice against Muslims. And no, Muslims should not be forced to apologise for the inhumanity of IS.
But saying IS has nothing to do with Islam? That's just not credible. This is not about what 'true Islam' should be, or what we would like it to be. We are talking about how Islam is practised in the here and now, by people across the world. As such, it's simply inconsistent for the media to use terms such as 'radical Islam', 'Islamism', 'jihadism' and 'fundamentalism' while claiming that IS has nothing to do with Islam.
What made Theresa May's comments particularly interesting was how much they differed from those previously held by her colleagues in the cabinet. Following the Charlie Hebdo shootings in January, Sajid Javid, the then culture secretary, broke ranks when he said it was 'lazy and wrong' to say the attacks had nothing to do with Islam. 'The lazy answer would be to say that this has got nothing whatsoever to do with Islam or Muslims and that should be the end of that', he said. 'I think it is absolutely fair to say that there is a special burden on Muslim communities, because, whether we like it or not, these terrorists call themselves Muslims.'
David Cameron's rhetoric has also shifted. After the shootings in Nairobi in 2013 that killed 67 people, including four British citizens, he said of the gunmen: 'The perpetrators claim they do it in the name of a religion – they don't.' However, on Monday night, Cameron changed his tune: 'It is not good enough to say simply that Islam is a religion of peace and then to deny any connection between the religion of Islam and the extremists… Why? Because these extremists are self-identifying as Muslims.'
It is understandable that people deny the link between extremism and Islam. It is often framed as progressive to defend minorities in absolutely all cases, regardless of the situation. For example, there has been outrage at the frontpage of yesterday's Sun, which refers to a poll claiming one in five British Muslims have sympathy with those who have left the UK to fight in Syria. The poll is slightly dubious, as it doesn't specifically refer to fighting for IS, but the fury would have been the same even if it had done. 'Four in five don't have sympathy with IS', the offended would respond, 'but that's not the story, is it?'. But surely the fact that anyone in Britain could feel a sense of sympathy with the barbarians of IS should alarm us.
Those who peddle the 'nothing to do with Islam' line should consider this example: when UKIP candidates were reported making racist and homophobic comments prior to the General Election, would it have been right to say that this had nothing to do with UKIP? Or should we have insisted that the moderates show leadership and purge the extremists?
To argue that the terror attacks committed by IS are, in part, religiously motivated, should not be a controversial point. We must be allowed to discuss the religious affiliation of terrorist groups openly and freely in order to question the extent to which religious influences justify and incite terrorism compared with other factors, such as social alienation and foreign-policy grievance. We cannot let the fear of being labelled Islamophobic get in the way of an honest and open public discussion.
To enquire about republishing spiked's content, a right to reply or to request a correction, please contact the managing editor, Viv Regan.