Labour's men of conscience? Gimme a break
The PLP has turned the Syria vote into another chance to depose Corbyn.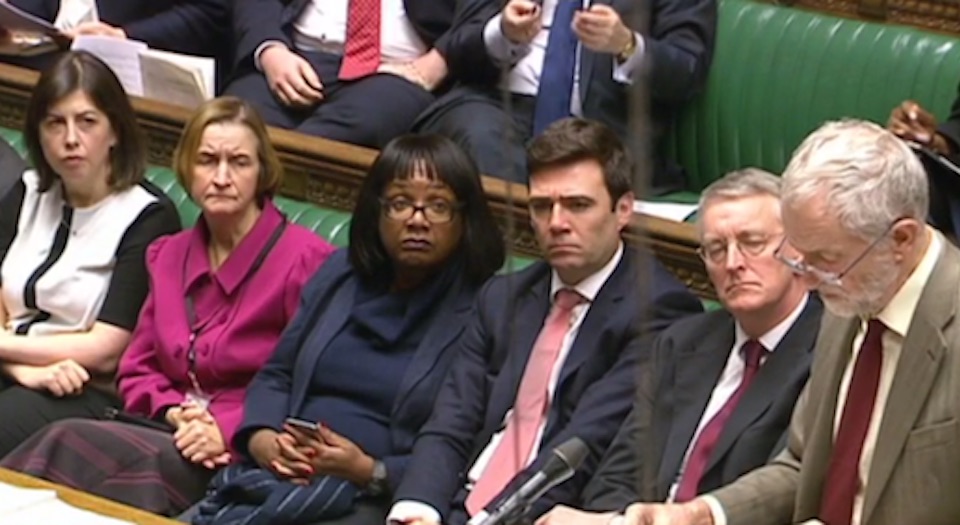 Who'd have thunk it? It turns out that the Labour Party is stuffed full with upstanding, principled MPs just desperate to 'follow their conscience'. The New Labour careerists, jargonised and soundbitten, are no more. It is now a party of the moral, of people who would rather fall on their swords than go against their deepest beliefs.
That at least is the spin emerging from the Parliamentary Labour Party, or, as it's otherwise known, the Campaign Against Jeremy Corbyn. So, ahead of next week's parliamentary vote on military intervention in Syria, the details of which prime minister David Cameron has kept characteristically non-specific, we've been treated to the sight of assorted Labour MPs calling for Corbyn to make it a so-called free or conscience vote (which would mean Labour MPs won't be whipped into following the Labour leadership's party line against military intervention, lest they be stripped of their shadow-cabinet roles, or even their Labour Party membership). There was shadow culture secretary Michael Dugher, who tweeted that MPs should be allowed to 'follow their conscience' when voting on war. There was Labour MP John Woodcock who urged Corbyn to grant Labour MPs the 'individual freedom and responsibility' to vote as they saw fit. And then there was one-time Labour leadership candidate Chuka Umunna who said: 'I think the problem is that ultimately I have a point of view, which I have by reference to my principles and my values and my desire to keep the people that I represent safe. I am sorry, but that will come before any internal party-political issue.' So far, however, Corbyn has remained resolutely noncommittal: 'I don't think a free vote is something that we are offering.'
There is none so virtuous, it seems, as an anti-Corbyn MP. That might be a bit easier to take seriously if the likes of Umunna had not long shown themselves to be moral invertebrates, more keen on advancing their parliamentary careers than a political cause. It's fair to say they wouldn't know a principle if it underwrote the argument that justified punching them in the face.
Are they really arguing that a vote on some as-yet-unspecified form of military action is a matter of conscience? For Corbyn, of course, it could well be. As those MPs keen to vote against their leader constantly point out, not only has Corbyn himself voted against the whip 534 times since 1997, he also argued in 2013 that 'on something so fundamental as the deployment of armed forces, a free vote is the right thing to do'. As well he might, given he has steadfastly voted against military intervention for decades, only resigning his chairmanship of the Stop the War Coalition in September. Whatever you think of Corbyn's principles, and we at spiked are not fans, they have tended to inform his parliamentary activity, even if they failed to prompt him actually to break with the party he so often found himself revolting against. So Corbyn has principles, they are just not as close to his heart as his Labour Party membership card.
But those aligning themselves against Corbyn are even worse. They are not arguing for military intervention on principled grounds; they're arguing for it on pragmatic, legalistic grounds. They talk of security, of legal mandates, of protecting people. It's an argument, yes. But it's not one of borne of conscience; it's borne of contingency, a concern about potential terrorist threats. Rightly or wrongly, MPs have historically been granted conscience votes when the issue at hand touches directly on their personal, often religious, beliefs. Hence the issues tend to be ones in which religious and moral worldviews tend to be strongly at play – abortion, embryology, even family law. So, for example, for an MP who happens to be a Catholic, and who believes that abortion is the murder of an unborn child, to be told to vote in favour of legalising abortion, would be, well, unconscionable.
Is it fair to say that getting Labour MPs to toe the Corbyn line and vote against military action in Syria would violate their deepest-held moral principles? It doesn't seem likely, does it? After all, many of those sat on the opposition benches happily voted against military action just two years ago when Cameron last put it to parliament. Of course, since then, the Islamic State has cut a black-clad dash across the Middle East, and has now inspired terrorist atrocities in Europe. But the question of intervention has not, as a result, become a matter of individual conscience. It remains what it always was: a hugely important political, moral question, to be argued and fought over.
But then those calling for Corbyn to make the Syria vote a conscience vote aren't really bothered about the larger political and moral question of intervention. They like the appearance of being 'men of conscience', of dressing up in the garb of virtue, of men committed to doing the right thing. But they're really concerned with Labour's internal politics, with sticking the knife into Corbyn, isolating him, and rendering him absurd. All this talk of a conscience vote is to be seen in the context of the endless whispering – and shouting – against Corbyn from the Parliamentary Labour Party, from the MPs and shadow ministers leaking their criticism of Corbyn's aides to the press, to the open calls for an anti-Corbyn rebellion. Dan Hodges, the Telegraph's Labour correspondent, even admitted as much when he said that the Syria vote 'could come to define the Labour Party'. In other words, for the Labour Party, the vote on military action is not about conscience or morality, let alone Syria itself; it's about the Labour Party, its internal squabbles, and the splits between assorted parliamentary factions, Corbyn's leadership team and the myriad Labour Party members who voted for Corbyn to be leader just a few months ago.
The disarray in which Labour finds itself is once again writ large. But, while shadow ministers and backbenchers plot and spin their way to a Corbyn-free future, against the wishes of Labour's own membership, the actual debate about intervention in Syria and the Middle East remains to be had. Lord Reid, a former minister under Tony Blair, said Labour's position on intervention and IS does not look 'competent or coherent'. But it's worse than that. On a question as important as further military intervention in the Middle East, there is barely a political and moral principle on show – just opportunism and PR bluster.
Tim Black is books and essays editor at spiked.
To enquire about republishing spiked's content, a right to reply or to request a correction, please contact the managing editor, Viv Regan.