Free speech: our best weapon in the war for the West's soul
The terror attack on Boulevard Voltaire is a symbolic reminder of what's at stake.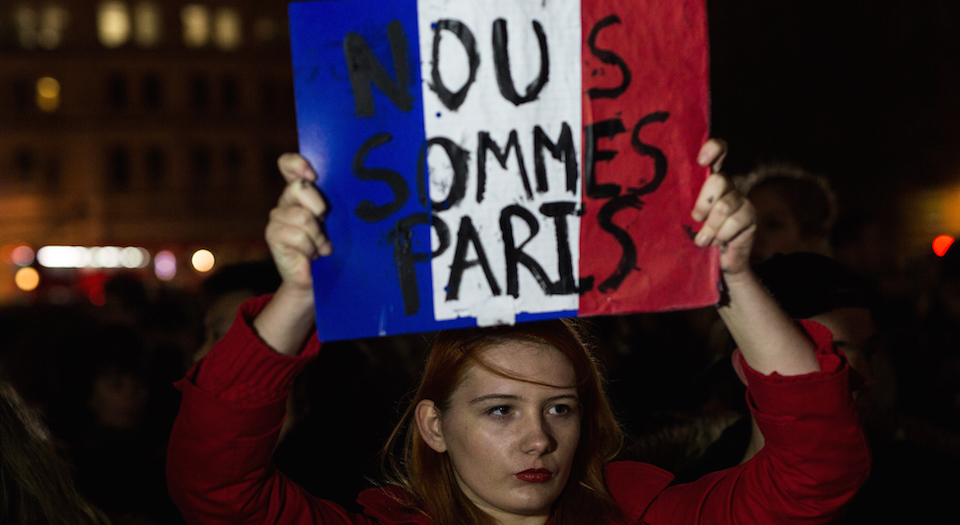 It may have been a deliberate sick joke or just another irony of history. But either way, it seemed symbolic that two of the terror attacks in Paris, including the bloodiest assault at the Bataclan theatre, took place on Boulevard Voltaire.
That Parisian thoroughfare is named after the eighteenth-century revolutionary writer Francois-Marie Arouet, known by his pen name Voltaire, who is associated with all the values that those Islamist terrorists despise. Most famously, Voltaire is widely credited with the historic declaration (actually formulated by his biographer Evelyn Beatrice Hall as a summation of his views) that 'I disapprove of what you say, but I will defend to the death your right to say it'. Those words ring down the centuries, encapsulating the Enlightenment ideals of free speech and tolerance with which IS and its ilk are at war today.
The appearance of the name Voltaire in the midst of last Friday's slaughter was a reminder of that which we should hold dear in these times of conflict. It should also serve as a reminder that free speech remains the best weapon we have to defeat the enemies of freedom. That has often been forgotten in the rush to suppress 'dangerous' words and ideas in the aftermath of the latest Paris outrage, and of the Charlie Hebdo massacre in January.
This war is not only a military conflict over territory in the Middle East. It is a cultural and political battle for the future of the West itself, for the soul of an ostensibly free and civilised society. The danger is not that IS or similar will destroy our freedoms – no terrorist has the power to do that. The danger is that our fearful response to terror will itself further undermine freedom; that we will not simply lose this war, but surrender without a fight.
Reactions to Paris have already illustrated the pusillanimous attitude that prevails towards liberties in general and free speech in particular among the West's elites. They begin by reaffirming the need to defend our freedoms and values in principle. Then they swiftly cut to the chase and start attacking freedom of speech in practice.
Thus on Monday, the French authorities announced that they had launched more than 150 raids on 'militant targets' – not only to hunt for armed terror suspects, but also to round up people who espouse dangerous ideas. France's prime minister Manuel Valls said that the government was using its special powers under the state of emergency 'to question people who are part of the radical jihadist movement… and all those who advocate hate of the republic'. Interior minister Bernard Cazeneuve said this offensive was the start of a crackdown that would lead to the 'dissolution' of 'hate-preaching mosques' across the country.
These raids followed on from the French authorities' post-Charlie Hebdo campaign to silence 'hate speech' attributed to Islamist extremists and 'Islamophobic' racists alike. The crackdown involves new measures against 'hatred online', the deportation of radical preachers and tougher legal penalties for hate speech and racism.
After the Charlie Hebdo massacre in January and the related murders at a Parisian Jewish supermarket, notorious anti-Semitic comedian Dieudonné M'bala M'bala was arrested and convicted of 'condoning terrorism' for tweeting 'I feel like Charlie Coulibaly' – a mash-up of 'Je suis Charlie' with the name of the kosher supermarket killer, Amedy Coulibaly. Ironic joke or attempted justification for violence, it was only words, and only one word – Coulibaly – made it controversial. Yet it earned Dieudonné a suspended jail sentence. The French authorities thus made clear that they would fight to the death for the right of people to say things of which the government and the judges approve.
In the UK, the official response to Friday's slaughter in Paris was to affirm the British state's support for freedom, while warning of the dangers of taking free speech too literally and speaking out of turn. One foolish woman who posted on Facebook that her Oxfordshire beauty salon would no longer accept bookings 'from anyone from the Islamic faith' was not only pilloried by social-media users but also reported to the police and arrested for publishing 'written material which is threatening, abusive or insulting with the intention of stirring up racial hatred'. Which might seem a heavy-handed state response for advertising your reluctance to do somebody's nails.
Meanwhile Brit comedian Jason Manford's Facebook account was suspended after he posted that the Paris attackers were 'Fucking cowards. Slaughtering innocent unarmed people for what? In whose name? Cos I've got news for you, if you think your "god" is gonna reward you for this type of atrocity then your god is a massive cunt. You are a shit stain on all of humanity.' Harsh but fair some might think, but apparently enough to have Facebook reaching for the 'Dislike – and Take Down' button.
Slightly higher up in the UK cultural stratosphere, Economist writer Edward Lucas penned a classic piece of contemporary nonsense in which he effectively argued that in order to defend our freedoms, we must 'compromise' (aka sacrifice) some of them, including free speech. Civilisation, declared Lucas, 'is a cause. We should fervently sing its praises, practise its principles at home and promote them abroad'. And how should we 'practise its principles'? By accepting that we will have fewer freedoms and more constraints on democracy. And by purging our enemies from 'social media or the comment fields of mainstream news organisations'. Of course Lucas insists that his proposal 'does not constrain free speech' – a sure sign these days that it would do precisely that.
Meanwhile, a 21-year-old toddler from Todmorden in West Yorkshire was arrested for posting an infantile Facebook rant in praise of the terror attacks. The unnamed idiot wrote that 'My brothers did well in Paris. Now we have proved that there's a bit of intelligence, planning and synchronisation going into our killings. WE ARE ISIS, THIS IS OUR TIME NOW. Keep your eyes on Manchester, AALUUACKHBAAR! Rip Jihadi John.'
His post met with a robust response from other Facebook users, and disappeared after 45 minutes. In the meantime, however, somebody had reported the jihadi groupie to West Yorkshire Police, who arrested him 'for publishing material intending to incite racial hatred…West Yorkshire Police take this behaviour seriously, especially in light of the recent events in Paris.' Why West Yorkshire Police should take this overgrown boy's behaviour so seriously is unclear, since it appears unlikely that 'intelligence and planning' about an IS attack on Manchester would be posted on Facebook from his mum's back bedroom in Todmorden, and the only 'hatred' he seems likely to incite is of himself. Free speech is for fools and fanatics, too.
In the aftermath of Charlie Hebdo and the latest Paris atrocities, it might be tempting to imagine going along with government attempts to crack down on 'radical' opinions and censor extremists in our universities. Wouldn't it be good if we could simply gag them with the UK's 2015 Counter-Terrorism and Security Act, and kick them off campus and social media, if not out of the country, altogether?
But such simple authoritarian solutions to offensive ideas won't work. Trying to defend freedom by banning its enemies, to uphold our belief in free speech by censoring those who disagree, would be both wrong in principle and worse than useless in practice. What we need to do is fight them on the intellectual and political beaches, not try to bury the issues in the sand. The big problem Western society faces is not how to stop radical Islamists espousing their beliefs; it is how best to make a compelling case for what 'we' are supposed to believe in. Free speech is the potential solution, not the problem.
This should not be seen as a concession to the enemy, either. In the war over the future of the West, free speech is the greatest weapon in civilisation's armoury. Our culture's internal arguments about values today are often characterised by confusion rather than clarity. How are these problems to be resolved? Not by being afraid of and trying to exclude some ideas on any side, but by open argument in which all points of view can fight it out. Not by creating 'safe zones' and restricting debate to the same blandly conformist opinions, but by letting speech run free in a no-holds-barred debate.
The fight for free speech has been key to the historic struggle that has brought humanity from the caves to something approaching civilisation. It is how we decide what we believe to be the truth. That is why the freedom to question everything has been central to the advance of everything from scientific progress to political democracy. Today we need it more than ever.
One word which has come up in many responses to the Paris attacks is 'Tolerance'. Yet that powerful notion is often abused. 'Tolerance' has been turned into a call for censoring ideas deemed too offensive or extreme, through slogans such as 'we cannot tolerate intolerance'. This is the opposite of true tolerance, which means tolerating the expression of opinions you fiercely disagree with – in order that you might then challenge them in a battle to the bitter end.
That was the spirit of Voltaire's famous, attributed, motto about defending to the death your right to say things with which we disagree. Or as he put it in his own words, 'Think for yourself, and let others enjoy the privilege of doing so, too'. Today by contrast, from the university campus to the post-Paris media, our culture is coming under the influence of those I call the reverse-Voltaires, whose slogan is 'I know I will despise what you say and I will fight to the end of free speech for my right to stop you saying it'.
This is not about upholding an abstract principle. Free speech remains a practical weapon to deal with the enemies of liberty. The alternative, of seeking to ban them and get the genie back in the bottle, can only store up more trouble and lend them perverse credibility as victims of censorship.
It is a hard truth about free speech that the acid test is always standing up for 'freedom for the thought that we hate', at the same time as exercising our own freedom ruthlessly to challenge it. In the end it is only those ideas deemed extreme or offensive that need defending on free-speech grounds. The mainstream can look after itself. Nobody ever tries to ban an opinion for being too mundane.
Should we really be scared of speech from bearded Islamists or hair-teasing Islamophobes? Must we turn the whole of our society into a campus-style 'safe zone', where we are all to be protected from offensive words that are viewed as if they were automatic weapons?
If we are not going to defend the civilisation-founding liberty of free speech, then what are we supposed to be fighting for in this war?
Mick Hume is spiked's editor-at-large. His book, Trigger Warning: Is the Fear of Being Offensive Killing Free Speech?, is published by Harper Collins. (Order this book from Amazon(USA) and Amazon(UK).)
Picture by: Rob Stothard / Getty Images Staff.
To enquire about republishing spiked's content, a right to reply or to request a correction, please contact the managing editor, Viv Regan.