Missouri: professors against press freedom
How fortysomething academics inflame campus witch-hunts.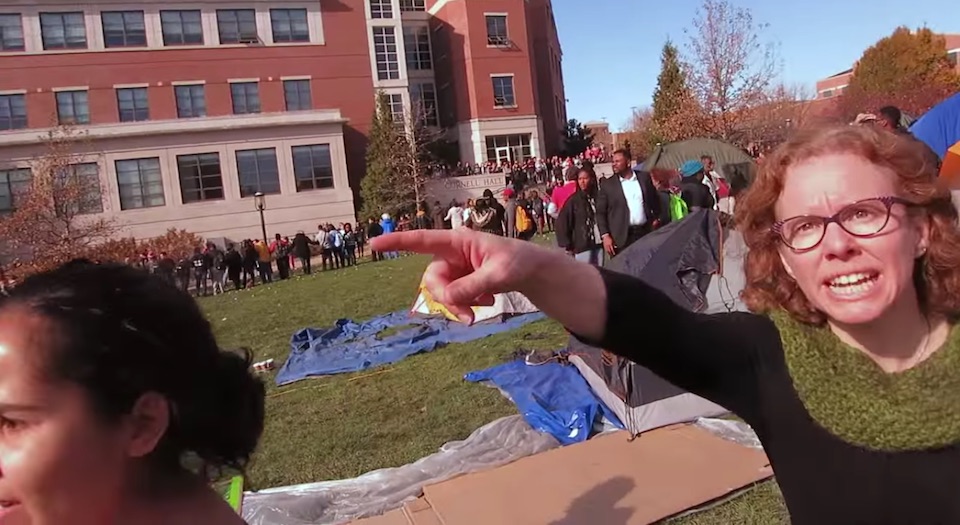 'There they go again', may be all we can add these days when students shut down or shout down viewpoints that violate the imagined right of favoured groups to feel 'safe', 'comfortable' and 'unoffended'. Protests about allegedly offensive speech and speakers occur at least once a week, targeting with increasing aggressiveness even mild disagreements with campus orthodoxies.
The latest high-profile protests erupted at Yale University. They were sparked by a fraternity's alleged racially discriminatory actions but exploded over instances of unwelcome speech, when the associate house master of Silliman College, Erika Christakis, questioned the wisdom and necessity of cautionary notes about offensive Halloween costumes. Further outraged by the failure of Christakis and her husband, house master Nicholas Christakis, to apologise for their divergent defences of free speech, students demanded their resignations. 'I don't want to debate. I want to talk about my pain… Christakis needs to stop instigating more debate', one student succinctly explained in an op-ed that appeared briefly in the Yale Herald.
When students at one of the United States' most prestigious universities throw tantrums in reaction to a call for debate, free-speech advocates who have long warned of the dangers posed by campus civility codes may be tempted simply to respond, 'We rest our case'.
But silence in the face of censorship isn't an option. At the very least, speech-policing must be chronicled. Consider recent efforts to bar journalists from covering a protest at the University of Missouri, as reported by the New York Times:
'Tim Tai, a student photographer on freelance assignment for ESPN, was trying to take photos of a small tent city that protesters had created on a campus quad… Protesters blocked Mr Tai's view and argued with him, eventually pushing him away. At one point, they chanted, "Hey hey, ho ho, reporters have got to go".'
'I am documenting this for a national news organisation', Mr Tai told the protesters, adding that 'the First Amendment protects your right to be here and mine'. The protesters accused him of acting unethically and disregarding their requests for privacy.
Student hostility toward freedom of the press is, by now, routine and predictable. But it also infects some faculty members, partly because campus rules treating offensive speech as an actual civil-rights violation date back some 20 years. Students educated under early speech-code regimes are now in or entering their 40s. Those who stayed in academia are sometimes as censorious as their students.
So, University of Missouri protesters intent on forcibly barring press coverage were joined by a faculty member, Melissa Click, who, according to the New York Times, 'appeared to grab' at the camera of another photographer and yelled, 'Who wants to help me get this reporter out of here? I need some muscle over here.'
Click teaches mass media. Her research focuses on 'popular-culture texts and audiences, particularly texts and audiences disdained in mainstream culture', according to her staff-profile page. 'Her work in this area is guided by audience studies, theories of gender and sexuality, and media literacy.' You might think that media literacy would require some study of press freedom. But the aptly named Professor Click's current research includes studies of 'Fifty Shades of Grey readers' and 'the impact of social media in fans' relationship with Lady Gaga'.
What more can you say when confronted with media experts who oppose the freedoms on which media rely? If student and faculty censors aim to leave me speechless, they're beginning to succeed.
Wendy Kaminer is an author, lawyer, and civil libertarian.
To enquire about republishing spiked's content, a right to reply or to request a correction, please contact the managing editor, Viv Regan.