Who's really being silenced in the gender debate?
Men's issues have been ignored for too long.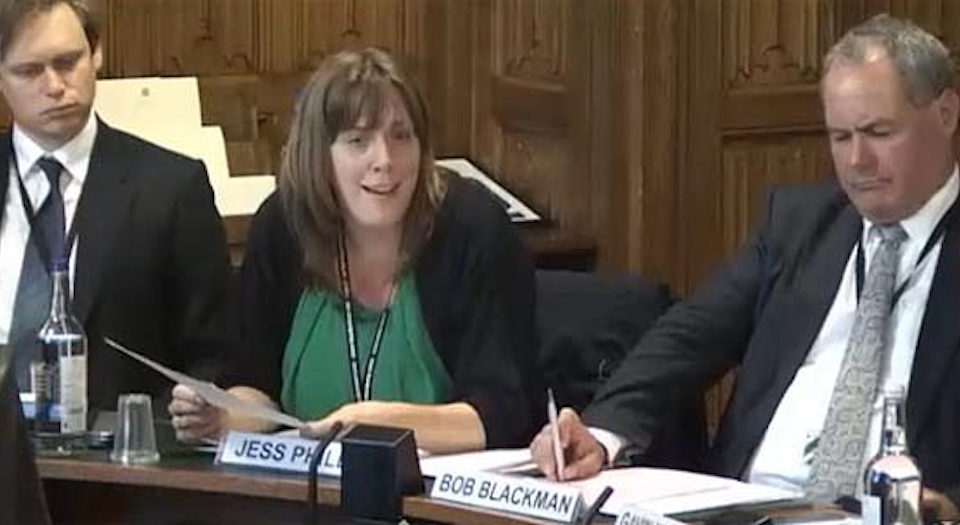 The past week has seen a perfect case study in the casuistry that underpins much of the public discourse around gender politics.
On Tuesday last week, Tory MP Philip Davies went before the Backbench Business Committee, which is tasked with considering proposals for debates in parliament, to call for a debate on International Men's Day to match the International Women's Day debate that has been held in parliament for the past decade. Davies said he hoped it would be an opportunity to discuss a raft of inequalities that disproportionately affect men and boys, from educational underachievement and fathers' post-separation contact with their children to men's healthcare and the crisis of male suicide (now the UK's biggest killer of men aged under 45).
As Davies was making his pitch, committee member and Labour MP Jess Phillips was caught on camera rocking backwards and forwards on her chair with derision while clamping her hand over her mouth to suppress snorts of laughter. She listened to Davies outline issues, such as male suicide and male-specific cancers, and then said: 'You'll have to excuse me for laughing, but the idea that men don't have an opportunity to ask questions in this place is a frankly laughable thing… as the only woman on this committee it seems like every day to me is International Men's Day.' She added: 'When I've got parity, when women in these buildings have parity, you can have your debate. And that will take an awfully long time.'
Phillips' comments prompted a handful of intelligent articles criticising her response; but the footage also prompted vile threats and abuse on social media. In no time at all, editors, who'd collectively shrugged their shoulders at a female MP sniggering at male suicide, were falling over themselves to run stories framing Phillips as the latest victim of online misogyny; while ranks of fellow MPs who'd also responded with a collective 'meh' to the contempt she'd shown her male constituents, suddenly sprang into action behind the hashtag #IStandWithJessPhillips.
By Sunday, Phillips was presented across the media as the latest embattled female politician bravely fighting to be heard against a culture overwhelmingly hostile to outspoken women. Most of these reports barely even mentioned the sneering veto she'd imposed on men's voices, which had caused the uproar in the first place.
At the centre of this dismal mini-saga is a single, poisonous casuistry: that because there are more men in positions of power, men's needs are given unfair prominence and women's voices are silenced. Therefore, so the argument goes, only women should be allowed a special platform to voice their concerns. But, although there are indeed more male MPs than female MPs, when it comes to talking about gender, neither side shows much interest in addressing issues that affect men. In fact, Davies aside, when was the last time you heard any MP, male or female, call for urgent action on, say, the crisis in boys' education, or in support of fathers' post-separation relationship with their children? As Davies succinctly put it: 'There's a very big difference between men raising issues and the raising of men's issues.'
By contrast, from prime minister David Cameron's pre-election audience with Mumsnet to Harriet Harman's Pink Bus to Ed Miliband and Nick Clegg's feminist t-shirts to Samantha Cameron's girls' summit with Michelle Obama, both male and female politicians consistently engage in high-profile discussion of issues that affect women.
But this isn't just about the dead hand of political correctness stifling discussion. Rather, a bias in favour of women's issues is now built into the mechanisms that address gender across government departments and embedded in the quangos and third-sector organisations that are instrumental to delivering policy. In addition to the annual International Women's Day debate, there are also women and equality questions in the Commons every month; the Commons even has a Women and Equalities Committee; Cameron has a special advisor on women; and, of course, there is the minister for women herself. Elsewhere, the UN has an organisation dedicated to women, and the European Union has a Women's Charter, while public-sector organisations and charities, tasked with developing and delivering policy, have women's officers who ensure their work best serves the needs of women and girls. These policies, roles and institutions are informed by a cottage industry of papers and reports cranked out by women's studies departments in universities across the UK. And all of the bodies driving the gender agenda behind the scenes are given sympathetic platforms across the press. In short, the claim that women, or more specifically feminist women, don't have a voice is absurd.
This isn't about calling for an end to gender-studies courses or a ban on women's officers. Rather, it is to draw attention to the fact that certain women's groups try to silence alternative views by claiming they themselves are voiceless. Take, for example, the media presentation of Jess Phillips as an embattled female politician refusing to be silenced by a prevailing culture of misogyny. Now, let me be clear, the online abuse Phillips received for her comments was repugnant and inexcusable, there's no question about that. But what's also repugnant is cynically exploiting the actions of a few morons to advance an ideological agenda and suffocate a desperately needed discussion of critical issues that affect the lives of every man and boy in the UK.
At last count, Phillips has bravely refused to be silenced in the Huffington Post, the Mirror, the Independent and the Guardian, and has appeared on Newsnight, The Andrew Marr Show and The Daily Politics. To the best of my knowledge, none of these reports featured any of the underfunded organisations that work day in and day out to support men and boys through the problems they face. The truth is, just like most MPs, the mainstream media routinely reports on injustices that affect women, while 'de-gendering' issues that impact on men. Or, as my colleague and International Men's Day coordinator for the UK, Glen Poole, put it: 'The sad irony of this whole episode is that the media has given more air time and coverage to the obnoxious rape threats received by Jess Phillips in the run-up to this year's International Men's Day, than they have given to male victims of rape in the six years I've been promoting the day.'
Someone will invariably retort that these criticisms smack of 'me-too-ism', a whining attempt to assert the victim status of men. Except this isn't about whining; it's about being brave enough to tell the empress she hasn't got any clothes on. There really are grave issues that affect men and boys, and people really are being bullied into keeping quiet about them. Dismissing men who do speak out as 'crybabies' is just another way to emasculate and shame men who speak out.
On Monday, after a week of pressure from men's advocates and charities that work with men, Phillips published an article in the Huffington Post stating she would ask for a debate on male suicide and call for the government to fund a specialist male-suicide-prevention service. This is excellent news and Phillips is to be commended for it. The move is also proof of the importance of debate – this wouldn't have happened if Phillips hadn't been forced to confront people who hold different views to her own.
But what's also telling is that she still opposes an International Men's Day debate about the raft of other issues that affect men and boys. Why is that I wonder? Aren't homelessness, lower-life expectancy, the crisis in boys' education and discrimination in the family courts also important subjects to discuss? Or perhaps there is another reason: that a serious and open debate about these issues might undermine the prevailing dogma that, when it comes to gender issues, men are problems and women have problems. Could it be that if we had a proper discussion about the issues that affect men and boys, society might actually be forced to do something about them?
Dan Bell is an award-winning journalist and editor who has written for national news outlets in the UK and America. He is features editor of online men's issues magazine insideMAN.
To enquire about republishing spiked's content, a right to reply or to request a correction, please contact the managing editor, Viv Regan.