Macbeth: an adaptation for our times
Justin Kurzel's film is fantastic, and yet something feels lacking.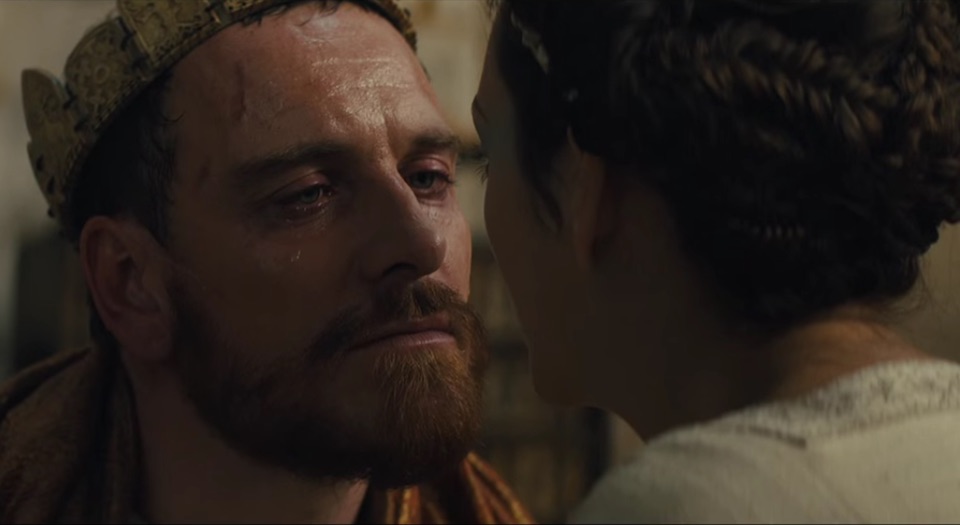 The new adaptation of Shakespeare's Macbeth, by Australian director Justin Kurzel, has enjoyed great reviews. The success of the film, which features Irish heartthrob Michael Fassbender as Shakespeare's greatest warrior, shows our ongoing interest in the dramatic power of Shakespeare.
Set in the highlands, Kurzel's Macbeth is Braveheart meets Sin City, on acid. The first blood-soaked battle scene indulges in long, slow-motion shots of Macbeth and Banquo blowing through crowds of soldiers. The soundtrack, by Kurzel's brother Jed, serves to unhinge the film, causing the hairs on the back of your neck to stand on end as the witches appear out of the mist. Kurzel's adaptation brings to life the supernatural thread in Macbeth; the 'instruments of darkness' saturate the barren landscape and the driving rain of remote Scotland. Much of the film is fantastic: it looks great and is powerful. With Shakespeare, however, there is always more at stake than a captivating atmosphere.
I thoroughly enjoyed Kurzel's film, and yet I feel it isn't a totally successful adaptation. The film begins with a scene that doesn't appear in the original play, in which Lady Macbeth (Marion Cotillard) and her husband bury their dead infant son. The child continues to appear throughout the film. As Lady Macbeth recites her final, maddened speech, she is not addressing her bloodstained hands but the apparition of her lost child. Similarly, Macbeth is haunted by the apparition of a son, appearing as a young, dead soldier. Kurzel explained in an interview that he wanted to explore 'two characters trying to fill a void – whether that's inspired by grief or trauma'. Therefore, the dead child provides a reason for the brutal murders the pair undertake.
This feels wrong. Shakespeare gives no explanation for the couple's willingness to kill Duncan, except bloody and brutal ambitiousness. We first meet Lady Macbeth moments before her thane arrives back from battle, just as she is reading a letter from him explaining the witches' prophecy. Before her famous call to evil spirits – 'fill me from the crown to the toe top-full / Of direst cruelty' – Lady Macbeth states her worry that Macbeth is too loyal and kindhearted to commit the murder necessary to make him king:
'Yet do I fear thy nature;
It is too full o' th' milk of human kindness
To catch the nearest way: thou wouldst be great,
Art not without ambition, but without
The illness should attend it.'
Lady Macbeth is introduced to us as ruthless, with no context to explain her desire to convince Macbeth to throw off all moral impediments and fulfil the prophecy. The very fact that there is no reason, no trauma or past experience which explains Lady Macbeth's motives, makes the plot all the more sinister. Macbeth is a play about human ambition, masculinity and the drive for success – it cannot so easily be explained away by a backstory of grief.
The power of Macbeth lies in his control of his own decisions. But Kurzel says he wants to explore the 'possibility that the landscape is so much greater than we could ever be – that somehow it orientates and dictates the human spirit and destiny'. This is exactly what Macbeth is not. A noble and undefeated warrior, Macbeth slays all around him and takes no prisoners. Though he is enthralled by the witches' prophecy, he takes matters into his own hands and ensures the fulfilment of the prophecy by attempting to slay Banquo's heir and murdering Macduff's wife and children, too. Macbeth is master of nature: 'Macbeth shall never vanquish'd be until / Great Birnam wood to high Dunsinane hill / Shall come against him.' In fact, the wood does not come to Macbeth until Macduff's army cuts down the trees to use them for their own purposes. In Kurzel's film, this is cleverly represented by Macduff burning the wood, resulting in Macbeth grasping a handful of swirling burnt ashes that are blowing around the castle. The idea that the characters of Macbeth are at the mercy of nature is to deny the very core of the play – ruthless human agency.
The Daily Mail hails Kurzel's adaptation 'a Macbeth for our times'. I think this is right. Had Kurzel been truer to the play, and celebrated the defining characteristic of Macbeth – his ruthless determination – his reviews may have been less favourable. One review, which epitomises how feminist and deconstructionist critique bastardises great works of literature, describes Lady Macbeth as 'as a counterweight to men, a force for peace and community and against bloodshed'. This ignores the fact that Lady Macbeth flays herself of all femininity in her first scene, as she calls upon the spirits to 'unsex me here', to 'Come to my woman's breasts, / And take my milk for gall, you murdering ministers, / Wherever in your sightless substances. / You wait on nature's mischief.' When Macbeth comes to her, having talked himself out of killing Duncan, she chastises him: 'When you durst do it, then you were a man.' All potential for womanly weakness is dashed like the brains of the babe Lady Macbeth swears her courage upon. To deny this resilience and determination in Shakespeare's most bloody couple is to rob the play of its power.
Shakespeare's work is as powerful today as it was 400 years ago because of the power of his language. Kurzel's film is a beautiful and captivating sight, much like some scenes in Game of Thrones, but the words sometimes seem to take a backseat in this modern adaptation. Some of the most important monologues are overpowered by the string-led soundtrack, and the reinterpretation of many important scenes are disappointing. The focus on PTSD in the adaptation makes Macbeth almost seem foolish – at one point, he rides on horseback in the rain in nothing but a night-gown. The madness of the play grows only after the bloody deeds stack up upon each other; it is integral to the meaning of the play that the actions of Macbeth and his wife began with clear thought. More importantly, Macbeth's bloody end does not see him die a victim. Instead, he welcomes the fatal march of Macduff's army with a chest-thumping cry of defiance:
'I gin to be aweary of the sun,
And wish the estate o' the world were now undone.
Ring the alarum-bell! Blow, wind! Come, wrack!
At least we'll die with harness on our back.'
The trend towards victimhood, and therapy culture, which finds reason for human actions everywhere other than the agency of the individual in question, informs this adaptation. Though Kurzel is successful in displaying the drama, malice and lasting intrigue of Shakespeare's play, he doesn't convey its most powerful message: that there is nothing more powerful than human drive, and nothing more enthralling than Macbeth, who will not surrender to weakness, even when all is lost:
'Yet I will try the last. Before my body
I throw my warlike shield. Lay on, Macduff,
And damn'd be him that first cries, "Hold, enough!"'
Ella Whelan is staff writer at spiked. Follow her on Twitter: @Ella_M_Whelan
Watch the trailer for Macbeth:

To enquire about republishing spiked's content, a right to reply or to request a correction, please contact the managing editor, Viv Regan.