Tom Watson: the unacceptable face of the paedo panic
Watson is being sacrificed to save the child-abuse crusade.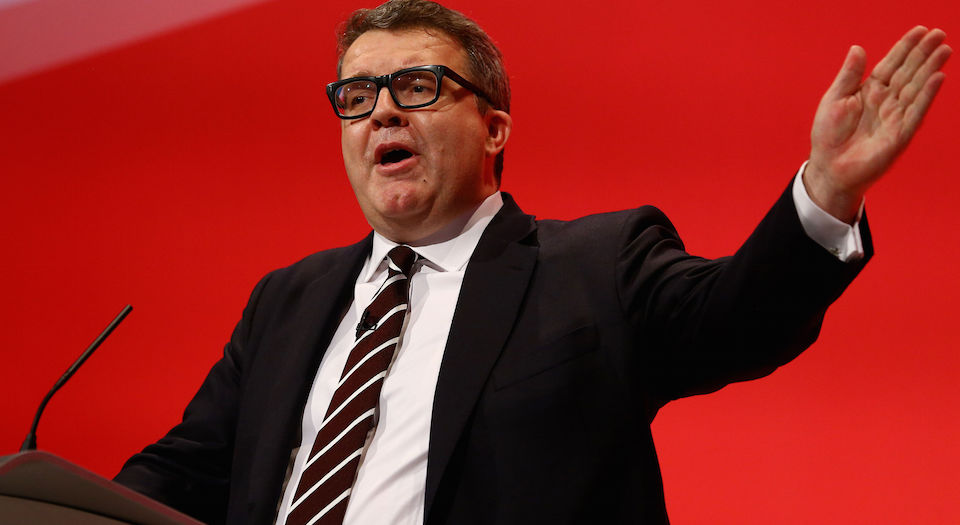 It's not looking good for Labour's deputy leader Tom Watson. Having ruthlessly and callously spread muck about child abuse in high places, invoking parliamentary privilege in October 2012 to allege the existence of 'a powerful paedophile network linked to parliament and No10', and later naming and shaming ex-Tory minister Leon Brittan before and after his death as a sex abuser and 'as close to evil as any human being can get', it turns out that Watson's claims have about as much substance as a Jeremy Corbyn conference speech.
The humbling of Watson has been quick. Last week, BBC TV's Panorama convincingly exposed the dubious sources of the 'VIP paedophile ring' allegations, from the convicted fraudster peddling unattributed witness claims about an establishment paedophile gang to the damaged individual who accused Brittan of sexual abuse 'as a joke'. Then, just to stick the knife into Watson's heft, the police admitted that there was no evidence against Brittan.
Now Watson is facing the full wrath of the wronged and the righteous. MPs and ministers, especially on the Conservative benches, are demanding he apologise for the distress he caused Brittan's grieving family. And commentators from across the political spectrum are also giving Watson both barrels, with one writing that his 'career deserves to be destroyed', and another likening his ruinous persecution of political adversaries to Senator Joe McCarthy's equally destructive pursuit of reds under the beds.
Watson certainly deserves the opprobrium coming his way. This was the man who shamelessly and cynically rode the wave of post-Savile shit as it washed over Britain's institutional landscape, casting aspersions about politicians dead and alive, making allegations about paedos down the corridors of power, and generally exploiting the most corrosive tendencies of our era – to suspect, to distrust, to demonise. This is the man who declared he knew the names of 'powerful people who abused children with impunity'; the man who, as an MP, demanded that the director of public prosecutions Alison Saunders reopen investigations into an alleged rape of a 19-year-old student by Brittan, despite the witness's past false allegations and virulent anti-Tory motives.
No conspiracy is too sordidly outlandish for Watson, it seems. Not that his willingness to believe that a shadowy cabal of elite paedophiles has been abusing and even murdering people with impunity should be a surprise. Before the Savile scandal, Watson was busy making his name as the scourge of Rupert Murdoch, whom he believed was 'a poisonous, secretive influence on public life', with a 'corrupt grip on our national institutions', on 'prime ministers, ministers, parliament, the police, the justice system'. Sound familiar? Of course it does. Watson's child abuser today was a newsman yesterday. But that's the thing about the conspiratorial mindset; the specifics change – for international Jewry, read posh paedophiles – but the basic simplifying, explanatory narrative remains the same: there is a shadowy force running things behind the scenes.
So seeing Watson exposed for what he is – a conspiracy-obsessed individual prepared to force factual lives to fit his tawdry fictions – ought to be something to celebrate, right? After all, a bit more reason in public life, particularly when it comes to the paedophile panic, is surely to be welcomed. But that's just it. The humbling of Watson, and, if some get their way, his destruction, doesn't herald the end of the paedophile panic, complete with its myriad investigations and inquiries. It doesn't even herald a less hysterical, justice-violating approach to historical and contemporary child abuse. It just removes an agent of the child-abuse crusade who has become a bit of an embarrassment.
Because the crusade against child abuse will continue. Its source, its appeal, isn't created by a few conspiracy-obsessed individuals like Watson and his pals at Exaro, the news-cum-paedo-hunting website that carried the allegations Watson propagated; rather, it draws its force from the profound moral disorientation of contemporary society, and the need this generates for a moral absolute, a definite sense of good and evil. That is what fuels the obsession with the paedophile: the quest for moral certainty in morally uncertain times, the demand for monsters, for evildoers, figures around whom it is easy to generate moral consensus. And it's a quest that flourishes in a society in which solidarity, in which mutual trust between adults, has withered away, rendering the worst of others as just too believable. Watson has feasted on these trends, but he isn't their cause.
In effect, Watson is being sacrificed to save the crusade. This is why those laying into Watson, from the Daily Mail to assorted Tory politicians, are also supporters and sponsors of the paedophile panic. By scapegoating 'Two Dinners Tommy', as the maximum-food-allowance-claimant was once dubbed, the problem ceases to be the hysterical search for the evil in our midst itself. Instead, it appears to be a problem of those who have deviated from the crusade's course, who have gone too far, who have got carried away.
But Watson didn't get carried away. He didn't go too far. He wasn't a rogue crusader. Rather, Watson was the perfect embodiment of the crusade against child abuse: he automatically believed the alleged victims; he suspected the worst of others; and he relentlessly forged a sense of moral purpose from the pursuit of child-abusing bogeymen, even dedicating two pages out of 20 in his deputy-leadership manifesto to it. Watson is not the exception here; he is the miserable, suspicious, distrusting rule of the child-abuse crusade.
To enquire about republishing spiked's content, a right to reply or to request a correction, please contact the managing editor, Viv Regan.