Freedom for Catalonia: a greedy game
Catalan independence is about self-interest, not liberation.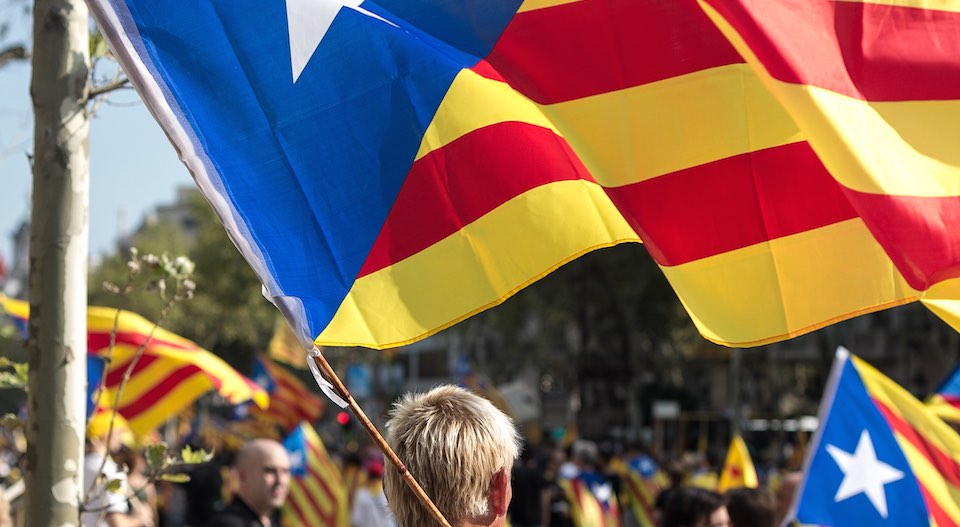 Catalonia heads to the polls this weekend in its regional elections, and most forecasters predict that the pro-independence coalition Junts pel Sí (Together for Yes) will secure a slim majority. Should this happen, the Catalan president, Artur Mas, has promised to begin drafting a constitution for Catalonia and work towards negotiating complete secession from Madrid.
Not everyone is happy about this. Spain's mainstream conservative and socialist parties are fiercely opposed to Catalan independence, as are the Greens and the anti-austerity Podemos party, who prefer a federal compromise. The EU has promised to make life difficult for an independent Catalonia, warning that it will have to re-apply to the organisation, something Madrid might veto. The Bank of Spain has issued forebodings about a 'bank freeze' in any eventuality, while the Spanish football league says that clubs in an independent Catalonia would be banished from La Liga. Whither FC Barcelona?
The independence-seekers do have friends, the best known being Scottish nationalists, who see in the Catalan cause something akin to their own. 'Catalonia is a nation, and has a right to choose. That is absolutely clear', said the SNP's main Europe spokesman Alyn Smith MEP this week. 'The alternative is simply anti-democratic, anti-European, and potentially explosive', he concluded, referring to the averse politicians in Madrid.
For some decades, secessionists in Catalonia and Scotland have made common cause. Yet Catalonia is precisely the opposite of Scotland in this regard. It's the richest region in the Kingdom of Spain, not one of the poorest, and separatism is driven chiefly by resentment that Catalans put far more into the treasury and the economy than what they get back. Much of the impetus for independence stems from fiscal and cultural conservatives (the ones hoisting the Catalan flag with a blue triangle) who have little in common with Nicola Sturgeon's Chavez-lite SNP.
Sure, there remain language battles in the region, centred on the teaching of the Catalan language in schools, but today's quarrels are nothing compared to the ferocious cultural and linguistic oppression foisted upon Catalonia in the Franco era (immeasurably harsher than anything imposed on Scotland). Yet Catalonia's cries of victimhood ring somewhat hollow today.
Rather than it being akin to Scotland going solo, Catalonia cutting lose from Spain would be like London and the south-east abandoning the rest of the United Kingdom, fed up at having to subsidise its poorer parts. In short, to the rest of Europe, Catalonia's dash to break free is starting to look a bit insular and greedy.
---
We're all non-disabled now
The end of September sees the beginning of the academic year at universities, and according to a Times report on Saturday, 'microaggressions – tiny perceived slights that may imply a broader insult – are now the talk of university campuses across America'. In New Hampshire, a 'bias-free language guide' has been compiled, advising against using the term 'poor person' in favour of 'a person who lacks advantages that others have'. It also urges use of the non-gender-specific pronoun 'zie', rather than 'he' or 'she'.
An old person should be called 'person of advanced age', an obese individual is 'a person of size', a foreigner is now an 'international person', and, rather than describe someone as 'able-bodied', one should instead say 'non-disabled'. That one particularly took me back. You might as well call people who are alive 'the undead', refer to my laptop as 'unbroken', or refer to everyone not interested in football as a 'non-football supporter'.
But it also encapsulates much that is vacuous and contradictory about identity politics. The double-negating term 'non-disabled' suggests that people who aren't disabled are unusual. As a 'non-disabled' person, I am now a subaltern 'other' defined by the hegemonic disablist 'centre'.
Identity politics always wants to have it both ways. It can't decide whether minorities or the disadvantaged should be deemed the same or different, equal or special, victims or moral superiors.
We see this especially in gender politics. 'Sexual orientation and gender are merely social constructs with no basis in biology', pronounce the high priestesses of feminism and queer theory, before cheerily accepting that a man who undergoes surgery magically becomes a woman. If gender is all in the mind, why undergo surgery to change your physiognomy? A sex change to 'become a woman' is the most flagrant example of gender determinism there is.
Identity politics is incoherent because it is built on the crooked timber of emotion and feeling, and the voodoo conceit that changing language can alter reality. It's the mindset of a confused teenager: desperately wanting to fit in but wanting to be different all at the same time. When one's sense of self is of paramount importance, reason and logic take flight.
---
The benefits of beards
Two claims perpetually made in newspapers are that 'schoolchildren are reading Latin again' and 'vinyl records are making a comeback'. Both never seem to ring true, or ever come true. They're mere expressions of wishful thinking, rather than prognostications based on sound evidence, each designed to appeal to nostalgic types.
Add to this: 'English wine is now fashionable.' And now the most recent example of fantasy reportage is 'Hipster beards are on their way out', or 'We have reached Peak Beard'.
On Monday a report in The Times pronounced: 'Lumberjack beards head for the chop as hipsters smarten up.' The Telegraph made that very observation last year, under the headline 'Have we reached peak beard?'. Back in July 2013, a Guardian report asked the exact same question.
Many people find preening, self-regarding hipsters hugely irritating, what with their faux-Edwardian facial hair that epitomises their self-satisfied exhibitionism. The 'demise of the hipster beard' is but a headline designed to satiate this prejudice.
Hipsters have become too easy objects of mockery these days. Let's not forget that the parts of East London for which they are associated were left-for-dead in the 1980s. Shoreditch, that capital of hipsterdom, was a hideous place back then. Like the super-rich, hipsters have become lazy targets of derision. And like those millionaire businessmen who employ millions, and pay millions more to the treasury, creative hipsters working in new technologies have helped materially improve our country. Their ostentatious facial protrusions are but a small price to pay for that.
Patrick West is a spiked columnist. Follow him on Twitter: @patrickxwest
To enquire about republishing spiked's content, a right to reply or to request a correction, please contact the managing editor, Viv Regan.