No, Jeremy Corbyn is not a threat to life as we know it
The anti-Corbyn politics of fear demeans the demos.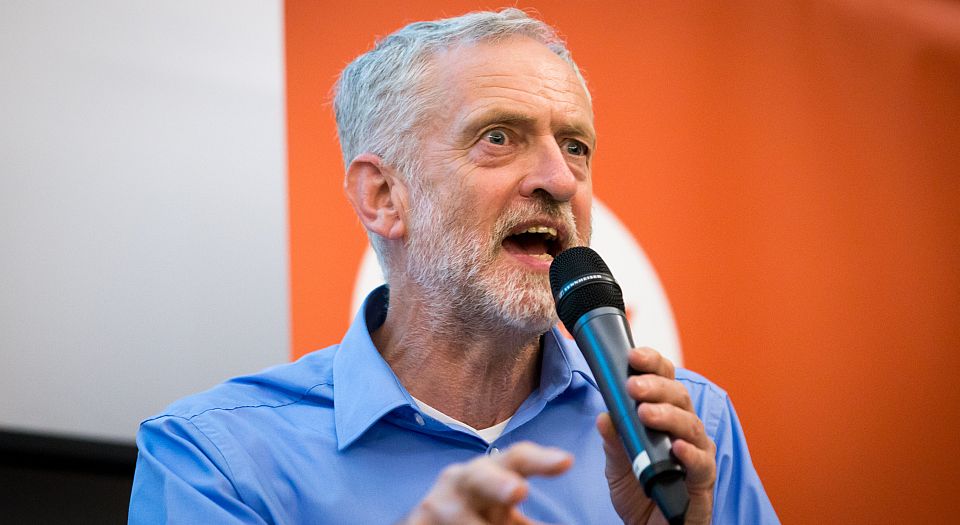 Are you scared of Jeremy Corbyn? Apparently you should be. For according to Corbyn's critics – in the Tory Party, the media, the ironically named 'decent' sections of the Labour Party – he's more than simply the surprise new leader of Labour. He's a threat to national security, to the Queen, to Jews, to gays, to your family, to you, to just about everything. Yes, this uninspiring, bearded accident of a leader, who has never knowingly said anything interesting, far less fiery, apparently poses a 'serious risk' to Britain's economy and stability and to every household in the land. Quake, ye plebs, for Corbyn has come to destroy us.
If there's anything less convincing than the idea put about by Corbyn's cheerleaders – that this geography teacher masquerading as a political leader is spearheading a revival of 'true Labour values' – it is the notion being pushed by his critics: that Corbyn is a grave and terrifying threat to life as we know it.
What we have here is the lowest form of politics – the politics of fear – where the aim is not rationally to challenge a leader's policies, or inspire the public with an alternative approach, but rather to reduce the people to quivering wrecks who might just give their X to David Cameron in the hope of saving their hides from the Corbyn calamity. It's a politics in which our only role is primal, animalistic almost, where we're appealed to, less as clued-up members of the demos, than as hunkered-down panickers for our safety. It's anti-democratic, and paternalistic, and it's enough to make even an implacable critic of Corbyn like me want to defend him – or at least declare myself anti-anti-Corbyn.
The Tories got the Corbyn fear show on the road with their hysterical video presenting him as a 'threat to national security'. Complete with black-and-white video footage of Corbyn saying his usual daft things about the Middle East, and sinister background music, the vid says Corbyn wants to 'surrender our nuclear defences' and 'dismantle our armed forces'. These beliefs, alongside his economic and domestic views, apparently make him, in David Cameron's words, 'a threat to our national security, our economic security and your family's security'.
The Tories' attack ad on Corbyn is a significant moment in British politics. For it represents the importing of one of the worst aspects of politics in the United States: the use of super-short films, with brutally simplistic messages, in which one politician writes off another as dangerous, menacing, a threat. From Lyndon Johnson's emotional 1964 ad accusing Republican presidential candidate Barry Goldwater of posing a threat to American kids by talking up nuclear conflict with the Russians, to Hillary Clinton's 2008 ad showing her ready to answer a security phone call at 3 o'clock in the morning (the implication being that her rival Barack Obama wouldn't do this), American attack ads plumb the depths of existential insecurity rather than articulating a vision around which people might gather. Not surprisingly, polls have found that 80 per cent of Americans dislike attack ads, and that such material is far better at stirring-up the already partisan voter than it is at winning people, moving people.
Now Cameron is bringing it over here. From its nuke scaremongering to its questioning of Corbyn's loyalty to Britain to the claim that he would plunge Britain into economic mayhem, the Tories' attack ad manages to distill pretty much every naff American attack ad from the 1960s onwards into 60 seconds of delirium. Its aim is to bypass our brains – if we even have working brains, which the Tories seem to think we don't – and even to dodge our hearts, and instead appeal to the blackest parts of our nature, the visceral parts, the most unthinking parts, to make us feel petrified and in need of protection. That attack ad is far worse than anything Corbyn has said and done, far more insulting to the public than Corbyn's populist politicking, far more damaging to politics than Corbyn's assumption of the Labour leadership. And that's saying something.
Sections of the media and the irate Blaritie bits of the Labour Party have also opted for fear-stoking over proper political criticism of Corbyn's views. Like a nutty Nostradamus, the Daily Mail published a piece about what the first thousand days of a Corbyn government would look like, during which Britain would apparently be 'destroyed'. 'The night sky over London thick with choking black smoke… the hellish glow of flames rising from myriad burning buildings… the rioters, looters and demonstrators fighting on the city streets.' Someone needs a valium. Chuka Umunna, who couldn't even be arsed to stand for the Labour leadership and therefore is in no position to complain about who won, warns that Corbyn's policies could lead to riots. Yvette Cooper worries that Corbyn could unwittingly 'push homophobic abuse' through his association with intolerant Islamists. One magazine headline explains 'Why Jeremy Corbyn Scares British Jews So Much'.
The irony of this cynical scaremongering, this preference for spreading panic about Corbyn rather than kicking off an intelligent debate about his policies versus other parties' policies, is not only that it's likely to turn people off – it also helps to explain why non-entity Jezza, the no-mark MP from Islington, won the Labour leadership in the first place. It was precisely as a stab against the hollowing-out of British politics, against the infantilisation of voters and the elevation of cardboard platitudes over political conviction. Corbyn was seen by many Labour members, rightly or wrongly, as something different to the norm, as a man who says stuff that he seems actually to believe in. The attack-ad response to Corbyn, his opponents' jettisoning of political thought in favour of fear, fear, fear, will no doubt confirm for many Corbyn supporters that they were right to look around for something different.
The problem, of course, is that Corbyn and his admirers aren't that different. They do the politics of fear, too. And how. From their fearmongering over the future of the planet (Crobyn opposes fracking and once supported a parliamentary motion describing humanity as the most 'obscene, perverted [and] cruel' creature ever to inhabit the planet), to their unhinged claims about austerity (which they say is returning Britain to the Victorian era, causing malnutrition, and – most cynically of all – causing people to kill themselves), Corbynistas are at least as practised in panic-spreading as are the Corbyn-bashers. Indeed, in recent years, via the politics of environmentalism and doom-mongering about the eco, social and mental consequences of economic growth, the left has outdone the right at the politics of fear, likewise appealing to the public as frightened rabbits rather than as aspiring, grown-up human beings.
Fear: it's the new normal. On all sides. Cameron depicts Corbyn as a mortal threat to our wellbeing, while Corbynistas depict the Tories as the harbingers of mayhem, but it's really both sides' implicit depiction of the rest of us as children requiring scary fairytales and a guiding hand that we should be angry about. Don't be scared of Corbyn. Don't be scared of Cameron. Instead criticise both, with your working brains. We have nothing to fear but the new, bipartisan politics of fear itself.
Brendan O'Neill is editor of spiked.
Picture by: Matt Cardy / Stringer / Getty
To enquire about republishing spiked's content, a right to reply or to request a correction, please contact the managing editor, Viv Regan.