Refugee crisis: Germany's Band Aid?
By embracing migrants, Germany is getting over its war guilt.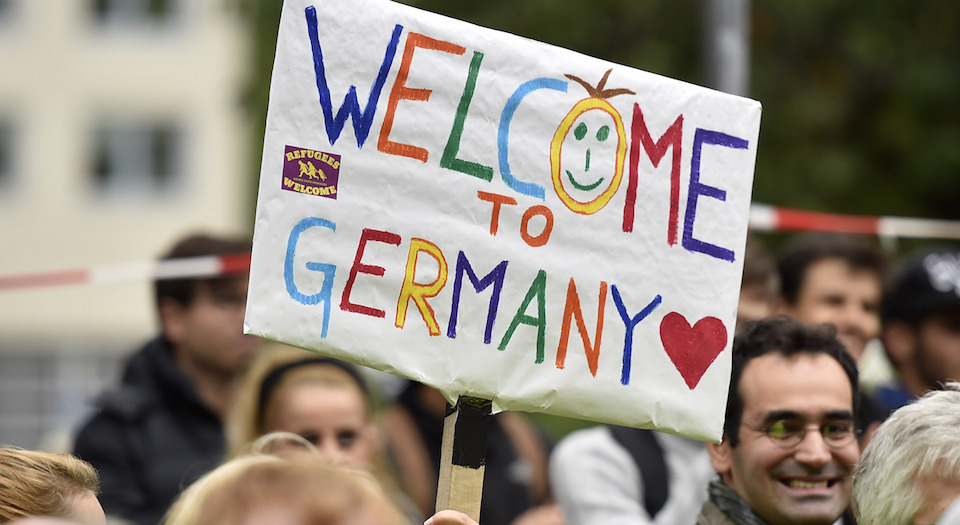 Have you ever noticed that of all the tourists who you see in Britain, the Germans are by far the quietest? One might occasionally catch them hushedly in conversation, but otherwise the only evidence of their presence in the summertime is the registration plates on their cars.
It's not difficult to understand why. It's not merely that the Germans are a reserved and formal people. Somewhat unjustly, they carry the burden of their nation's history very solemnly. Consider Harry Enfield's Teutonic tourist Jürgen The German, who feels obliged to apologise about 'the appalling behaviour of my country during the war'. This may have been comedy, but it contained more than a kernel of truth.
The taciturnity of Germans holidaying in the UK is also informed by the perception that the Brits still bear a grudge. Call this the 'Basil Fawlty Effect'. But this is an anachronism now. Certainly, those with direct memories of The War were easily prone to Bosch-bashing in the Sixties and Seventies, but if anything the British are rather Germanophile these days.
Not so elsewhere in Europe, where only this year disgruntled Greeks paraded placards portraying the austerity-demanding Germans as Nazis, depicting Angela Merkel with a Hitler moustache. To the resentment of many (in southern Europe especially) Germany has recently become de facto master of Europe, with its economic parameters set for the benefit of the overlord. Even after 70 years, Germans abroad still feel the need to keep their heads down.
So no wonder that this guilt-laden nation has been so enraptured by the thousands of Syrian refugees descending on its borders, having staked everything to make it to 'the promised land'. On Monday, the Daily Telegraph reported how 'Germans gathered by the hundred at railway stations to welcome refugees arriving to their cities as if they were long-lost friends or returning war heroes'. There were songs, sweets, pastries, toys, clothing, banners and balloons. Some clutched placards bearing the words 'We love refugees', while in Dresden graffiti artists painted 'A warm welcome' in Arabic on a train. Far from being a pariah people, after decades Germans now find themselves revered utterly.
One cannot help but be distressed by images of Syrian migrants, or admire the overt altruism of the German people, but as with all communal, media events that involve mass emotions, there are phoney and sinister undercurrents afoot: the pompous self-righteousness of your say-gooders on social media, with their empathetic one-upmanship and photo-sharing of dead children; the spurious declarations of housing refugees from people who hitherto have failed to house homeless people from their own neighbourhoods; the vilification as 'selfish' or 'inhumane' those who issue reservations of encouraging more people to flee Syria and risk their lives; the hectoring tone of the German chancellor towards the 'selfish' British; comparisons to the Thirties worthy of Basil Fawlty himself; the short-termist something-must-be-donery of those who pronounce 'let them all in'; the narcissistic politicians snivelling they are 'personally sad, as a father/mother' to see refugees in distress. We have had a lot of post-Diana moments in recent years, but this is more Band Aid for our times. Let's help the wretched – and feel good about it! To hell with the consequences!
As for the Germans, superficially their conduct has been beyond the call of duty, in welcoming these Syrians so enthusiastically. But underneath, do they still feel the need to atone for the crimes of their ancestors? And is this show of affection a bit needy? At last, somebody loves you unconditionally, Jürgen. Wunderbar. Milk it while the mutual good will lasts.
In short, we are not seeing pure altruism at work here. This is driven by guilt, the desire to be liked and the desire for cheap labour. 'Selfish' debt-blighted Britain has a housing crisis and a very high population growth rate, which explains a general resistance to admitting a high level of refugees. On the other hand, Germany has a budget and housing surplus, but a zero per cent population growth rate. It needs the low-paid workforce of tomorrow. The 800,000 Syrians estimated to cross its borders this year and the half a million every year thereafter might just solve that.
---
You're wrong about Calais
Like teasing ginger-haired people, or observing how racist all Hungarian people are, saying that the French are rude is one of life's few remaining acceptable prejudices.
I was in the Pas-de-Calais the other week and my experience didn't support this prejudice. In the restaurants, bookshops and newsagents of Saint-Omer, I was unfailingly greeted with smiles and 'bonjours', and politely indulged when it became clear through my broken French that I was English. The town is far from Anglophobe. A Shakespeare First Folio was discovered in its public library last November, and when I was there it was holding an exhibition on the greats of English literature.
The story was similar in Hazebrouck, over in French Flanders, where a cheery old man decided to explain the significance of the name – La Lune – of an old cobbled alley. Calais itself was a world away from the hellish shambles of popular imagination (its infamous 'jungle' is actually three miles away). Only detractors of modernist architecture could really take issue with an otherwise normal French town.
In Calais, as in Saint-Omer, there was the sorry sight of unoccupied retail premises, scars from the 2008 recession that have yet to heal. And whenever I find myself in towns that bear such scars – such as Dover or Margate this side of the water – I invariably find the people to be inordinately amiable to strangers. There is also the same resentment at the 'out-of-touch metropolitan elite', in this case exemplified by Paris, where you find the genuinely rude French.
---
Speaking American
Two axioms of modern life: the Tories are evil and American Republicans are stupid. Hence outrage this week after the work and pensions secretary Iain Duncan Smith referred to people without a disability as 'normal', and much mirth when Sarah Palin called upon immigrants to learn to 'speak American'.
Two correctives: 'normal' is a word with two different meanings. The first is in the statistical sense, as in something being the numerical 'norm'. Only the desperately partisan or terminally thick thought IDS meant 'normal' as 'natural', 'desirable' or 'permissible'.
And what's wrong with 'American' as shorthand for 'American English'? This language has its own spelling – 'color', 'traveling' – and its own vocabulary, such as 'diaper' or 'faucet'. It uses prepositions differently – 'I'll write you next week', 'Can I talk with you? – and it has its own past tense forms, such as 'gotten' or 'dove'.
If 'American' isn't a language, then why do the Brits mock it as so different?
Patrick West is a spiked columnist. Follow him on Twitter: @patrickxwest
Picture by: Martin Meissner / Press Association Images.
To enquire about republishing spiked's content, a right to reply or to request a correction, please contact the managing editor, Viv Regan.