Refugee crisis: treating Hungary as a Heart of Darkness
With no hint of irony, Western observers defend Syrian
refugees while demonising Eastern Europeans.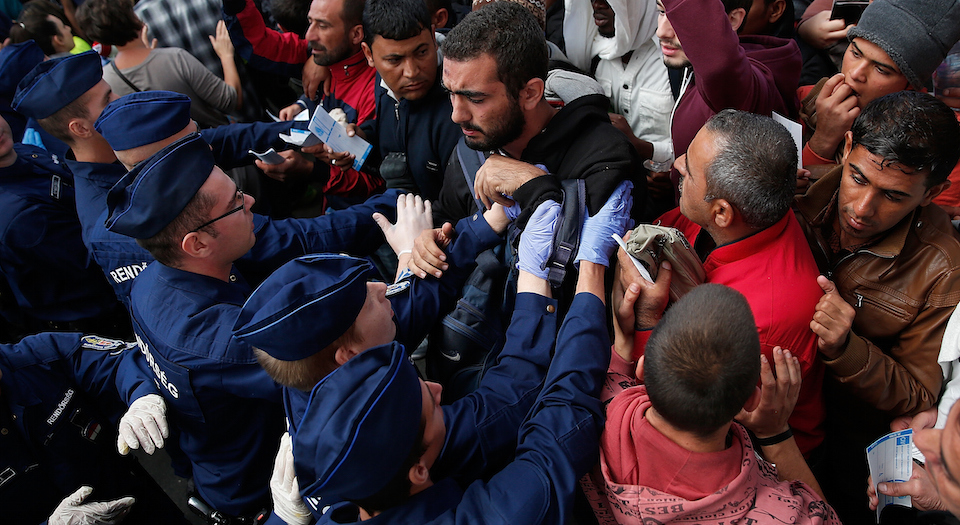 The tragic refugee crisis engulfing the world has been seized upon by culture warriors as an opportunity to moralise against and discredit various targets of their opprobrium. The tendency to dehumanise migrants has been widely noted in the media. But what is rarely questioned is the way the refugee issue is being used as an opportunity to demean the moral status of others too, especially Eastern Europeans, and Hungarians in particular.
According to sections of the Western European press, the people who inhabit the Eastern part of this continent have failed to adopt the civilised and enlightened values of the EU. Commenting on this 'East-West split' in relation to migration, an editorial in the Guardian condemned Poland, the Czech Republic and Slovakia for supporting Hungary's rejection of the EU plan for national migrant quotas. As far as this editorial is concerned, Eastern Europeans, particularly Hungarians, inhabit a different moral universe to that of the EU; it contrasts the 'generous-spirited, pan-European approach' of the EU to the 'awful', mean-spirited policies of Hungary.
Considering recent events, it is clearly an act of bad faith for an editorial in a London-based newspaper to enthuse about a 'generous-spirited, pan-European approach' to refugees. The UK government's response in recent months has been to build fences in Calais and police the Eurotunnel, in order to keep out the 'swarm' of refugees. It seems that when a Western European government builds a fence to protect its borders, it's a gesture of generosity; but when Hungary does something similar, it's an act of unparalleled depravity.
At least the Guardian made a distinction between the government of Hungary and the people of Hungary. Thankfully, it doesn't cast every Hungarian in the role of xenophobic monster. That's more than can be said of Robert Fisk, the Middle East correspondent for the Independent. In his historically illiterate anti-Hungarian diatribe, he draws an analogy between the behaviour of Hungarians towards refugees today and the horrific experience of the victims of the Holocaust. He mobilises references to how Hungarian police forced 'tens of thousands of Jews on to trains out of Budapest, desperate to get them to Auschwitz on time' to imply that 21st-century Hungarians are engaged in an act of virtual genocide.
However one interprets events in Budapest over the past week, it is a malign distortion to draw a moral equivalence with what happened during the Holocaust. As someone of Hungarian-Jewish heritage who lost most of his family in the Holocaust, I find Fisk's casual references to the dark days of 1944 a cheap manipulation of historical memory. The only connection between recent events in Budapest and what happened in 1944 is that trains were involved in both cases. Sealed wagons steaming towards concentration camps should not be confused with trains sitting stationary in a Budapest railway station. Even Fisk should get that.
This 'multiple award-winning' journalist's inability to make a distinction between the impulse to control the movement of people, or keep migrants out, and the wilful policy of human extermination is symptomatic of the moral malaise afflicting EU cheerleaders today. It appears that trivialising the Holocaust is okay if it is in the service of a noble cause.
What's particularly disturbing about Fisk's polemic against Hungary is the tone it adopts towards the Hungarian people. 'And don't think that Hungarians were unwilling tools of Germany's march into Hungary towards the end of the war', he writes. The implication is that this is a people who are morally inferior to the rest of Europe. So when denouncing Hungary and its Christian culture, Fisk places quote marks around the word 'culture', clearly calling into question the legitimacy of this nation's traditions and beliefs. Without a hint of irony, he attacks Hungarians for their racism but never reflects on how he himself dehumanises this people.
He also shows a remarkable level of ignorance about Hungarian history and culture. He finds it difficult to comprehend why Hungarian patriots look back on their nation's occupation by the Ottoman Empire with 'extreme distaste'. Yet one need not be a patriot to recall the historic significance of the Ottoman occupation of Hungary. The loss of national independence to a foreign empire is imprinted in Hungary's historical psyche. The wars fought in the sixteenth century to regain Hungarian self-rule serve as a reminder that national independence cannot be taken for granted. Subsequent occupations of Hungary by a variety of empires have reinforced the nation's sensitivity to the dictates of foreign powers.
At times, Fisk comes across like a modern-day personification of Kurtz in Joseph Conrad's Heart of Darkness. At the start of that novel, Kurtz believes he can help primitive Africans see the light and become civilised. However, he soon gives up on this project and sees only depravity and darkness. Perhaps a few years ago, Fisk also believed that the much-damaged and, in his words, 'politically unreconstructed' nations of Eastern Europe could be educated to become worthy members of the EU. He laments that, 'I always thought we were a bit too quick to open our arms to them'. But now 'we are beginning to discover what the Hungarian state looks like' – that is, we see the Heart of Darkness that is Hungary.
Fisk is selective about who we should open our arms to. He believes 'we were a bit quick to open our arms to' Hungarians, but it is okay to open our arms to his chosen people – Syrian refugees. Double standards and raw hostility towards cultures whose values do not have the EU bureaucracy's approval indicate that spiteful prejudice can even emerge in the newspaper offices of 'enlightened' Western capitals. Those who want to argue for a generous and humane approach to refugees should do so by drawing on the moral resources provided by Enlightenment values. They must eschew dishonest analogies with historical tragedies, ethnocentric biases towards the people of Eastern Europe, and the double standards that continue to distort this crisis.
Frank Furedi is a sociologist and commentator. His latest book, First World War: Still No End in Sight, is published by Bloomsbury. (Order this book from Amazon (UK).)
Picture by: Getty Images / Win McNamee.
To enquire about republishing spiked's content, a right to reply or to request a correction, please contact the managing editor, Viv Regan.