The feminist trials of Miss Piggy
How can a Muppet be a role model for women?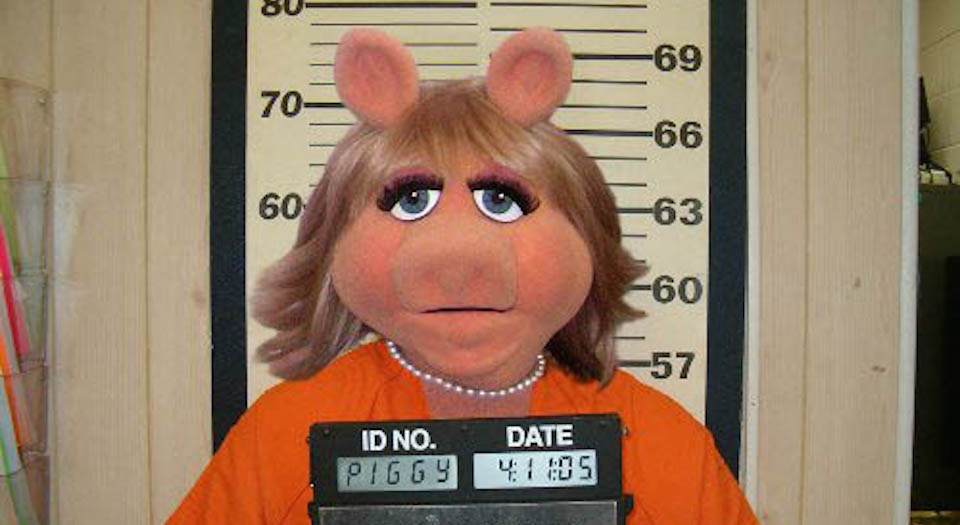 It's a story so ridiculous it's hard to believe it wasn't scripted. The Muppets are making headlines, not because of their new show, but because of their political opinions. It seems the Marilyn Monroe of felt, Miss Piggy, has been in and out of favour on the internet due to her relationship with feminism.
The first scandal began after Miss Piggy made a joke in response to the question most female celebrities have come to dread: are you a feminist? The puppet told the Telegraph in 2014: 'I don't mind being called a feminist, as long as I get top billing.' However, her noncommittal attitude to feminism didn't last long. In June, the Elizabeth A Sackler Center for Feminist Art in New York announced it would be presenting Miss Piggy with its annual award to celebrate 'more than 40 years of blazing feminist trails with determination and humour, and for her groundbreaking role inspiring generations the world over'. To top it all off, Miss Piggy was praised at the awards ceremony for reminding us that 'beauty comes from the inside'.
We're talking about a pig puppet in slap, right? But it seems that, it in our contemporary political climate, fictional characters must kowtow to political correctness as much as real people must. It's bad enough that entertainers and celebrities are expected to spend as much time expressing their political opinions as they do prancing around on red carpets – do we also have to listen to imaginary characters wax lyrical about women's rights? The irony of a pig puppet being used to voice feminist principles is evidently lost on some. As Piggy remarked in an op-ed for Time magazine: 'I am a Porcine-American. How can a… ahem, pig… be a feminist? After all, the p-word has long been associated with the very antithesis of feminists.'
This feminist imposition on kids' entertainment is nothing new. Disney has become extremely self-conscious in ensuring each of its recent films contain at least one strong female character. I suppose this its attempt to make up for the lingering, misogynistic legacy of all of those princess films. But I for one wasn't scarred for life by Cinderella, and I doubt anyone else was, either. More importantly, entertainment must be free to deviate from reality and portray the world in any way it likes. Making every kids' show adhere to a politically correct script would make for really boring television.
Despite Miss Piggy's conversion to feminism, the Muppets aren't in the clear just yet. Following the announcement that Kermit the Frog and Miss Piggy, one of TV's longest-running relationships, was at an end, the producers created a new love interest for Kermit. Denise, the latest pig on the block, has attracted vast amounts of criticism for her appearance and her 'homewrecking' ways.
First, there were claims that the new puppet was a symbol of the producers' misogyny. Denise's younger, skinnier appearance indicated to some feminists that the show was behind the times. A critic in the Guardian argued: 'The audience of the 1980s might've… understood and supported men's urge to date their exes' younger, dumber plasticine lookalikes – the situation has changed in 2015.'
Then came the final twist to the story. Some commentators decided that, in fact, Kermit was the victim – due to the domestic abuse he suffered under Piggy. The New Republic, favoured mag of American liberals, published an article declaring the frog-pig duo to be no more than 'a comedy spectacle which mocked both men and women for violating traditional gender roles'. In under a year, Miss Piggy has gone from self-hating anti-feminist to award-winning female role model to man-beating tyrant? What is the world coming to?
It is easy to dismiss these bizarre thinkpieces as products of the echo chamber of Twitter and the blogosphere, but the politicisation of Piggy seems too familiar to ignore. People are increasingly looking to culture to change social norms and opinions. The constant suggestion that the depiction of women in popular culture, especially in kids' entertainment, has a long-drawn impact on the political development of young people is startling. Entertainment simply can't carry that burden. Never mind the fact that there is absolutely nothing sexist about The Muppets, the introduction of political correctness would kill the show. Like most entertainment, it relies on stereotypes for humour and material. That doesn't mean anyone takes it seriously.
Miss Piggy is not a feminist, nor is she an enemy of feminism. She is a puppet. And fair play to the show's producers for remaining ever-so-slightly tongue-in-cheek about the whole debacle, as summed up in this classic Piggy one-liner: 'What is the future of feminism? The answer is obvious — feminism's future must be proud, positive, powerful, perseverant, and, wherever possible, alliterative.'
Feminists can't seem to trust us to engage with popular culture without becoming brainwashed, sexist morons. But popular culture is not intended to serve a political purpose – it is meant to entertain. It tells us something about the state of contemporary feminism that its proponents are now staring up the asses of puppets in order to get their daily dose of moral outrage. Then again, perhaps feminists have more in common with Piggy than we think. Indeed, their demand that their politics be reflected in all aspects of life echoes the notorious self-obsession of TV's most glamorous pig. As Piggy rounded off her Time piece: '[Feminism] must believe in itself, share its triumphs, overcome its setbacks and inspire future generations. It must, in other words, be a lot like… moi.'
Ella Whelan is staff writer at spiked.
Ella is chairing the discussion 'Campus Wars: safe or sanitised?' at the Battle of Ideas festival in London on Sunday 18 October. Get your tickets here.
To enquire about republishing spiked's content, a right to reply or to request a correction, please contact the managing editor, Viv Regan.