Kim Davis: criminal or conscientious objector?
Why dissent on same-sex marriage is punished so harshly.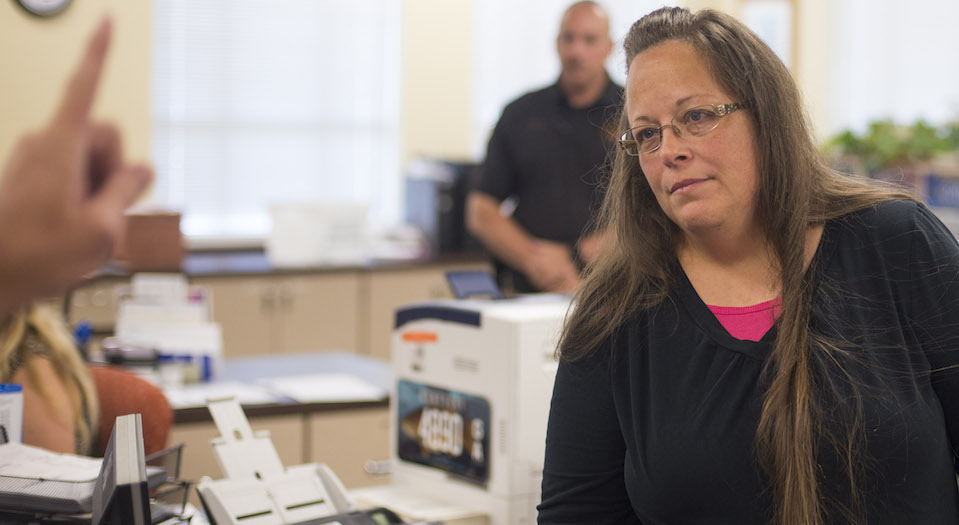 When the US Supreme Court decided the issue of same-sex marriage in Obergefell v Hodges in June, the dissenting justices predicted that it would lead to conflicts in American society. 'Stealing this issue from the people will for many cast a cloud over same-sex marriage, making a dramatic social change that much more difficult to accept', wrote Justice John Roberts.
The dissenting justices are being proved right. The case of Kim Davis is the latest example of how battles over same-sex marriage in the US are not going away anytime soon. Davis is the clerk from Rowan County, Kentucky, who refused to issue marriage licenses to same-sex couples, on the grounds that it violated her religious conscience. She now finds herself in jail for doing so.
Kentucky requires that the county clerk must authorise all marriage licenses. Gay and straight couples sued Davis for denying licenses to them, and US district judge David Bunning ruled that she must issue the licenses. After the Supreme Court upheld Bunning's decision, Davis still refused, leading Bunning to send her to jail, citing contempt of court. Davis is an elected official, and cannot be fired.
There is no reason not to take Davis at her word when she says she has a genuine religious objection to same-sex marriage. But the idea that government officials may choose which laws to obey is untenable. We wouldn't accept a Muslim denying driving licenses to women, or a Quaker refusing gun permits. Davis clearly broke the law when she blocked people from obtaining marriage licenses, and therefore it is right that the courts ruled against her.
Many supporters of same-sex marriage say Davis is a bigot standing in the way of civil rights. 'She's a homophobe, pure and simple', writes Renee Graham in the Boston Globe. According to Graham, Davis is reminiscent of former Alabama governor George Wallace, who in 1963 sought to defy federal law by blocking two black students from entering the state university.
Aside from presenting a false analogy with the civil-rights era, this outlook is far too convenient and self-serving. Just as Davis is wrong to refuse marriage licenses, her critics are wrong to dismiss her concerns as entirely illegitimate. 'They're homophobes' is an inadequate explanation for why there is significant support for Davis in large swathes of the country. Indeed, it is precisely the elitism and intolerance of the gay-marriage campaign that has produced support for Davis.
Consider the following illiberal activities of the same-sex marriage movement which have combined to create a backlash:
Supreme Court overrides democracy
Whatever one's view of the Supreme Court's decision in June, it was a legitimate operation of the legal system in the US. Opponents who refer to the 'Supreme Court's lawlessness' go too far. Nevertheless, it is understandable why many in the US view the decision as a top-down imposition.
In about 21 states, the majority do not support same-sex marriage, including Kentucky, where about a third are in favour.
Historically, marriage has been primarily treated as a moral issue, not a civil right. And from a legal point of view, marriage has been typically considered a matter of social policy to be handled by state legislatures, not the federal government or the Supreme Court. Along comes an elite-led campaign fronted by lawyers and activists, which proclaims loudly that there is no debate to be had over the overturning of traditional marriage, and which deems any opponent, by definition, to be a bigot. This campaign convinces a majority of the Supreme Court to override democratic decision-making processes in the states. However legitimate from a legal point of view (which it ultimately is), you can see how this outcome would lack political and moral authority in many people's eyes.
The vindictiveness of the same-sex marriage campaign
It is widely claimed that the introduction of same-sex marriage is a victory for liberty. But the experience of the new marriage regime has been anything but that: it has been marked by clampdowns on debate and the expulsion of dissenters from public life. From forcing Mozilla founder Brendan Eich to resign to suing and closing down businesses, such as photographers and cake-makers, which do not want to participate in same-sex ceremonies, the campaign has been vindictive.
Thanks to this, many opponents of same-sex marriage feel under siege, and are anxious about what will come next. Some Christians, in particular, are concerned that they will be forced to renounce their beliefs regarding marriage, or face retribution. Some of the reaction is overblown (such as Mike Huckabee's rhetoric about the 'criminalisation of Christianity'), and the jailing of Davis does not fall into this category. But, in the fevered atmosphere that campaigners have whipped up, it is understandable why her imprisonment is viewed by many as another example of how opponents of same-sex marriage are now treated in a heavy-handed, authoritarian manner.
Liberal hypocrisy over law abidance
Liberal responses to Kim Davis claim her case is a no-brainer – she has to obey the law. President Obama's spokesman, Josh Earnest, said: 'There is no public official that is above the law, certainly not the president of the United States. But neither is the Rowan County clerk.' Hillary Clinton tweeted: 'Marriage equality is the law of the land. Officials should be held to their duty to uphold the law – end of story.' A Twitter campaign emerged, telling Davis to #doyourjob.
That all sounds fine and principled. The only problem is that there have been numerous, well-known cases where liberal politicians and administrators have ignored the law when it suited them. There are many precedents for Kim Davis applying her own interpretation to marriage laws. In 2004, San Francisco mayor Gavin Newsom approved marriage licenses to same-sex couples, in defiance of California law. In 2012, a lesbian judge in Texas, Tonya Parker, refused to conduct marriage ceremonies until same-sex couples could wed. I don't recall any liberal-led #doyourjob Twitter campaigns in response to those cases.
Beyond marriage – from non-compliance with federal drug laws, to the establishment of 'sanctuary cities' that ignore immigration laws – we see other claims to higher authorities and noble aims that excuse not abiding by the law. But, from the standpoint of Davis's supporters, it appears that it is only those who flout same-sex marriage law who get thrown in jail.
Culture war on the 'backward'
Critics of Kim Davis have not been content to treat her case as a matter of law. No, they've seen fit to wage an all-out culture war against her – and in the process, they reveal their prejudices. Rowan County is in rural eastern Kentucky, with a population of less than 25,000 (its biggest town, Morehead, has fewer than 7,000 inhabitants). It has a high poverty rate (29 per cent) and lots of mobile homes. Knowing this, 'progressive' cartoonists have made Davis out to be a 'redneck, hillbilly or backcountry hick'. She has been repeatedly criticised for her looks ('ugly'), her hair and her attire. She has been attacked for having multiple marriages – as Mollie Hemingway points out, it is the kind of 'slut-shaming' that liberals would normally criticise. Such denigrating views are enough to make you wonder: who are the real bigots here?
And don't think that these outbursts of prejudice go unnoticed by their targets. 'People are viewing Morehead and eastern Kentucky as a bunch of backwoods, barefoot illiterates, and that's not the case', protested a local pastor. 'People are well educated.' The Davis case shows that disparaging remarks about people's ways of life will understandably lead to opposition and conflict.
What's striking in the Davis case – and around the issue of same-sex marriage in general – is the unwillingness for the victorious side to admit there can be legitimate differences regarding moral views. Despite longstanding religious teachings about traditional marriage, claims by Davis and others regarding religious conscience are waved away, dismissed as mere fig leafs for bigotry. In turn, this means that matters of conscience can be ignored, and people like Davis can be treated like common criminals, rather than as conscientious objectors who might be afforded more leniency.
What's also noteworthy is how there seems to be no room for compromise, for 'live and let live', in post-Obergefell America. In this regard, many have overlooked the fact that Davis's aim is not to prevent same-sex marriage licenses indefinitely in her county; her refusal is a tactic to try to force the Kentucky legislature to reach a compromise solution. Specifically, she wants the state legislature to change the law so that her name and title are not on the paperwork (such an opt-out is available in North Carolina).
Clearly, Davis's tactic has backfired. It is also a misguided one, as it is rightly criticised for denying people their rightful marriage licenses in the here and now. But the Kentucky governor's unwillingness to discuss a compromise, and Davis's harsh treatment at the hands of the judge, shows how the issue of same-sex marriage has become non-negotiable, one where there can only be winners and losers.
The campaign for same-sex marriage is a drive to stamp a new morality on society, and that is why it brooks no dissent. But when you seek to impose morality by means of the law, and do not tolerate counter-expressions, you are going to generate resistance. Some of that resistance may be unwise or unjustified, but it would be wrong to blame the reaction alone. As another Justice, Samuel Alito, wrote: 'Recalling the harsh treatment of gays and lesbians in the past, some may think that turn­about is fair play. But if that sentiment prevails, the nation will experience bitter and lasting wounds.'
Sean Collins is a writer based in New York. Visit his blog, The American Situation.
Picture by: Getty Images / Ty Wright
To enquire about republishing spiked's content, a right to reply or to request a correction, please contact the managing editor, Viv Regan.