Banksy: the master of middle-class misanthropy
Dismaland is a big fat joke at the masses' expense.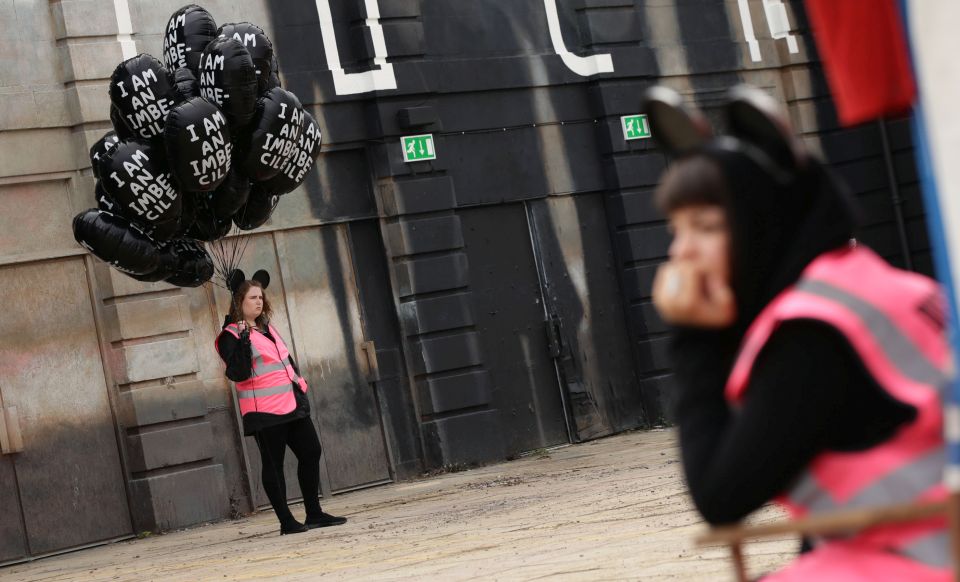 Hey, imbecile. Yeah, you, You with the boring 9-to-5 job and the compulsory 2.4 children. You who enjoys days out to seaside resorts and evil places like Seaworld that make dolphins and orcas perform tricks for fish. You who is so dimwitted that you must be constantly reminded that there is a MIGRANT CRISIS and that the tabloids are evil and that domestic violence is, like, really, really bad. Yeah, you. Banksy has a message for you: You're a cunt.
This is what Dismaland, Banksy's 'bemusement park', represents: a massive c-word hurled at the moronic masses. Not content with painting huge rats on city walls to try to prise open the throng's stupid eyes to the fact that they're all part of a rat race — 'It's not a race!', one of the vermin said to the vermin-workers that robotically filed past it every day — now Banksy has made a deathly Disneyland to mock our crass consumer tastes and the ease with which we can be distracted from important issues (like the MIGRANT CRISIS) by a few crumbs of crap leisure. As one of the numerous ecstatic media reviewers said — favourably — Dismaland is a reminder that 'our fellow humans are a sham'.
It's well known that Banksy is an art luvvie now. Angelina Jolie loves him. As does Sotheby's. His stuff sells for hundreds of thousands of pounds. Hell, he mocks his own establishment status, applying yet another layer of irony to all the already existing irony to create a tower of irony that makes you wonder if it isn't time to buy a gun (a real one, not an ironic one). Now, with Dismaland, it should be clear why he presses the buttons of everyone from the Guardian and Channel 4 News — those implacable radicals! — to the cut-off, cushioned Hollywood elite: because he brilliantly expresses this post-political, post-interesting set's contempt for the grasping, brainwashed hordes.
Featuring staff who frown rather than smile, and who wear t-shirts that say 'Dismal' and sell balloons that say 'I am an imbecile' (because if you buy a balloon at a theme park you are obviously an imbecile), Dismaland is a Disney-micktaking anti-amusement park featuring the work of 50 artists. There's a piece showing an orca leaping out of a toilet bowl and through a hoop (places like Seaworld are evil, okay?); a painting of sunbathers about to be killed by a tsunami (the kind of people who bake in the sun deserve to be killed, amirite?); and other naff stuff about the wickedness of payday loans companies, the horribleness of the migrant crisis across the channel, and the evilness of domestic violence (don't beat up your wives, you cunts). It's like someone took a week's worth of the most pained Guardian op-eds and gave them to a bunch of fifth-formers who call themselves anarchists just to piss off their well-off parents and told them to turn them into bits of art.
Every suffocating middle-class, middle-of-the-road orthodoxy is at Dismaland. Consumerism is brainless. Zoos are evil. The tabloids are shitty. Zzzzz. (There's a piece showing Cinderella dead after her carriage crashes, and of course she's surrounded by paps. Just like Diana! Yep, that's how radical Banksy is: he promotes pro-princess art, a gruffer version of that speech the bloody Earl of Spencer gave at Diana's hysterical funeral.) As with his anti-Tesco grafitti (showing consumers worshipping at the flag of Tesco, because they're THAT stupid), and his numerous America-mocking pieces (like the one with the napalmed Vietnam girl next to a grinning Mickey Mouse and Ronald McDonald), Banksy's Dismaland is all about sneering at the hapless, heartless inhabitants of modern society who, unlike Banksy and his fanboys and girls in the liberal media, have been sucked in by the empty promises and fleeting rewards of modern Western culture and capitalism. That he most likely makes these sniffy statements from a country pile built on the fortune he's made from hawking his pseudo-grafitti is ironic, I know, and meant to make us all smile knowingly and Google Observer Weekend thinkpieces about 'Banksy's many contradictions' so that we can sound clever when we talk about him at dinner parties; but I just find it annoying, to be honest.
Most of the discussion about Banksy's popularity focuses on the question of whether his stuff is graffiti or art. (In my view it's neither, lacking graffiti's criminal daring and art's profundity.) Or whether his success speaks to a death of vision in the arts world and a creeping inability to discriminate between good and bad art, or simply between art and not-really-art. It does, I'm sure. But mostly Banksy is wildly successful because he regurgitates in sixth-former-style cynicism the prejudices of the chattering class: their agitation with the blob; their loathing for the little people's material desires; their hatred of the super-rich; their concern for nature and its beasts if evil mankind doesn't halt his destructive ways. A searing critic of capitalism? Please. Banksy is modern capitalism's loss of faith in itself made flesh. He's a brilliant monetiser of the modern bourgeoisie's self-disgust and fear of the masses. He's the artist-in-residence of the new elite, and Dismaland is their latest fat fuck-you to us idiots.
Brendan O'Neill is editor of spiked.
Picture by: PA Images.
To enquire about republishing spiked's content, a right to reply or to request a correction, please contact the managing editor, Viv Regan.