The youths who told the truth about Hiroshima
How an education charity confronted the horrors of the Bomb.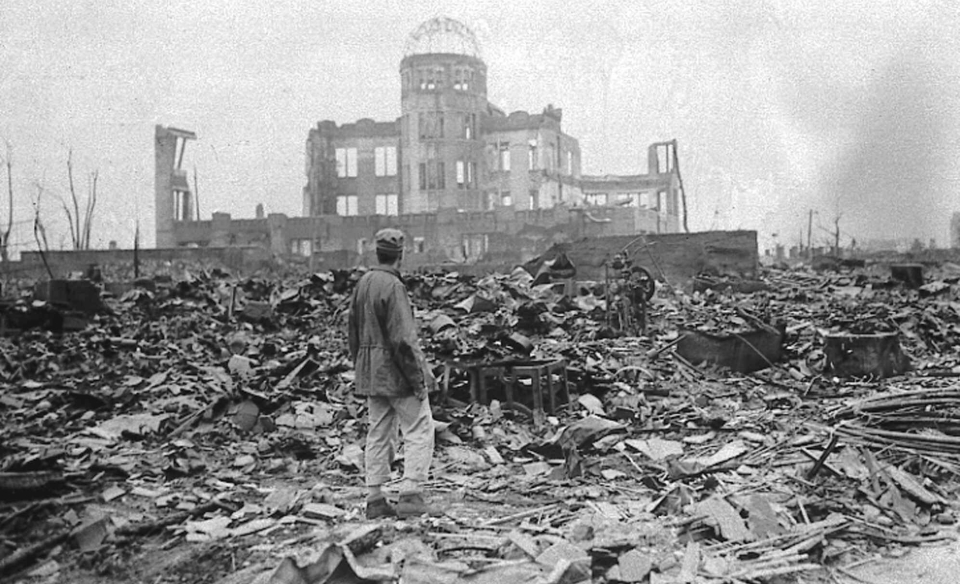 Apologies for historic wrongs, from the slave trade to the ill-treatment of indigenous populations, are two a penny today. Yet 70 years ago this week, 200,000 people were vaporised and it barely prompts a note of contrition.
The nuclear horror unleashed on the Japanese cities of Hiroshima and Nagasaki in August 1945 seems beyond the scope of moral grandstanding politicians. Perhaps that's because Britain and America have always maintained it was a lifesaving initiative. Indeed, it has long been accepted in the West that dropping Little Boy and Fat Man – the nicknames for the two atomic bombs – on these two largely civilian, densely populated cities was justified. The bombs ended the war, runs the argument; they saved countless Japanese and American lives that would otherwise have been lost had the inevitable land invasion taken place.
Yet as Mick Hume pointed out in a Living Marxism essay 20 years ago – 'Hiroshima: the White Man's Bomb' – the falsity of this argument was exposed almost immediately after the war, when the US government's own Strategic Bombing Survey reported that Japan had been on the point of surrender anyway:
'Based on a detailed investigation of all the facts and supported by the testimony of the surviving Japanese leaders involved, it is the Survey's opinion that certainly prior to 31 December 1945, and in all probability prior to 1 November 1945, Japan would have surrendered even if the atomic bombs had not been dropped, even if Russia had not entered the war, and even if no invasion had been planned or contemplated.'
There are, of course, plenty of 'Remembering Hiroshima' articles this week, from a piece on CNN instructing Obama what to do about nuclear weapons, to an Observer article exploring Hiroshima's fate. But none can face the historical truth. Instead, they use the Hiroshima anniversary to call for nuclear disarmament, as if war, then and now, was driven by technology.
Yet 21 years ago this week, a group of school students proved far braver than today's reporters. The students began a year-long grand tour, organised by myself, to tell the truth about Hiroshima, which culminated in an exchange visit to the beautiful but rarely visited city itself on the fiftieth anniversary of its destruction, in 1995. Nuking Hiroshima, they explained to thousands of their UK peers during the tour, was accepted at the time because of a race war. The Japanese were rats, locusts and beasts, as President Truman put it at the time. They were not like us and, therefore, their obliteration was a fair price for the end of the war.
The school students' mission was not to elevate nuclear weapons as uniquely destructive, dictate who can have them or demand apologies. No, it was to challenge the racial thinking that legitimised the White Man's Bomb. They set out to tell the truth about the war – that the Japanese were viewed as vermin to be eradicated, that Japan was on its knees when this great experiment in human annihilation was conducted.
For the students and me, it was an eye-opening expedition to Hiroshima. The human 'shadows' of those vaporised could be seen etched on Hiroshima's pavements; the lonely A-Bomb Dome, the only building left standing after the atomic onslaught, was strangely beautiful (ironically, it's now a world-heritage site); and the Children's Peace Monument in the Peace Memorial Park was festooned with chains of paper cranes. These were started by Sadako Sasaki, a little girl who, suffering from radiation-induced leukemia, believed that if she folded 1,000 she'd be cured. She died in 1955. Today, an average of 10million cranes are sent to the park from the across the globe each year.
Students meet a bomb survivor.
Hibakusha (bomb survivors) also told us their stories. It could sometimes be a disconcerting experience. Their faces wore fixed smiles, a result of endless plastic surgery. And we learned the lesser-known stories of Hiroshima, too, such as Britain's use of military prisoners in the aftermath of the bomb to test the effects of radiation.
Hiroshima today is impressive. Rebuilt from the dust, it has been turned into a wonder of modernity. Its setting, nestled amid the mountains, means that it becomes a ski resort in winter. It also meant that in August 1945, residents couldn't see the approach of Enola Gay and its atomic payload.
The birth of WORLDwrite
We were treated like royalty while we were there – it was almost too much. We were chaperoned, wined, dined, introduced to dignitaries and invited to address large audiences. And, embarrassingly, the apologies kept coming: for the war; for Pearl Harbour; for the prisoner-of-war camps; for Burma… But we weren't there to apologise for what we had no part in. And we didn't expect or want apologies from our Japanese peers either. This was a truth trip. It was for young people to understand history, to make new friends internationally, to be future-orientated and always equipped to move on. And from this, the charity WORLDwrite, of which I'm now director, was born.
Of course, much has changed over the past two decades. Even thinking how best to celebrate WORLDwrite's 21 years of extraordinary projects and pioneering truth trips across the globe, involving hundreds of young people, is difficult. In 1994, we were challenging racial thinking and ideas of Western superiority. Today, the West is in the dog house, and official 'anti-racism' is everywhere. Even highlighting the horrors of Hiroshima is commonplace today (although the lies about Hiroshima keep being peddled, especially the idea that 'it ended the war').
As an education charity, WORLDwrite set out to understand and champion new knowledge. We wanted to say what may not be popular but needs saying. So, today, we move on. There's nothing to be learned from repeating what people already know and think. We will always strive to challenge new orthodoxies, not echo them.
The A-Bomb Dome, Hiroshima.
To explain, I always tell young people a short story from our charity's history. Back in the late 1990s, I was running a WORLDwrite stand at a muddy music festival to promote an exchange visit to the Amazon to investigate the reality of 'sustainable development', or what we called 'sustainababble'. Compared with our lively but lonely venture, a very fancy expensive NGO stand next to us, complete with buckets, badges, designer t-shirts, posters and posh branding, was pulling in boat loads of cash. One of its young volunteers approached me to sign a petition. 'What's it for?', I enquired. 'To stop the sexual abuse of disabled children', the young girl explained. 'Really', I said. 'Do you know anyone who thinks the sexual abuse of disabled children is okay?' 'Well, no', she said. 'So what exactly are you doing?', I asked. 'Educating the public', she said.
If anything, elite contempt for the public is worse today, as are the self-delusions of the third sector. So, what next for a human-centred charity that believes in young people's capacity to understand and change the world? We have to continue telling it like it is, of course. That is what we've done for 21 years, and that's what we will continue to do well into the future. We'd love you to celebrate WORLDwrite's apology-free anniversary by helping us to keep at it. You can do this here – and you can read more about our story, too.
Ceri Dingle is the director of the education charity WORLDwrite, which today runs the citizen TV station WORLDbytes, based in Hackney, east London.
Picture by: Stanley Troutman / AP/Press Association Images
To enquire about republishing spiked's content, a right to reply or to request a correction, please contact the managing editor, Viv Regan.