Tim Farron: falling foul of the New Inquisition
Once, gay-rights activists fought orthodoxy - now they enforce it.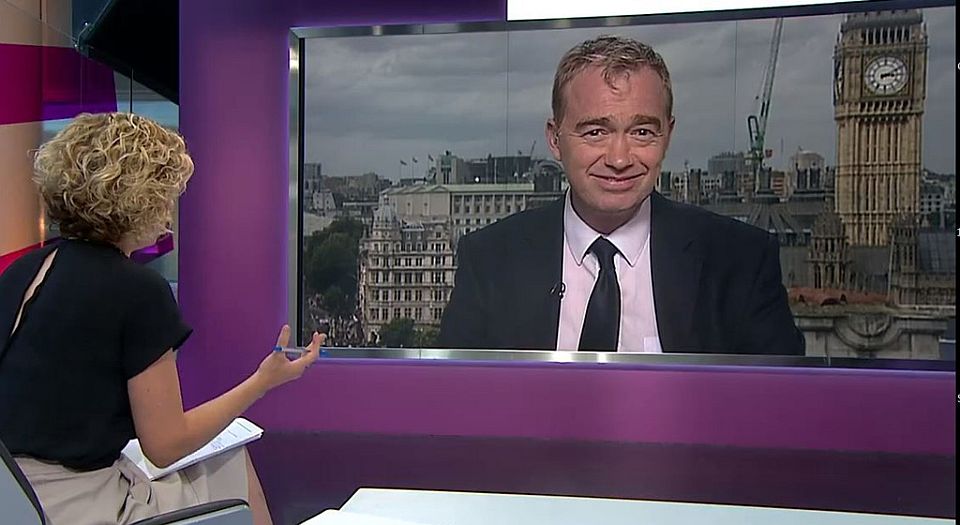 It was a dispiriting spectacle. Slumped and a bit sweaty, the newly elected Liberal Democrat leader, Tim Farron, squirmed in his seat on Channel 4 News on Friday, repeatedly dodging Cathy Newman's pointed questioning. But this wasn't another exercise in wary, soundbite politicking – another party-political husk offering soft answers as he 'waits for the report to come out'. No, this was something different, something grimmer.
For Newman wasn't asking Farron about policy, law or his plans for the much-mocked #LibDemFightback. She was asking about his privately held beliefs. Farron, you see, is a Christian, and a proper one at that. In 2007, he called abortion a 'tragedy', and he abstained from voting on the gay-marriage bill in 2013, citing concerns about religious conscience. 'Christianity', he once said, 'is not "a bit" true. It is either not true, or it is so compellingly, utterly true that almost nothing else matters'. None of that Magic FM in the Chilterns guff here.
For Newman, this was enough to call his entire legitimacy as a liberal into question. She asked whether he considered homosexuality a sin, to which he quite eloquently responded: 'It's not our views on religion that matter. What matters is whether we go out and fight for the freedom of every single individual to be who they want to be – and that's what makes a liberal.' Newman was unconvinced; she asked twice again.
An inevitable backlash followed. A two-minute Twitterhate broke out and then the MPs got stuck in, never missing an opportunity to land some cheap shots. 'For a liberal, I thought his position seemed incredibly illiberal', said Labour deputy-leadership hopeful Ben Bradshaw, echoing a prescient Times editorial the morning before the interview, pithily titled 'Illiberal Democrat'.
Even those who remained sympathetic to Farron felt he was being unduly evasive and disingenuous. But, while Farron did go out of his way to shorn off his few remaining edges in the run up to the ballot – insisting that he supports gay marriage, expounding on transgender rights, and backtracking on abortion – he was not just dodging the question here. Rather, the question was irrelevant. Believing people should have the right to live their lives as they see fit, free from state-enforced morality or social coercion, is the essence of liberalism. That doesn't mean you have to approve of how people choose to use their liberty. His private views, his superstitions, his God-bothering, have no bearing on his ability to govern – so long as he doesn't go imposing them on others.
The shaming of Farron speaks to how distorted our conception of liberalism has become. No longer are we guided by the principle of true tolerance, of 'as long as it doesn't hurt anyone, we'll leave you to it'. Today, the mantra is 'you are what you are – let's throw a parade in your honour'. And, as Farron found out, those who refuse to join in the festivities can find themselves cast out of respectable society. Whether or not you choose to keep your heretical views to yourself seems to be irrelevant.
As Brendan O'Neill has pointed out previously on spiked, we live in an age of the New Inquisition, in which those who dare transgress the new, metropolitan orthodoxies of today, even in their most private of exchanges, are wont to be shamed, sacked and spat on. Last year, Richard Scudamore, chief executive of the Premier League, found himself in hot water when his secretary leaked private emails containing jokey-sexist banter with his friends. Then there's Donald Sterling, the former owner of the LA Clippers, who received a lifetime ban from the NBA after a recorded conversation of him making derogatory comments about black people made it to the press.
But as the gay-marriage campaign has reached new and intolerant heights across the West, one's views on gay issues, in particular, have come to be the ultimate citizenship test for your inclusion in public life. In 2013, as the vote on gay marriage in the UK parliament loomed, gay-news sites transformed into a kind of rolling name-and-shame of crotchety peers, religious types and downright cranks who dared utter their disapproval. Last year, Brendan Eich was sacked as CEO of Mozilla when it was revealed he had donated money to anti-gay-marriage groups. And, since then, the intolerant campaign against the unbelievers has gathered pace.
The recent 'gay cake' scandal, in which campaigners from the group Queerspace hauled a Presbyterian-run bakery in Belfast before an equalities hearing for refusing to bake a pro-gay-marriage cake, marked a line in the sand. The case against Ashers bakery, funded to the tune of £38,000 by the Northern Ireland Equalities Commission, showed that campaigners don't even need to rely on leaked, bigoted asides to crush their moral opponents. All they have to do is push the right buttons, probe them, make them show their hand, and the full force of moral opprobrium, and the full power of the courts, will come down upon them.
The tragedy here is that it wasn't that long ago that the jackboot was on the other foot. As recently as the 1983 Bermondsey by-election, in which an intolerant and violent campaign was unleashed against Labour candidate and gay-rights campaigner Peter Tatchell, one's embrace of homosexuality could be used to exclude you from political life. Now, with the establishment and the courts beholden to a skewed notion of equality, this intolerant process is playing out once more – only now it's those who question any aspect of homosexuality who are cast out.
The Enlightened impulse behind gay liberation was the idea that one's private life and proclivities should have no bearing on how you are treated in the public sphere. Today, this ideal has been thoroughly trashed by a new secular elite, a 'new clerisy', as Joel Kotkin has described it, which emulates the old intolerance in the name of liberty. Farron is the latest target; he won't be the last.
Tom Slater is assistant editor at spiked. Follow him on Twitter: @Tom_Slater_
Picture by: YouTube/Channel 4
To enquire about republishing spiked's content, a right to reply or to request a correction, please contact the managing editor, Viv Regan.