Dave Chappelle vs the new intolerance
In an age of offence-seeking, this comedian's comeback was desperately needed.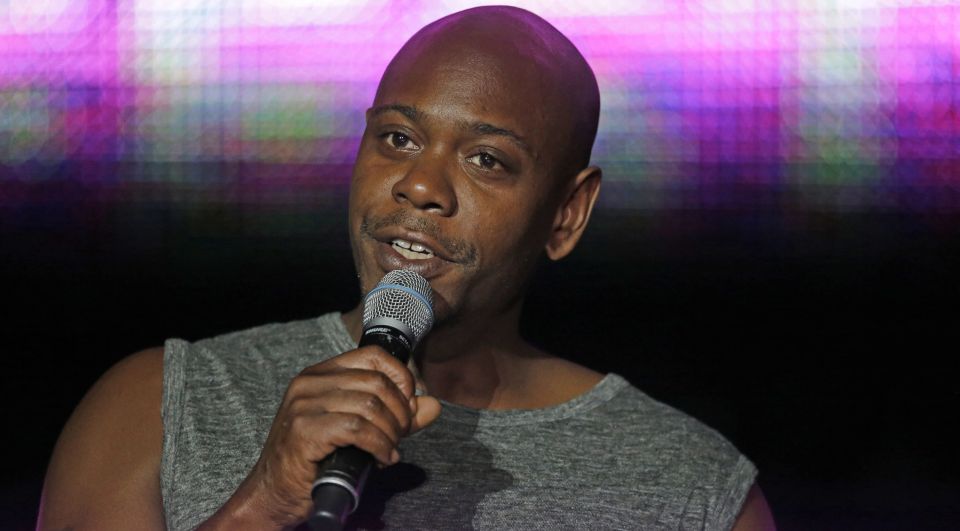 In his own words, Dave Chappelle is the Bigfoot of comedy; a rarely seen legend whose long absence from the stage has only secured his status. The stand-up, actor and writer, who found global success in the mid-2000s for his Comedy Central hit Chappelle's Show, walked away from a $50million deal for a third season in 2006, after fame and showbiz politics began to weigh heavy on his shoulders. For the past nine years, he's been a borderline recluse – living on a farm in Ohio, raising his children and doing the odd, unannounced stand-up gig in mobbed comedy clubs.
Now, he's making his comeback. Touring across America and, this past week, doing a sold-out seven-night run at the Hammersmith Apollo in London, it's as if he was never gone. And yet, he has returned to a circuit that is not what it was.
'Are you a Muslim?', an affable doorman asked my mate, as we handed over our tickets for Monday night's Apollo show. He wasn't on counterterror duty. There'd been a few incidents, you see, during the run so far, as Chappelle's caustic jibes had ruffled some feathers. 'He's got a joke in there about transgenders, and one guy the other night just got up, started shouting and then ran out.' It seemed our doorman had taken it upon himself to trigger-warn any potential targets of Chappelle's punchlines.
It was a strange question. Not least because Chappelle is a Muslim, and anyone who comes to one of his shows should know what they're getting. Like his hero Richard Pryor before him, Chappelle has a unique ability to craft edgy, racially charged and often scatological humour and serve it up to a mainstream audience. Chappelle's Show, which broke all records at the time for DVD sales, ended its first episode with an extended skit about a blind white-supremacist author who is unaware he is black. It was one hell of a mission statement.
But his stand-up was even more to-the-bone. In his second HBO special, For What It's Worth, in a routine fondly known as 'How old is 15, really?', he compared the condemnation and life-imprisonment of a 15-year-old black kid who accidentally killed his neighbour with the outcry over R&B singer R-Kelly allegedly urinating on a 15-year-old girl during sex. 'If you think that it's okay to give him life in jail, then it should be legal to pee on him.'
But as PC censoriousness has crept into the world of comedy, the 'liberals' in his audience who were once able to suspend their sensitivities for a night of stand-up are now incapable of doing so.
His new set is peppered with jokes about him coming face-to-face with the new intolerance. There's the lesbian couple whose kid is at the same 'liberal-rich' private school as his son – one of them laughing along at his jokes about whether or not they qualify for the father-son picnic, the other 'too committed to her lesbianism' to entertain them. And then there's that trans joke, in which Dave, finding himself at a poncey gallery party, is stared down when he dares to ask 'Is he okay?' after a cross-dresser collapses in the corner. 'I support anyone's right to be who they want to be. My question is: to what extent do I have to participate in your self-image?'
Alongside colourful routines about family life, the Illuminati Christmas party and his burgeoning foot fetish, the through-line of the set is a thick-skinned comedian coming to terms with an increasingly uptight culture. Even if he does, hilariously, deflate the Charlie Hebdo sanctimony, dubbing the massacre 'a 12-person 9/11', the way in which, today, off-the-cuff comments and, yes, the odd bigoted aside, can mean you are driven out of society weighs on his mind. He talks about Paula Deen, a US TV chef who lost her show when court documents emerged suggesting she had used the word 'nigger' 30 years ago. 'You can understand why I'm concerned, doing what I do for a living', he says.
Race continues to figure heavily in his set, but he draws a line between the real, post-Ferguson issues and mere offence-seeking. 'Black skin is thick skin', he says, launching into a hilarious, absurd routine about walking into a Kentucky Fried Chicken, unperturbed when he finds all of the staff wearing KKK hoods, before opining on the ethics of ejaculating after your white girlfriend inadvertently drops racial epithets during sex.
Chappelle's ability to interweave from-the-hip social observations, absurd storytelling and glorious profanity has meant that, even during his years in the wilderness, he was feted as the absent king. Even Katt Williams, the ego-fuelled pimp comedian whose career took off after Chappelle dropped the mic, when asked if he was the greatest living comedian replied simply with 'Dave Chappelle still lives and breathes'. This raucous comeback set confirms that, even after all these years, Chappelle's unique talent is undimmed.
But what really sets Dave apart is his effortlessness; the affable, everyman charm that survives his calculated, precision-drilled routines. Even as he mocks sexuality, race and religion, he comes across, not as a crass provocateur, a cynic who just thinks life's a joke, but a normal bloke, bemused by the sensitivities that surround us and determined to carry on in spite on them.
The king has returned at just the right time.
Tom Slater is assistant editor at spiked. He is chairing the debate 'That's not funny! Are offence-seekers killing comedy?' at the Edinburgh Fringe on Monday 17 August at 4pm. Reserve your free tickets here.
Picture by: Gerald Herbert / AP/Press Association Images
To enquire about republishing spiked's content, a right to reply or to request a correction, please contact the managing editor, Viv Regan.