Stay in Britain, or else…
Using fear to terrify Muslims away from ISIS is a really bad idea.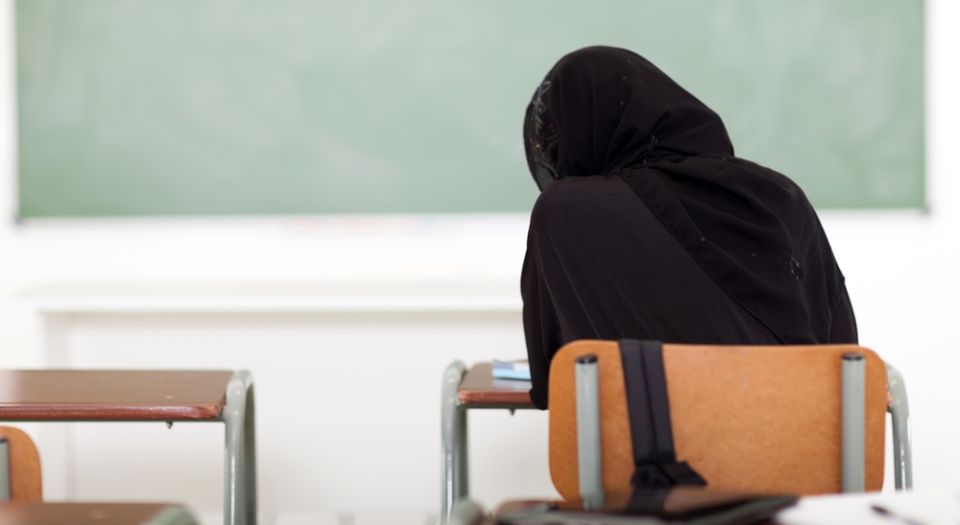 Saltley Academy, a secondary school in Birmingham, England, has upped the ante in the fight against so-called radicalisation by inviting Iraqi refugees to speak to selected Muslim pupils about the reality of life under the Islamic State. Saltley has good reason to want to show it is making a special effort to combat extremism. Last year it was one of several schools involved in the 'Trojan horse' scandal, in which hardline Muslims were accused of trying to take over schools' governing bodies.
The refugee visit was arranged by Saltley in conjunction with the Muslim charity Upstanding Neighbourhoods. Upstanding Neighbourhoods describes itself as a community-led, volunteer-organised group that 'rejects extremism of all kinds'. Funded by Amar, a humanitarian aid charity co-founded by Baroness Nicholson of Winterbourne, Upstanding Neighbourhoods works with 'statutory agencies to help improve our local area'. And why might such a group be so attractive to the British state? Because, in the absence of being able to say what British society stands for, what its values are, and why, therefore, it is superior to IS, the state instead uses a group like Upstanding Neighbourhoods to scare pupils into staying in Britain.
'ISIS is lying to you. Open your eyes to the real story', states Upstanding Neighbourhoods' homepage. The stories told to the pupils at Saltley were certainly brutal. Three young women relayed the horrors of life in IS – kidnapping, rape, beatings and murder – while pupils were 'shocked into perfect stillness', according to one report.
Not only is it bizarre that young women were brought over to London with the sole purpose of reliving their horrendous past before a group of minors – it is also odd that some think this is educational. Trying to scare children into line with tales of the bogeyman works with five-year-olds. But when it comes to older children, or young adults, and the problem of terrorist organisations, society and schools should be engaging all pupils in a real conversation about freedom, not selecting Muslim students and scaring them rigid with gory details and nightmarish scenes.
But having a real conversation about freedom and tolerance is precisely what the education system and society as a whole can't seem to deal with anymore. As Frank Furedi has explained on spiked, it is this inability and reluctance to define a set of British values that underpins the adoption of these fearmongering tactics. It is easier to blame support for IS on brainwashing and people's ignorance of its evil acts than it is to confront Britain's own inability to defend or articulate a coherent set of values.
The need for schools to counteract terrorism is certainly overhyped, and targeting specific pupils as potential risks is divisive. However, a wider discussion about the values we think society ought to promote should be taking place inside the classroom and throughout society.
The problem today is that officialdom finds it very difficult to argue against IS in terms of positive values, in terms, that is, of bigging-up liberty and democracy. So while it is easy to argue that IS, killing and raping left, right and centre, represents a total destruction of individual liberty, the supposedly civilised West is too afraid of its own citizens to fully support liberty over here.
The British government is keen to posit IS as an enemy of freedom, and rightly so. But Britain is compromised, too. It is a society in which the freedoms of its citizens are increasingly restricted by assorted speech laws; in which the therapeutic state all too readily seeks to nudge and nanny its citizens through their daily lives. The West can criticise the elimination of freedom abroad, and endlessly pretend that our own liberty is intact, but until we protect and celebrate freedom at home, the argument against IS will never be that convincing.
Ella Whelan is staff writer at spiked.
To enquire about republishing spiked's content, a right to reply or to request a correction, please contact the managing editor, Viv Regan.