Defending Greece or just demonising Germany?
The Greek crisis has made it open season for Germany haters.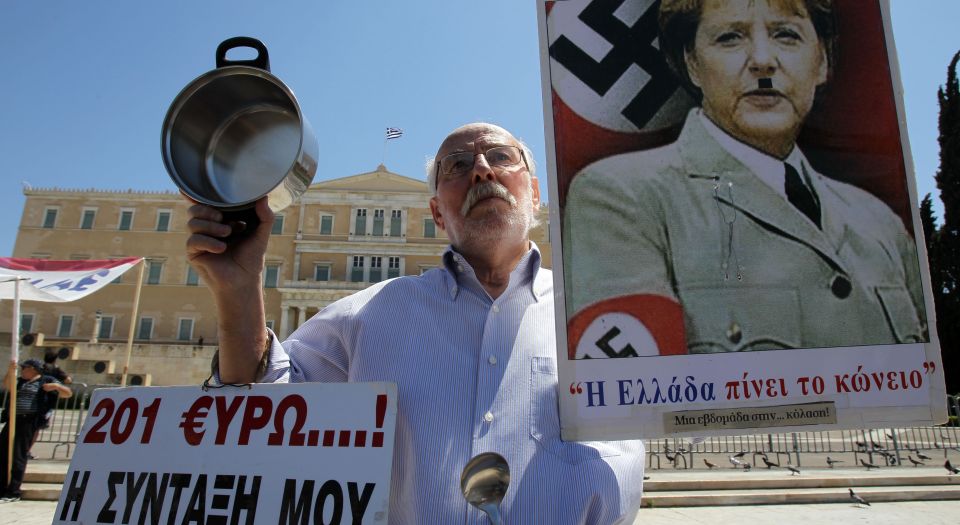 'Just listen to the sounds of the commands whose roar surrounds the German cities now that they drill outside all gates: what arrogance, what raging sense of authority, what scornful coldness speak out of this roaring.' (1) So wrote the philosopher Friedrich Nietzsche in Die fröhliche Wissenschaft (1887), or The Gay Science, to give it its most popular English name (before 'gay' came to mean inadequate and feeble, and before that, homosexual).
Nietzsche wasn't keen on militarism and nationalism, especially of the embryonic German kind. 'In almost every speech of the foremost German statesman', he continued, referring to Bismarck, 'we hear an accent that repels and disgusts the ears of foreigners'.
He was also a distinguished Ancient Greece scholar, so perhaps he would have commended this week's bellyaching about the Germans and their bullying of the Greeks. Or perhaps not. He deprecated herd thinking, and he would have deplored the automatons on Twitter with their virtue-signalling and grandstanding, their gibbering and cackling.
It's been open season for Germany haters, who charge its chancellor, Angela Merkel, with keeping Greece in a state of humiliating penury. A favourite trope has been to compare and contrast Greece in 2015 to West Germany in 1953, when half of that state's debts were cancelled. 'More than 50 per cent of Greek debt needs to be written off', says the Syriza economist John Milios. 'The solution that was given to Germany at the London conference in 1953 is what we must do for Greece.' The Guardian agrees. So why can't Germany – and the EU – reciprocate with comparable mercy?
Although the EU under the leadership of Merkel has behaved appallingly towards Greece, this is to be expected of this technocratic, kleptocratic, anti-democratic and anachronistic institution, whose advocates have a feeble grasp of history and don't grasp the importance of the continent's cultural and linguistic differences. But to compare the situation to 1953 is misleading.
That year, 20 of West Germany's creditors, including Greece, agreed to cancel 55 per cent of the Federal Republic's 32.3 billion Deutsche marks of foreign debt. Half of this figure, 16.1 billion Deutsche marks, predated the Second World War, and included unpaid – and let's not forget, highly punitive – reparations from the First World War.
West Germany, physically destroyed and now forcibly separated from its eastern half, was in the midst of a humanitarian crisis as 10million refugees spilled over from the Soviet-controlled zone. Politically, it was expedient to have a functional West Germany at the outset of the Cold War. Even though he was paying for the crimes of a previous regime, and for the actions of the Kaiser before that, West Germany's first postwar chancellor, Konrad Adenauer, recognised his people's moral and financial debt to the rest of Europe.
Now consider Greece. After it restored democracy in 1974, the Greek government spent vast amounts of money providing higher pensions, universally accessible healthcare, salaries for Orthodox priests and a railway system that had more employees than passengers. For decades it ran unsustainable fiscal debts covered by irresponsible lending – and here, the EU in recent years is guilty. Syriza came to power with a promise to nationalise banks and utilities, to use debt relief to provide free electricity to households, subsidise rents, restore Christmas bonuses to pensioners and raise minimum salaries. In short, it ran the economy on the never-never.
'There is a not-so-subtle difference between voluntarily taking on debts made by previous, rogue governments at a currency rate favourable to the creditors and heedlessly accumulating debts of one's own while concealing the true size of budget deficits', concludes the business journalist Leonid Bershidsky on the comparisons made with West Germany. 'In the first case, the implication is harsh self-imposed discipline and penitence. In the second case, profligacy.'
It's no wonder that Ireland and Spain, who have promisingly undergone austerity, and the Baltic states, which are poorer than Greece, are so irked.
---
In defence of slowness
In his most recent book, L'Identité malheureuse (2013), the conservative French political philosopher Alain Finkielkraut laments how in our age of interconnectivity and instantaneousness, three facets of society are simultaneously under attack: slowness, silence and solitude. If Cyril Connolly were alive today, he would recognise Facebook and Twitter as the true enemies of promise. So, too, would have Nietzsche.
In The Gay Science, speaking in praise of idleness and leisure, he deplored how 'the ear and eye for the melody of movements are… perishing. The proof of this may be found in the universal demand for gross obviousness in all those situations in which human beings wish to be honest with one another for once – in their associations with friends, women, relatives, children, teachers, pupils, leaders, and princes… Living in a constant chase after gain compels people to expand their spirit to the point of exhaustion in continual pretence and overreaching and anticipating others.' (2)
Social media do not make you happy; rather, they increase feelings of insecurity and worthlessness among those already predisposed to them. They're also mostly counterproductive. Of course, I'll keep using them.
---
Keep Sunday boring
'The industrious races find leisure very hard to endure: it was a masterpiece of English instinct to make Sunday so extremely holy and boring that the English unconsciously long again for their week and working days', Nietzsche wrote in 1886, in Jenseits von Gut und Böse (Beyond Good and Evil). (3)
Our chancellor George Osborne wants to stop this, by giving local government power to dilute Sunday trading restrictions. Although I am an atheist and generally free marketeer, there is something to be said for a modest form of sabbatarianism. While corner shops are more pricey, they can be more friendly. Mine will let me pay the next day; my local Cooperative wouldn't even let me off when I was once three pence short. If you really feel the compulsion to go shopping on Sunday, you can always go online. And let's not forget the issue of workers' rights.
Some long-term thinking is needed. Germans still keep Sundays for friends and family, largely free from trade, and their economy is Europe's most powerful. Children who spend more time with their parents tend to become more confident and intelligent adults, and, as a consequence, better workers and higher earners. Rest is good for capitalism.
Do you remember that feeling of elation when your dreary church service ended on the Sabbath? Sundays should be insufferably boring. Kids should be parked in front of Songs of Praise, so that they long for school the next day. Were he around today, Nietzsche would have more pithily put it: 'Less is more.'
Patrick West is a spiked columnist. Follow him on Twitter: @patrickxwest
(1) The Gay Science, Friedrich Nietzsche, Vintage, New York, 1974, pp161-162
(2) Ibid, p259
(3) Beyond Good And Evil, Friedrich Nietzsche, Penguin, London, 1990, p112
Picture by: PA Images
To enquire about republishing spiked's content, a right to reply or to request a correction, please contact the managing editor, Viv Regan.