Brit tourists boycott Greece? OXI to that!
Our man on the sun lounger in Syros says defy the doom-mongers.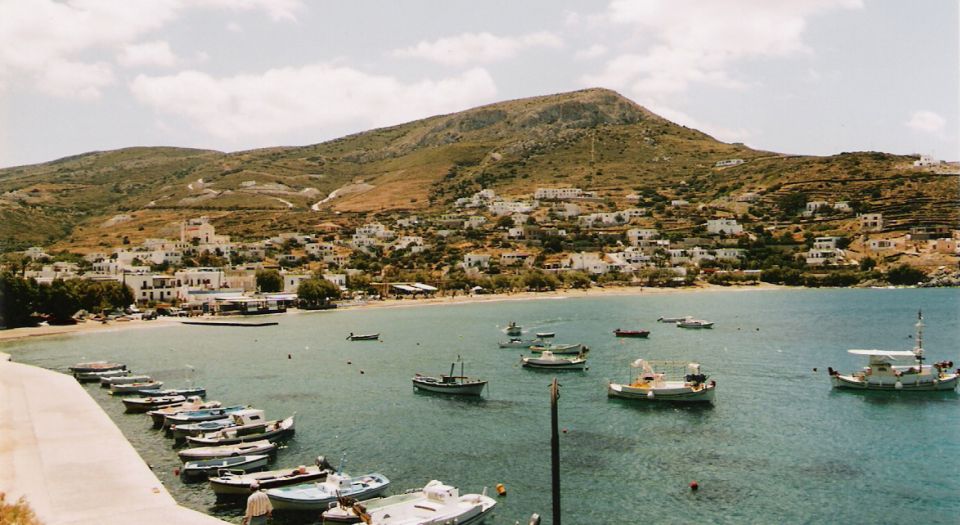 Grilling by the Aegean this week, with a cold Alfa beer and a warm sea breeze, I suddenly got wind of UK media reports that 'Britons are shunning holidays in Greece'. Amid 'warnings of economic mayhem' in the wake of the Euro crisis, Brits are reportedly 'avoiding booking breaks on the Greek mainland and islands'.
Let us hope and trust this turns out to be yet another example of exaggerated scaremongering. Of course, we do live in panicky, risk-averse times. But it would be a sad day if Brits who had a reputation for adventuring around the world, and accompanying mad dogs into the midday sun, were to let a little thing like the imminent risk of financial meltdown prevent them enjoying the benefits of a summer break in beautiful, broiling Greece.
More importantly, it seems to me from the intellectual vantage point of a sun lounger on the isle of Syros that there are positive reasons why Britons and anybody else should decide to visit Greece this year – reasons that are both principled, and practical.
As a matter of principle, it is a prime time for us to show solidarity with the Greeks, as fellow citizens of Europe and the world who have had the nerve to say 'OXI' – 'No' – to the demands of the anti-democratic Troika of the EC, ECB and IMF in the recent referendum.
That was not an easy thing to do. Arriving in Greece last week, at first I felt sure that the Greeks' proud tradition of truculent independence would see them vote 'No' in the referendum. My first conversation with a friendly Athens taxi driver did little to dissuade me. 'I want "No" to Euro, EU, everything', he quite reasonably explained. We only saw 'OXI' posters on the walls, there being few passionate campaigners in favour of the Troika's harsh demands. (Although, as some of us old lefties know well, if the relative number of posters always translated into a proportion of the votes, there would have been dozens of UK MPs elected from small far-left parties in past decades.)
Yet as the referendum drew nearer, I started to doubt my instincts. Euro leaders and financiers cranked up the pressure, playing on fear of an uncertain future by threatening that a 'No' to their latest demands for cuts and tax rises would inevitably mean a Grexit from the single currency – something which, unlike my taxi-driving friend, most Greeks would not welcome. Greece's own mainstream media seemed united in demanding a subservient 'NAI' – 'Yes' – vote. The international media were worse. Following the Greece story via BBC news, it was quite remarkable to see the Beeb promoting its own pro-EU agenda disguised as reportage, searching out Greek hoteliers and other tourism-dependent business people who wanted a 'Yes' vote for fear of what a Euro exit might mean.
Against this tide, the Greek government and its supporters seemed to have little to offer as a coherent case for voting 'No'. On one hand they issued shrill condemnations of 'IMF terrorism' – just another version of exaggerated scaremongering, there having been no reports of bankers and other financial suits launching gun attacks on tourists. On the other, they gave hollow-sounding assurances that all would be well, that the banks would reopen and a deal would be done straightaway after a 'No' vote.
The opinion polls (yes, them again) suggested the fear factor was taking effect, with the 'Yes' camp narrowly overtaking the Nos – another case, following the UK election, of polls effectively acting as propaganda. Could the Greeks really be about to give a reluctant 'NAI'?
Of course, some of us should have trusted our instincts and known better than to doubt the resistance of the Greek people. The more they were lectured and cajoled to give in, the more quietly bloodyminded they became. In the end, the 'No' camp won a clearcut victory by 61 to 39 per cent. This was not, as reported elsewhere, a childish refusal to accept economic realities. There was little rejoicing evident among the mass of people. They know there are hard choices and times ahead. But they were simply not prepared meekly to submit to humiliation by bending the knee to the Troika.
For that we should all be proud of the Greeks. The reaction of the Euro bureaucrats and international technocrats to Greece's show of defiance was one of horrified disbelief, essentially declaring 'You can't say/vote that!'. That alone surely ought to be enough to make any freedom-loving Brit or European want to come here and show our support for the Greek people's stand against the enemies of democracy.
So much for the principle of solidarity. There are also practical reasons why it's a great time to visit. Greeks have always been warm and welcoming (with the odd exception, of course). Now they are keener than ever to welcome international visitors who have access to the Euros they have been denied by the authorities. One local lady artist/shopkeeper on the island burst into tears when my wife paid cash for her hand-painted souvenirs. Meanwhile, the weather, the culture and the food remain unaffected by the crisis – especially if you visit a traditional Greek island such as Syros rather than the neighbouring fashionable hotspot of Mykonos. And the passion and spirit of the people remain unbroken – the bar full of partying elderly Greeks we met on our first night did not appear to be too depressed about the pensions crisis.
So come on in, the water and just about everything else is lovely. Say 'OXI!' to the scaremongers and doom-merchants, and 'NAI!' to Greece, where cash is king but, for a moment at least, democracy rules once more.
Mick Hume is spiked's editor-at-large. His book, Trigger Warning: Is the Fear of Being Offensive Killing Free Speech?, is published by Harper Collins. (Order this book from Amazon(UK).)
To enquire about republishing spiked's content, a right to reply or to request a correction, please contact the managing editor, Viv Regan.