Taking selfies is not a team sport
Deshorn Brown should be ashamed of himself.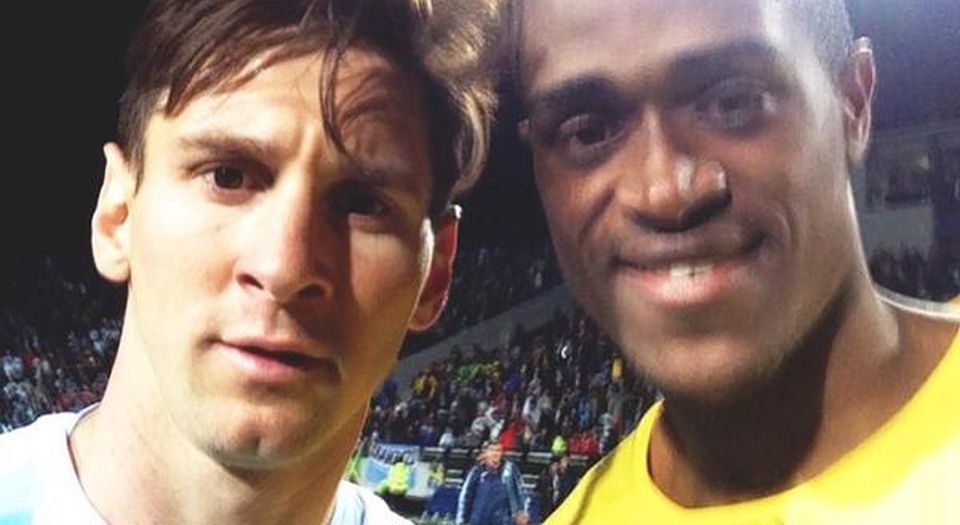 This week, Jamaican striker Deshorn Brown hit the headlines. Not for scoring a 'worldie'. Not for his incredible 'tekkers'. Not for terrorising the Argentina defence. Not even for having a stupid name. At full-time after Argentina's 1-0 win over Jamaica, Brown made a b-line for Lionel Messi and asked the Barcelona star to pose for a selfie with him.
Yes, I know, this isn't exactly a war crime. Messi wasn't offended. Nobody got injured. No kittens died. Posing for a selfie with the world's best footballer is the modern equivalent of asking for an autograph or swapping shirts. 'Messi is the best in the world, a star, and that's a photo I'll have as a souvenir all my life', explained Brown. It's inevitable, when international minnows come up against a football superpower like Argentina, that some players will be starstruck. I get that. But there's something profoundly wrong about Brown's selfie. It's not the fact that Brown was in awe of Messi. It's the selfie that troubles me. Or, more precisely, the self-obsessed 'look at me' culture of which this football selfie is a symptom.
Look, I'm partial to the occasional selfie, too. I'll hold my hand up – not to mention my selfie stick – to taking a fair few selfies on holiday. But it isn't the exponential growth of this most narcissistic of cultural phenomena that concerns me. It's the football selfie that I find particularly corrosive. Yes, corrosive. I've chosen that word carefully. Football is a team sport, whereas the selfie is All About Me. And there's the rub. Is it possible to be a team player, to put collective responsibility before personal glory, if you're besotted with your own image? There's clearly a contradiction there.
There are obviously some colossal narcissists – Cristiano Ronaldo and Zlatan Ibrahimovic spring to mind – who are so brilliant that a football manager has to accommodate their elephantine self-regard within the team. But Deshorn Brown is certainly no Ronaldo or Ibrahimovic. He's an average player who plies his trade for Vålerenga in the Norwegian First Division. If Jamaica were to stand any chance of beating Argentina, then the team would have needed to be far more than the sum of its parts. Each player should have been focusing on teamwork and tactics, yet Brown's mind was clearly elsewhere. He wanted a selfie with the legendary Messi. He wanted that 'look at me' money shot, gurning alongside Leo. This wasn't a spontaneous act – it was premeditated. 'I had thought about it before the match, so that's why I took [the phone] to the bench', Brown explained. 'As soon as [the match] finished, I took the picture.'
If this was an isolated incident, it wouldn't matter so much. But the football selfie, once a novelty, now appears to be obligatory. Arsenal players have perfected the art of digital self-adoration. When the Gunners beat Spurs at White Hart Lane in March 2014, Wojciech Szczesny took a selfie with Lukas Podolski and Kieran Gibbs on the pitch. After winning the FA Cup, Santi Cazorla ran to a photographer, grabbed a camera and took a series of selfies. Yes, these pictures involved more than one player – more 'look at us' than 'look at me'. But, whether collective or individual, the football selfie nonetheless oozes narcissism.
Inevitably, selfies have become incorporated into goal celebrations. Last year, Maccabi Tel Aviv striker Eran Zahavi celebrated a goal against local rivals Hapoel by running the length of the pitch, grabbing a camera and snapping a selfie. In a similar fashion, Francesco Totti celebrated scoring in the Rome derby this year by pouting for a selfie in front of jubilant Roma fans. Last year, Dom Dwyer, who plays for Sporting Kansas City in US Major League Soccer, was booked because the referee decided that his goal-celebration selfie was 'excessive'. In his book, The Italian Job, Gianluca Vialli makes the very astute observation that goal celebrations have changed, that they're now more about 'me' than 'we'. As the former Italy striker put it, 'Today, when a player scores a goal, he turns away from his teammates for his own self-acclaim. You rarely see a player celebrating with his teammates, staying in the goal area and having them all come to him.'
The selfie craze is symptomatic of a wider culture of self-obsession. It might not be the end of Western civilisation as we know it, but the self-regard of the modern footballer doesn't sit easily with the team ethos. The preening narcissist will inevitably find it more difficult to subjugate his own ambitions to the greater good of the team. One of most iconic moments in the modern game was Gazza weeping at Italia '90. The spectacle of our star player blubbing like a baby supposedly triggered the cultural renaissance of English football. It's no coincidence that this era of New Football was ushered in by a moment of conspicuous self-obsession. Gazza wasn't weeping because his team had lost – the game was still finely balanced at the time – but because he was going to miss the final through suspension. He was crying, not for England, but for himself.
While the chattering classes lionised Gazza for his public display of vulnerability, former Germany midfielder Dietmar Hamann was less forgiving. 'Had Gascoigne been German, he would be persona non grata today', wrote Hamann in his memoir. 'The game was still tied, and a job still needed to be done, yet his first thoughts were for himself. When the game went to a penalty shoot-out, Gascoigne was earmarked to take [a] penalty for England. He decided that he wasn't in the right frame of mind to take it. For Gascoigne, in that moment, it was all about him as an individual, and the way he was feeling. It was nothing to do with his duty to the team.'
It's inevitable that the idolisation of star footballers tends to cultivate gargantuan egos. While the best managers are able to handle players with massive egos, excessive self-regard invariably damages team spirit. The flipside of the celebratory selfie is the star player who sulks or berates teammates for failing to pass to him. And it's at this point, when self-regard leads to a dereliction of team duties, that egotism becomes a problem. It's no surprise that the most successful British football manager of the modern era, Sir Alex Ferguson, ruthlessly offloaded players who, in his opinion, thought they were bigger than the club. Paul Ince, David Beckham and Roy Keane were all shown the door at Old Trafford when Fergie felt their egos were at odds with the collective ethos. How would Sir Alex have reacted if Andy Cole, Ruud van Nistelrooy or Wayne Rooney had celebrated a goal by taking a selfie? I suspect he'd have reached for his hairdryer.
Duleep Allirajah is spiked's sports columnist. Follow him on Twitter: @DuleepOffside
To enquire about republishing spiked's content, a right to reply or to request a correction, please contact the managing editor, Viv Regan.