Who really wants to impose austerity?
The left rages against mild Tory cuts yet dreams of imposing real austerity.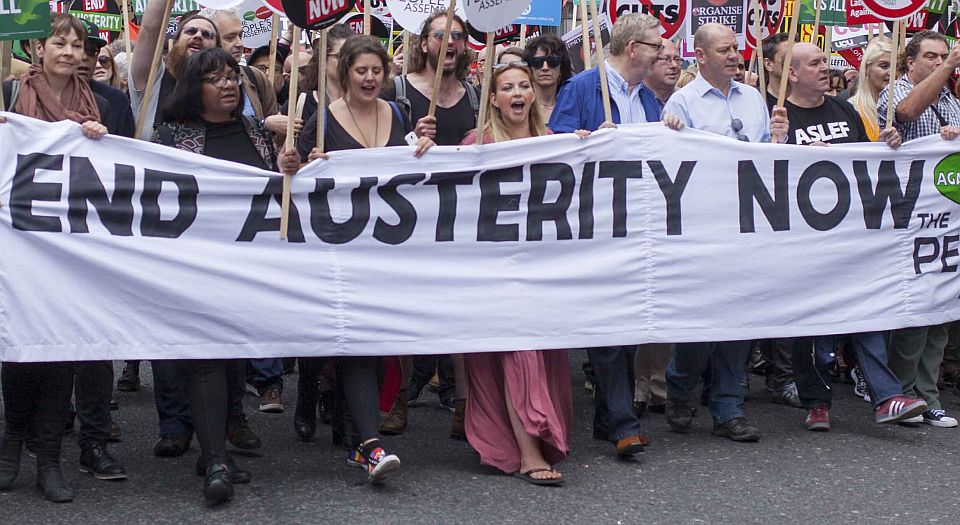 Nothing better sums up the otherworldliness of the British left than its current war against austerity. What austerity? There's no austerity in 21st-century Britain. That A-word, coming from the Latin austerus, meaning 'dry, harsh, sour, cruel', has traditionally been used to describe pretty severe conditions of restraint. Like food rationing during the Second World War. Yet today it is used to mean anything from the trimming of a welfare benefit that didn't even exist a couple of decades ago to the cutting of a relatively small proportion of the public-sector bill. Left-wing observers raging against 'austerity' are denuding the A-word of all meaning, and demonstrating their inability to grasp the real problems facing Britain today.
Everyone's talking about austerity. You can't open a newspaper without encountering angst-ridden commentary about 'the pain of austerity', and how Tory austerity policies are designed to be 'a deliberate rewriting of the social contract to divert our common wealth to the elite'. At the weekend, thousands of people marched in London to 'End Austerity Now'. Some carried placards saying 'Austerity kills', a reference to the claim that Tory cuts to welfare have caused some people to commit suicide — what the Guardian refers to as 'the unspoken side of welfare reform'. Exploiting the mental torment of isolated suicides to challenge Tory policies: nice.
Reading these angry articles, you could be forgiven for thinking that public spending was being obliterated and millions were being cast into penury. This simply isn't the case. There's no doubt the recession has brought about tough times for many, especially the poor and people with insecure employment. But austerity is not being imposed. On the contrary, public spending continues to rise, as it has done every year since 1948. In 2014/15 prices, public spending has risen from just under £400 billion in 1990 to over £700 billion in 2014. Yes, there have been cuts in some areas — for example, in public investment in social housing and school-building — but in other areas there has been more of a shifting around of a resources than any kind of austere action. For the first three years the Tories were in government (then with the Lib Dems), spending on welfare benefits actually increased by £10 billion, to a total of £192 billion, largely as a consequence of the boosting of the Basic State Pension and Disability Living Allowance. It's surreal that a government which increased public spending, including on benefits, should have been described as 'imposing austerity'.
Some in the public sector have lost their jobs, and that is very bad for them. But even this must be measured against the fact that, over the past 10 years, the public-sector workforce had grown by extraordinary levels. According to recent data, in the third quarter of 2014 there were 386,000 fewer public-sector jobs than there had been when the Tories and the Lib Dems took office in 2010. Yet this is 386,000 out of more than six million. The public sector remains vast. In 2000, there were 5,221,000 public-sector workers — by 2010, there were 6,070,000. An increase of nearly one million in 10 years. Britain still has a huge public sector, which simply doesn't sit with the idea that we're living through painful, even murderous austerity.
Left-wing observers' rage against 'austerity' is not a reflection of anything happening in the real world. Rather, it reveals their weddedness to the state, their belief that 'ordinary people' could not survive without the public sector. In recent years, as its faith in working men and women waned, and eventually gave way to open contempt for these obese, anti-EU sections of society, the left has come to see the state as the key force for progress. It views the public sector not only as the provider of resources for the poor, but as a provider of therapy and health advice, parenting advice, racial-awareness lessons for employees and schoolkids alike. The state is seen as the solution to every economic and social ill. So any suggestion that the state and its army of employees should be cut back, or even rearranged, is met with angst, and concern about how the little people will cope without the monetary benefits and moral advice of the authorities. It isn't 'austerity' the left is worried about (since there is none); it's anything that chips away at the Byzantine modern state which they view as the saviour of society.
Of course, much of the public sector is essential. It keeps Britain moving and healthy and fit. Public investment in infrastructure is important: we could do with more of it in industry, science and tech. But there is much of the public sector which is, in essence, a feudalistic racket, charged with looking after the terminally unemployed — those christened by the public sector as 'incapable' of working. That large sections of the middle classes make their living through attending to the needs of working people who have effectively been put out to pasture should concern anyone who believes in modernity and autonomy. But to the left, which has profoundly lost faith in the ability of anyone other than the state to run society, this is all perfectly normal, and good. There is much of the state that could be cut back, but the Tories aren't doing it. Why? Because they actually share the left's view of the state as a necessary carer for, and corrector of, the lower orders.
There's a further irony to today's politics of anti-austerity: the observers rashly describing a few Tory cuts as 'austerity' are the ones who really want to impose austerity. Real austerity. In fact, before they developed their newfound emotional attachment to describing everything they don't like as 'austerity', they were openly calling for austerity. George Monbiot is one of the Guardian's chief complainers about Tory austerity — the same George Monbiot who in 2006 proudly described environmentalism as a 'campaign not for abundance but for austerity' and who inspired the radical group Riot 4 Austerity. His colleague Zoe Williams likewise complains about 'austerity' yet a few years ago she was dreaming of introducing Second World War-style food rationing, because 'the lesson from the 40s is that to fix a public-health problem… you need big government'.
For much of the past 20 years, the post-Thatcherite left has demonised economic growth and called for constraints on industry, supermarkets, big cars, etc. Through the politics of environmentalism and the use of questionable mental-health arguments — with desire for more material goods refashioned as a mental malaise: 'affluenza' — the left abandoned its one-time commitment to expanding production and consumption and called for… well, austerity. And now it marches against what it calls austerity, but which is nothing of the sort. It fights phoney austerity, but wants real austerity.
What we need today is not hysterical headlines about austerity, but a serious debate about the expansion of the state, and whether we really need all of it, and an unflinching commitment to real, massive economic growth that puts people before 'the planet' and allows us all to live wealthier, fuller lives.
Brendan O'Neill is editor of spiked.
Picture by: Henry Kenyon
To enquire about republishing spiked's content, a right to reply or to request a correction, please contact the managing editor, Viv Regan.