'Rape culture is a dangerous myth'
Lauren Southern talks to Ella Whelan about standing up to feminist orthodoxy.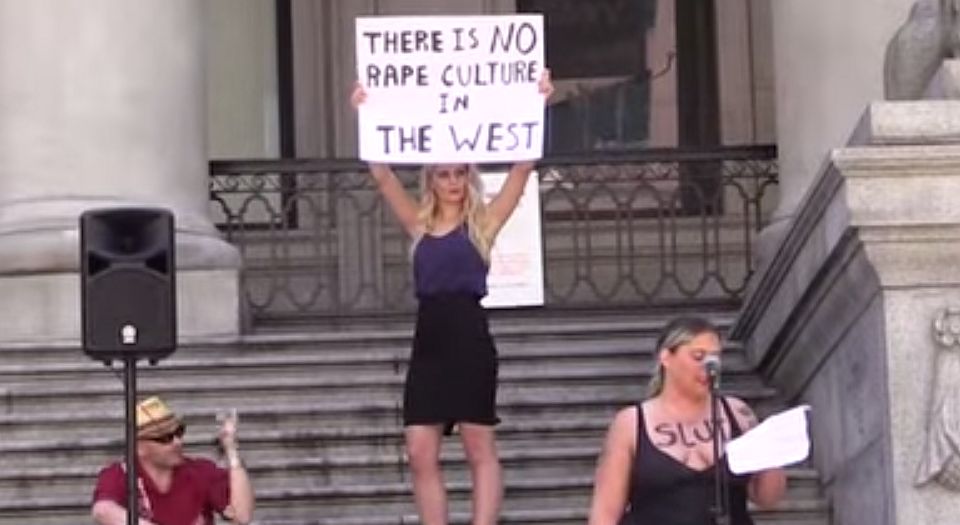 Earlier this month, Lauren Southern, a young Canadian reporter and a political-science student at the University of the Fraser Valley, caused a media storm when she challenged a 'SlutWalk' in Vancouver by holding up a placard which said 'There is no rape culture in the West'. Last week, I talked to Southern about why she decided to speak out.
The protest Southern disrupted – she held up the placard and challenged the protesters' views on camera – was linked to Women Against Violence Against Women, a rape-crisis centre set up in Vancouver in the Eighties, which follows a 'feminist anti-oppression philosophy' and claims that 'rape culture is real and huge and everywhere'. SlutWalks began four years ago after a policeman in Toronto suggested that 'women should avoid dressing like sluts in order not to be victimised'. In response, feminists took to the streets of Toronto in their underwear in protest at the cop's 'slut-shaming and victim-blaming' statement. SlutWalks have since become popular across the globe, and are held annually in many cities.
Southern had previously sparked debate by posting a picture online of her holding up a sign that explained why she didn't 'need feminism' – a response to a popular feminist selfie campaign. Following this up a year later with a video entitled 'Why I am not a feminist', she called out feminism as a 'faux form of equality under a gender-biased word'. In Southern's report on the Vancouver SlutWalk, she explained that she had attended the rally to 'challenge the fearmongering feminist narrative about men, women and violence'. It is this 'rape culture' narrative, she tells me, which is really trivialising rape. 'Women are going to equate things that aren't rape with rape because they interpret guys whistling at them as rape culture', she says. 'The misuse of the word [rape] is very dangerous because it allows for false accusations.'
Southern sees feminists' obsession with 'rape culture' as a languishing in female weakness. 'I've always thought that the main feminist issue was empowering women, in real terms; telling women to go out there, get the job, do what you want, not run around screaming "trigger warning" and crying.' Her assessment of contemporary feminism is astute. Following her visit to the rally in Vancouver, Southern received a barrage of messages from self-proclaimed radical feminists who told her 'they were vomiting all night because they were so triggered' by what she had done. That's right, these women felt physically sick just because someone disagreed with them.
This bizarre prizing of weakness on the part of contemporary feminists is, Southern explains, down to their refusal to engage in debate on a regular basis. 'It's not hard what they do. They go on to a street where everyone agrees with them, wearing their underwear, and get to show off for a day… They don't surround themselves with people who disagree with them.' This refusal to engage in debate was evident at the protest itself, with Southern having to climb up on to a plinth to avoid her sign being covered up by angry protesters.
So where does this desire to portray weakness as a strength come from? Southern puts it down to an institutionalised victim culture in Western universities: 'Academia is obsessed with feminism. You've got a protective narrative which screams "rape culture" at the slightest thing and students just eat it up. Whether that's because they want good grades or not, this stuff doesn't get challenged.' As a result, she says, sexism becomes a 'self-fulfilling prophecy'. 'If you're told that you're a victim as you grow up, you're going to have a confirmation bias when you're not hired for a job but a man is. You'll hear sexism in your head', she says.
A recent US study claimed that one in five college women is sexually assaulted while at university, but Southern is sceptical about this. 'It's all based on personal reporting of events, and the great thing about personal reporting is you don't know if it's true or not. These polls are trying to find a certain narrative, so they coax these girls into believing that the one guy who touched them on the leg actually sexually assaulted them. Of course they're going to end up with such a shocking statistic as one in five.' In fact, Southern's concerns are reflected in the study, which states that 'students seem less worried about sexual assault than the general public'. Only 12 per cent of the women interviewed for the study felt sexual harassment was a big problem in US universities, compared with 58 per cent of the general public. Clearly, there's a disjoint between the massaged stats being peddled by feminist campaigners and the reality of these women's day-to-day lives.
While Southern acknowledges that feminist radicals are in the minority, she is concerned that 'we live in a society where people will agree with the people who scream the loudest and are the scariest. Right now, we have a feminist hate mob on Twitter, which will harass you and threaten your job.' This is no exaggeration. The recent public shaming of Tim Hunt, the Nobel Prize-winning scientist who made a silly and outdated remark about women in science, resulted in him being ushered out of his job at University College London.
We need more women like Southern. It took guts to stand up at a feminist rally and call out what she considers to be false and dangerous claims. And aspiring to be gutsy, Southern says, is precisely what women who believe in equality should be doing. 'It's important for women to stand up against the radical-feminist narrative, because I believe that women can be empowered, stand up for themselves and be as good as men if they just dropped this victim mentality.'
The feminist narrative of weakness and victimhood is indeed holding women back, but the real danger lies in the establishment reaction to the ideas of what Southern terms the 'shrill minority'. In New York, lawmakers are planning to introduce a campus sexual assault bill that would establish a state-wide standard for 'affirmative consent'. The 'Enough is Enough Bill' would require colleges to help 'reorient how students approach sex'. One can only imagine that celibacy is the end goal of this bill – the nightmarish idea of state-approved foreplay is surely enough to put anyone off sex.
Everyone should have the balls to stand up for what they believe in. And it's more important than ever that women refuse the increasingly popular victim politics of feminism, which paints women as weak and incapable of looking after themselves. Southern hits the nail on the head when she criticises consent classes, another popular college initiative aimed at teaching students about when they are and aren't consenting to sex: 'People who rape know what consent is, they just choose not to follow it.'
The rape-culture panic, and the way in which it is now being backed by education initiatives and lawmakers, should be met with hostility by all those who believe in the freedom of the individual and freedom from the state. Southern, unnerved by opposition and willing to make a stand for what she believes in, is one of the few really taking the fight for freedom on. More power to her.
Ella Whelan is staff writer at spiked.
To enquire about republishing spiked's content, a right to reply or to request a correction, please contact the managing editor, Viv Regan.