The crocodile tears of Hillary Clinton
Clinton's weepy campaign confirms that identity politics has gone mainstream.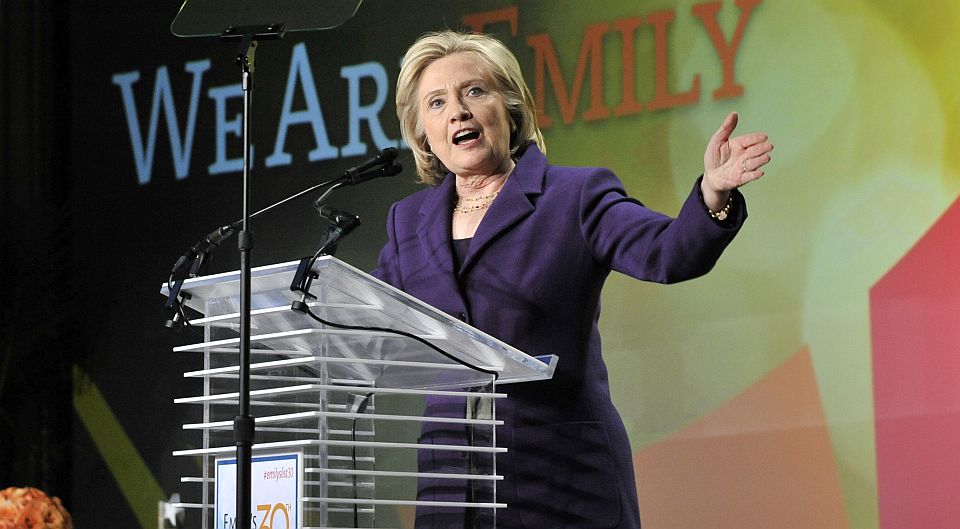 Hillary Clinton officially kicked off her campaign for the Democratic presidential nomination on Roosevelt Island in New York last weekend. Having already used her sex as a weapon, reflected in her fondness for using the twee #GrandmothersKnowBest hashtag, reports before the big day hinted at there being an even more personal touch to Clinton's campaign launch. Having purposefully remained quiet about her private life during her 2008 campaign, in which she was beaten to the nomination by Barack Obama, Clinton is now standing as the personification of identity politics, using her sex, age and background as a means of garnering support. Central to her new kind-and-caring sales pitch is the story of her mother's difficult childhood, which has been described as 'the emotional foundation of her daughter's campaign for president'.
In her speech, Clinton didn't fail to deliver on expectations. She claimed she would be running 'for all Americans' and presented herself as having come from a history of hardship. Apparently, Clinton's late mother, Dorothy Rodham, had a relatively tough start in life. Before she was 15, Dorothy had escaped from an ultra-conservative household with her grandparents, had been shunned by her parents and was working as a housekeeper – all while still studying at high school.
Yet, in the context of the Great Depression, Clinton's mother's tale is not that startling. And, unlike a great many people of that period, Dorothy Rodham's life turned out all right. In fact, Clinton's own bid to join the oppressed club seems a bit of a stretch as, in her own words, her mother and father worked to 'provide [her family] with a middle-class life'. Why then is Clinton so hell-bent on presenting her past as a misery memoir?
Clinton's use of her mother's memory to attract votes is yet another desperate attempt at playing the 'real person' card. Struggling to pull support on the back of successful policies, or even just charisma, Clinton seems reliant on sob stories and cutesy catchphrases. Having just set up an Instagram, complete with tongue-in-cheek pictures of her famous pant suits and black-and-white baby pictures, Clinton is on a charm offensive. Laying bare all of her flaws, Clinton's speech played up to a sense of her own vulnerability in order to hammer home the idea that she is just like the voters, warts and all. 'I'll just let you in on this little secret. I won't get everything right', she said.
Clinton's initial campaign hook was her sex – sparking waves of support from feminist 'vagina voters' who insist that electing a female commander-in-chief, no matter who it is, would be a symbolic gain for womankind. Now it seems Clinton has widened her approach, presenting herself as a woman of the people. This new tactic should go down particularly well with young people. If there's one thing young people call for these days, it's 'relatable' politicians. By going from standing as someone who can have kids to getting down with the kids, Clinton clearly hopes to find support outside of the feminist Twittersphere.
But one has to point out just how backward Clinton's new campaign pitch is. By focusing on her mother's past rather than her own future, Clinton is contradicting her own criticism of her Republican opponents – that is, that they are all singing 'a song called "Yesterday"'. The focus on her past is, in part, an attempt to put off promising any concrete plans for the future. But it also speaks to a political climate in which one's personal experiences are elevated over the strength of one's ideas. The fact that Clinton has completely changed her tactics since 2008 reflects her desire to play to the metropolitan elite's fondness for identity politics. In this way, Clinton seeks to win Americans' hearts through sentimental statements, rather than engage their minds with cogent ideas.
This rise in emotional politics goes hand-in-hand with the tendency today of female politicians to present themselves as having the ability to bring a 'woman's touch' to politics. The infamous hug between SNP leader Nicola Sturgeon, Plaid Cymru leader Leanne Wood and Green Party leader Natalie Bennett at the end of one of the televised leaders' debates during the recent UK General Election was hailed by commentators as a progressive moment – indicative of a desire for a new 'cuddlier politics'. Clinton is now playing this same game. In a biographical video released over the weekend, Clinton was portrayed as vulnerable, emotional and in touch with her past, in a bid to convince Americans that, this time, Clinton is the one to vote for. Why? Because she's not just running as a Democrat, but as a 'wife, mom, grandma'.
Clinton's campaign is not based on substantial political ideas or even basic promises for change in America. Instead, she is trying to pull at the heartstrings of her voters with sad stories of her mother in a bid to gain some credibility by dint of having hardship in her genes. It's not only unconvincing but also insulting to suggest that the only way to connect with voters is through the manipulation of their emotions. The old feminist slogan, the personal is political, now seems to be the norm, embraced by female politicians in the UK and the US. As the presidential campaign continues, it remains to be seen whether Clinton's pink politics will work for her, or if Americans will see through the crocodile tears.
Ella Whelan is staff writer at spiked.
To enquire about republishing spiked's content, a right to reply or to request a correction, please contact the managing editor, Viv Regan.