White guilt never helped anyone
Rachel Dolezal is in good company – whites 'passing' for blacks has a long inglorious history.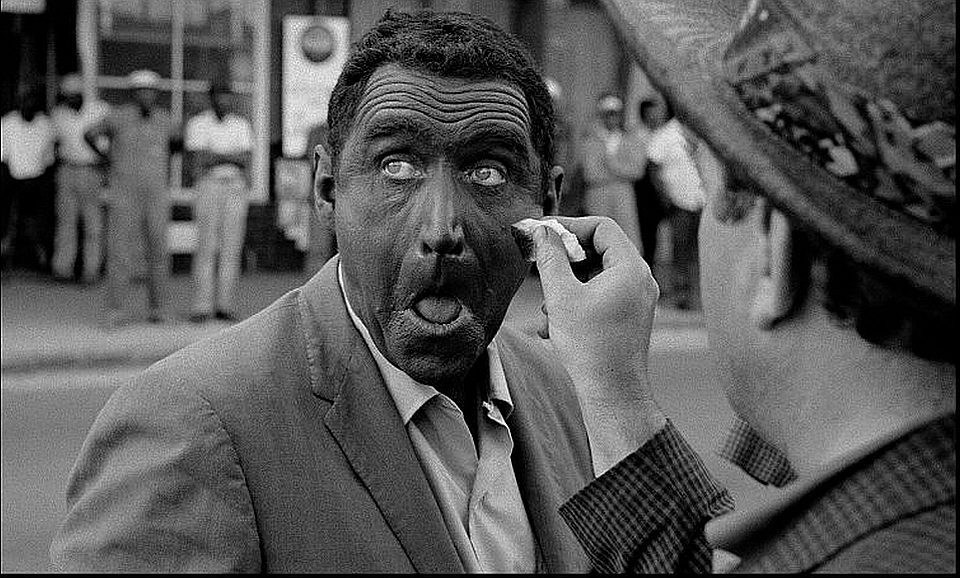 The case of Rachel Dolezal, a white woman who 'passed' as black in order to head the Spokane chapter of the National Association for the Advancement of Colored People (NAACP), and teach Africana studies at college, has provoked some anger. Many see her actions as exploitative, and accuse her of taking positions that ought to have gone to black people.
Few seem to want to consider that Dolezal was motivated by empathy, rather than hatred, and that her eccentric behaviour was only an extreme version of the more commonplace sentiment of white guilt. Dolezal's stepbrother reports that Dolezal brought her 'son' (her other stepbrother, of whom she has custody) up to hate white people, and even hated her own whiteness. White guilt is an emotional reaction to racism, but it's a useless one that addresses the problem only at the level of our own subjective reactions.
According to Freud, guilt, when dwelt upon, is a destructive emotion that, at root, is narcissistic, or self-regarding. It has been a motivation for liberal reformers for more than a century.
Dolezal is not the first person to identify so strongly with black people that she 'blacked up'. John Howard Griffin disguised himself as black to research and write the book Black Like Me (1961), which was a powerful plea against racism in the American South. Before Griffin, Ray Sprigle, another radical journalist, got a 'Florida suntan' and passed himself off as black to write the stories that were later published as In the Land of Jim Crow (1949). Looking at black life through white eyes was an effective way to illustrate the cruelties of race discrimination. (Black Like Me inspired Melvin Van Peebles' very funny movie Watermelon Man (1970), in which a white racist called Jeff Gerber wakes up to find himself transformed into a black man.)
These journalists were understood to have been inspired by sympathy, but since their 'passing' was only temporary, it was not taken amiss. A more troubling case was that of the novelist Daniel Lewis James, who wrote Famous All Over Town (1983), a novel about Mexican-Americans, under the pseudonym Danny Santiago. James was inspired by a strong sense of social justice, and had been blacklisted in the McCarthy era, but it was still unnerving for his readers to discover that his authentic Chicano voice was in fact an act of ventriloquism, and that he was a Yale graduate.
Race discrimination has been a destructive force in America and Europe, and its impact calls for a response not just from those who suffer it, but from the white community, too. Solidarity from white people with victims of racism is a valuable thing. But guilt is rather different.
Guilt implies a self-hatred that is destructive and, in an unexpected way, an expression of superiority. The person who outwardly displays white guilt seems to be degrading himself, but, in the act of contrition, he morally elevates himself above his fellow white people. The self-abasing act of contrition is not really about fixing a problem; it's about establishing the moral superiority of the demonstratively penitent.
An extreme expression of this kind of narcissistic white guilt can be found in the journal Race Traitor, edited by academic Noel Ignatiev: 'Race Traitor aims to serve as an intellectual centre for those seeking to abolish the white race. It will encourage dissent from the conformity that maintains it and popularise examples of defection from its ranks, analyse the forces that hold it together and those that promise to tear it apart… Treason to whiteness is loyalty to humanity.'
Underlying this weird statement is the argument that white people are privileged. But that argument is based on a semantic confusion. It is not a privilege to be white, and not any kind of privilege to enjoy the ordinary rights of citizens in Britain or America. These are things that we all deserve as our right. Where those rights are denied to others on racial grounds, that is an attack on us all that ought to be challenged. But it is a mistake to think that the white population as a whole gains from discrimination against minorities. On the contrary, those divisions and exclusions work against the rights that all of us ought to enjoy.
White guilt sometimes looks like it is motivated by a genuine feeling for victims of oppression. But, in fact, it has very little to do with addressing real problems, and far more to do with dwelling on suffering in order to demonstrate the goodness of the exponent.
Historically, white guilt has served as an ideological tool for the projection of imperial domination. In the nineteenth century, Britain made several explicit claims to atone for slavery, and yet curiously each one tended to enhance British power over the colonies. In 1833, Britain abolished slavery, but, in doing so, withdrew all investment from the Caribbean, condemning the former sugar colonies to generations of poverty. The British compensation scheme for the abolition of slavery paid off not the former slaves, but their owners – for the loss of property.
Afterwards, the British parliament made sure that all the world acknowledged Britain's great act of philanthropy, and put anti-slavery clauses into all its international treaties. These treaties allowed the Royal Navy to dominate the seas on the pretext of fighting slavery, exercising a much-resented 'right of search' over its Great Power rivals. The Royal Navy even kept an African squadron of ships to police the seas off the Gold Coast.
In 1890, the British Anti-Slavery Society got the European powers to agree to a conference in Brussels to act against slavery in Africa. The society brought slave-yokes to impress the delegates, prepared papers and displayed a great map of Africa showing all the routes taken by the wicked 'Arab slavers' (much worse than the European kind, argued Cardinal Manning). To make amends for their own history of enslaving Africans, these European leaders divided Africa up between them into so many colonies – colonies in which people, sadly, suffered forced-labour regimes at the hands of their would-be saviours.
The British Empire is known today as a rip-off operation run by merchants. It was, but it was also promoted by missionaries, and philanthropists of the Anti-Slavery Society and the Aborigines' Protection Society, who were always demonstrating their liberal generosity by taking over other people's countries.
Rachel Dolezal is in good company. White guilt has been a force in Western societies among the great and the good for more than two centuries. Those who are sceptical about Dolezal's good intentions do have a point. White guilt never helped anyone. In fact, it has generally always made things worse.
James Heartfield's The Aborigines' Protection Society, 1837-1909 is published by Hurst and Columbia University Press. (Buy this book from Amazon (UK).). His history of the British and Foreign Anti-Slavery Society will be published by Hurst, next year.
To enquire about republishing spiked's content, a right to reply or to request a correction, please contact the managing editor, Viv Regan.